News
EMPIRE Heft 140
Das Empire Magazin beginnt 2021 seinen 30. Jahrgang, ein Jubiläum, das wir im Laufe des Jahres noch angemessen begehen werden...
Die Mai-Ausgabe 2021 ist verschickt und sollte bei allen Abonnenten bis Mitte des Monats angekommen sein. Hier wie immer eine kleine Vorschau auf unsere Themen.
Das Heft kann auch einzeln im Empire-Music oder PPR Online-Shop bestellt werden.
Das alternative "Jewel Case"-Cover für die CD (zum selber Ausdrucken) steht hier in der Download Sektion zur Verfügung.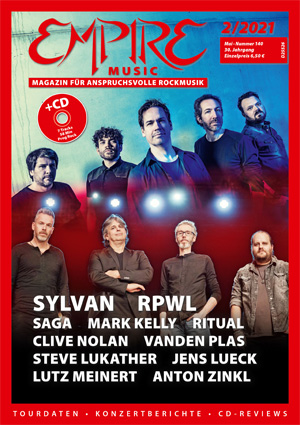 INTERVIEWS
MARK KELLY (TS)
STEVE LUKATHER (SM)
VANDEN PLAS (JK)
SAGA (TS)
SYLVAN (TS)
RPWL (TS)
CLIVE NOLAN (UE)
SINGLE CELLED ORGANISM (JENS LUECK) (TS)
ANTON ZINKL (STS)
LUTZ MEINERT (STS)
RITUAL (TS)
LIVE Reviews
LES ENFOIRÉS (MC)
UMPHREY'S MCGEE (MP)
ANNEKE VAN GIERSBERGEN (SM)
TOYAH & ROBERT FRIPP (MC)
CD/DVD Reviews
ASK THE SLAVE Good Things Bad People (MS)
AUFKLÄRUNG De La Tempesta... L'Oscuro Piacere (MB)
BARO PROG-JETS Utopie (JM)
THE BESNARD LAKES The Besnard Lakes Are The Last Of The Great Thunderstorm Warnings (MP)
BIRDPEN All Function One (RK)
BLACK COUNTRY, NEW ROAD For The First Time (MP)
BLACKMORE'S NIGHT Nature's Light (TK)
CAST Vigesimus (MD)
NICK CAVE & WARREN ELLIS Carnage (MP)
CELESTE Il Principe Del Regno Perduto (JM)
COMPUTERCHEMIST The Fort (JM)
ALICE COOPER Detroit Stories (MS)
DWIKI DHARMAWAN Hari Ketiga (MD)
DOWNES BRAIDE ASSOCIATION Halcyon Hymns (RK)
BOB DYLAN 1970 (MP)
EISBRECHER Liebe Macht Monster (ROK)
NICK FLETCHER Cycles Of Behaviour (MD)
GALAAD Paradis Posthumes (JM)
BARRY GIBB Greenfields – The Gibb Brothers Songbook, Vol. 1 (MP)
ANNEKE VAN GIERSBERGEN The Darkest Skies Are The Brightest (PV)
STEVE HACKETT Under A Mediterranean Sky (PV)
JOHN HOLDEN Circles In Time (TS)
HUXLEY WOULD APPROVE Grave New World Part Two (MD)
IQ Live Like This (CK& Udo Eckardt)
KARFAGEN Principles And Theory Of Spektra (TK)
KERRS PINK Presence Of Life (JM)
LAZULI Dénudé (JM)
LIQUID TENSION EXPERIMENT LTE3 (SM)
MILLENIUM Rarities (PV)
CLIVE MITTEN Suite Cryptique: Recomposing Twelfth Night 1978-1983 (TS)
MR. MIBBLER The Long Journey (PV)
MUFFX Confini (JM)
CLIVE NOLAN This Is Not The Zombie Apocalypse (UE)
CLIVE NOLAN Nightmares, Nonsense And Nursery Rhymes (UE)
PARA LIA Gone With The Flow (MD)
PERFECT STORM No Air (JM)
PROG COLLECTIVE Worlds On Hold (RK)
RAIN Singularity (AS)
RENAISSANCE 50th Anniversary – Ashes Are Burning: An Anthology/Live In Concert (MD)
RPWL God Has Failed – Live & Personal (TS)
SAGA Symmetry (AS)
NEAL SCHON Universe (MS)
ROBERT SCHROEDER Pyroclast (OM)
ANDREAS SCHULZ Poem For Glacier (PV)
OLAF LUX [Hrsg.] Violinen Wachsen Nicht Auf Bäumen – Leben Und Werk Von Klaus Schulze (STS)
SELIG Myriaden (RK)
SILENT SKIES Satellites (MS)
SINGLE CELLED ORGANISM Percipio Ergo Sum (TS)
SMITH/KOTZEN Smith/Kotzen (MS)
SONUS UMBRA Beyond The Panopticon | A Sky Full Of Ghosts (MD)
ANDREW STONE The Pilgrim (JM)
SYLVAN One To Zero (MD)
TEXEL Metropolitan (MD)
JOEL HOEKSTRA'S 13 Running Games (MS)
TIGER MOTH TALES The Whispering Of The World (TS)
WHEEL Resident Human (RK)
BRIDGET WISHART & THE BAND OF DOCTORS Ghost (MC)
WITHOUT US Aberrations (MD)
FRANK WOELFER IIIII (STS)
ZINKL Tanzmusik für Roboter (STS)
QUICKIES
JON ANDERSON Olias Of Sunhillow (OM)
ANNISOKAY Aurora (RK)
ASIA MINOR Points Of Libration (MD)
THE BAND Stage Fright (MD)
RICHARD BARBIERI Under A Spell (MD)
BEND THE FUTURE Without Notice (MD)
BLACKFIELD For The Music (RK)
BLIND GOLEM A Dream Of Fantasy (JM)
CALIGONAUT Magnified As Giants (MD)
CLOUD OVER JUPITER They're Here With Us... (MD)
STURLE DAGSLAND Sturle Dagsland (RK)
DISTRICT 97 Screenplay (RK)
DOBBELTGJENGER Smooth Failing (MD)
THE ETERNAL MACHINE See You Next Wednesday (MD)
FLYING CIRCUS Flying Circus (MD)
FOTOS Auf Zur Illumination (RK)
MARTY FRIEDMAN Tokyo Jukebox 3 (OM)
JANE GETTER PREMONITION Anomalia (MD)
GRUNDHASS Wenig Los (MD)
HEAVE BLOOD & DIE Post People (RK)
IF If3 (MD)
INSTANT CURTAIN Let Tear Us Apart (MD)
INTELLIGENT MUSIC PROJECT VI: The Creation (MD)
JORDSJØ Pastoralia (MD)
KALI TRIO Loom (MD)
KASCHALOT Zenith (MD)
KELLERKIND BERLIN Musikkonstruktionen (JM)
KINGS OF LEON When You See Yourself (RK)
KROKUS Adios Amigos Live @ Wacken (OM)
LAZARUS DREAM Alive (JK)
LIGHT FREEDOM REVIVAL Terra Architecta (MD)
LORD'S FAMILY The Complete Schlössl Recordings (MD)
LOTUS TITAN Odyssées (MD)
LUXURY TOYS Grasp (JM)
MATTERHORN Outside (MD)
MOGWAI As The Love Continues (RK)
GARY MOORE How Blue Can You Get (RK)
MOUNT MARY Mount Mary (JM)
THE NOTWIST Vertigo Days (RK)
OBERON A Midsummer's Night Dream (MD)
OH NO NOH Where One Begins And The Other Stops (MD)
ARLO PARKS Collapsed In Sunbeams (MP)
THE PERC MEETS THE INCREDIBLE LOVEGODZ Live In Bamberg '95 (MD)
PILOTS OF THE DAYDREAMS Angels Are Real (MS)
MARC REECE Dreamer (MD)
RUPHUS Manmade (MD)
MICHAEL SCHENKER GROUP Immortal (MS)
SHADOW TRIBE Reality Unveiled (JK)
SONIQ THEATER Time And Space (JM)
SOUNDS OF NEW SOMA Trip (MD)
SPIRIT Son Of America (MD)
SPIRITS BURNING & MICHAEL MOORCOCK The Hollow Lands (MD)
STEAMHAMMER Speech (MD)
STICK MEN Owari (MD)
SUBURBAN SAVAGES Demagogue Days (MD)
TALAMBO Delusions Of Grandeur (JM)
TAMMATOYS Conflicts (MD)
35 TAPES Home (MD)
VOLVOPENTA Simulacrum (MD)
RICK WAKEMAN Return To The Centre Of The Earth (AS)
THE WOOD DEMONS Angels Of Peckham Rye (MD)
WUDEWUSE Northern Gothic (MD)
FRANK ZAPPA Zappa – Original Motion Picture Soundtrack Deluxe (MD)
EMPIRE Heft 124
Im Heft 124 haben wir unter anderem auch ein neues Interview mit Anna von Hausswolff - die sich sichtlich über das letzte freute...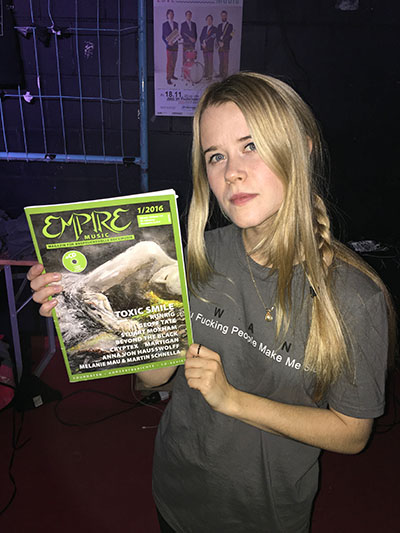 Neuer EMPIRE-MUSIC Mailorder-Shop
Wie Ihr auch schon der Anzeige im Heft 123 entnommen habt, schloss am 26.12. nach über 2 Jahrzehnten der alte Online-Shop von Michael Bäcker unter der Adresse empire-music.de.
In Zukunft findet Ihr sein großes CD- und DVD-Angebot in seinem neuen Shop auf der Plattform Discogs, am einfachsten über diese neue Adresse:
Leider können die Kontodaten des alten Shops nicht in den neuen Discogs-Shop übertragen werden, Ihr müsst Euch daher entweder einfach bei Discogs neu anmelden, oder Ihr könnt Euch auch mit einem bestehenden Facebook- oder Google-Account einloggen. Michael bedankt sich bei allen treuen Kunden des alten Shops und hofft, Euch alle im Shop auf Discogs mit neuen, besseren Suchfiltern und ausführlichen Infos zu jeder CD wiederzusehen.
NEU EMPIRE Sonderheft 2
Das erste EMPIRE MUSIC Sonderheft bekommt eine Fortsetzung mit allen Bands, die letztes Jahr auf dem "Night of the Prog" Festival 2016 gespielt haben... "Another Day in the Life of a Festival".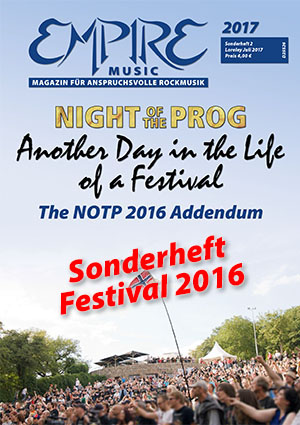 Bestellung und alle Einzelheiten dazu auf der Sonderseite www.empiremusic.de/loreley
EMPIRE Heft 120
Auch Steve Hackett ist seit vielen Jahren Fan und Unterstützer unseres Magazins und wurde in Empire 120 interviewt...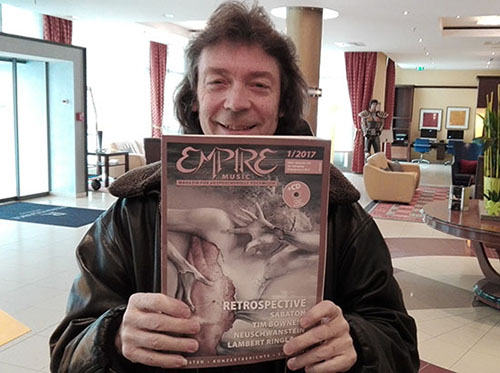 EMPIRE Heft 120
Im Heft 120 haben wir ein Interview mit dem Ayreon-Mastermind Arjen Anthony Lucassen - der seit vielen Jahren ein bekennender Fan vom Empire-Magazin und seiner Sampler-CD ist, wie er uns auch stolz zeigt...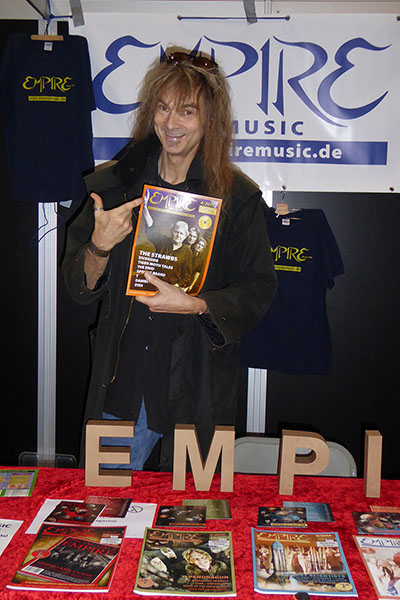 EMPIRE Sonderheft 1
Das erste EMPIRE MUSIC Sonderheft: Zum Anlass des 10. Jubiläums des "Night of the Prog" Festivals in diesem Jahr - und im 25. Jahr unseres Magazins - erschien das große und opulent bebilderte Jubiläumsheft "A Day in the Life of a Festival".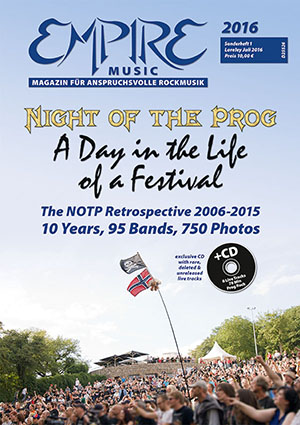 Bestellung und alle Einzelheiten dazu auf der Sonderseite www.empiremusic.de/loreley