News
TMB TOUR-SPECIAL
Auf der Tour von The Musical Box bieten wir aktuell die "Prog Box 1" mit 15 Empire Sampler-CDs zum Sonderpreis an. Die Box wird dort in der Halle am Empire-Stand vor Ort verkauft und am Ende der Tour auch in unseren Online-Shops angeboten.
Leider konnten wir aus personellen Gründen bei einigen Konzert-Terminen keinen eigenen Empire-Stand anbieten. Wer unseren Flyer gelesen hat und die Box gleich bestellen möchte, kann uns bitte per Mail wegen der Bestellung kontaktieren.
EMPIRE Heft 127
Die Oktober-Ausgabe ist in die Post gegangen und sollte bei allen Abonnenten angekommen sein. Hier wie immer eine kleine Vorschau auf unsere Themen.
Das Heft kann auch einzeln im Empire-Music oder PPR Online-Shop bestellt werden.
Das alternative "Jewel Case"-Cover für die CD (zum selber Ausdrucken) steht hier in der Download Sektion zur Verfügung.
Wir wünschen Euch viel Spaß beim Lesen!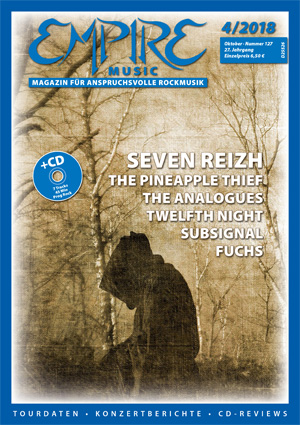 INTERVIEWS
THE PINEAPPLE THIEF (TS)
SUBSIGNAL (MM)
SEVEN REIZH (TS)
TWELFTH NIGHT (TS)
THE ANALOGUES (TS)
FUCHS (TS)
LIVE Reviews
A PERFECT CIRCLE (MP)
IRON MAIDEN (MP)
SIMPLE MINDS (VS)
JETHRO TULL (BK)
BROOM BEZZUMS (MC)
›NIGHT OF THE PROG XIII‹ (MO|ROK|UE)
›ZAPPANALE‹ #29 (BK)
›LAKE ON FIRE FESTIVAL‹ (MO)
›FINKENBACH FESTIVAL‹ (ROK)
CD/DVD Reviews
ÆLEMENTI Una Questione Di Principio (JM)
AISLES Live From Estudio Del Sur (MD)
JAN AKKERMAN The Complete Jan Akkerman (TS)
ALCHEM Viaggio Al Centro Della Terra (JM)
LILY ALLEN No Shame (MS)
ALLY THE FIDDLE Up (MD)
THE ANALOGUES Perform The Beatles Magical Mystery Tour | Sgt. Pepper's Lonely Hearts Club Band By The Analogues (TS)
ANCIENT VEIL Rings Of Earthly... Live (JM)
APOGEE Conspiracy Of Fools (MD)
ARMONITE And The Stars Above (MD)
AURORA LUNARE Translunaggio... Nove Tributi Al Rock Progressivo (JM)
AXESS Seashore (OM)
DAVE BAINBRIDGE & SALLY MINNEAR Live In The Studio (TS)
BARREN EARTH A Complex Of Cages (MS)
THE BEACH BOYS With The Royal Philharmonic Orchestra (MC)
ANNA CALVI Hunter (MP)
CAMEMBERT Negative Toe (JM)
ROLAND VAN CAMPENHOUT Folksongs From A Non-Existing Land (TS)
CELL15 River Utopia (MD)
CHICAGO VI Decades Live (This Is What We Do) (MP)
THE AARON CLIFT EXPERIMENT If All Goes Wrong (MD)
CURVED AIR Phantasmagoria (MD)
CYRCUS FLYGHT The Clueless Caravan (JM)
DAUGHTRY Cage To Rattle (MS)
DIALETO Live With David Cross (JM)
BRUCE DICKINSON Scream For Me Sarajevo (JK)
EILIFF Close Encounter With Their Third One (MD)
ENGLAND Box Of Circles (JM)
FLORENCE+THE MACHINE High As Hope (MP)
GILA Night Works (MD)
GOAD Landor (JM)
GRYPHON Raindances - The Transatlantic Recordings 1973-1975 (MD)
GRYPHON ReInvention (MD)
GUNS N' ROSES Appetite For Destruction (MS)
HABITANTS One Self (MS)
HOLLOWSCENE Hollowscene (JM)
HOMUNCULUS RES Della Stessa Sostanza Dei Sogni (JM)
HOOBASTANK Push Pull (RK)
INFLUENCE X Quantum Reality (JM)
KAOLL Sob Os Olhos De Eva (JM)
KARMABLUE Né Apparenze Né Comete (JM)
MAIDEN UNITED Empire Of The Clouds (JM)
MALIBRAN Live Anthology (JM)
MARILLION All One Tonight (RK)
NICK MASON Unattended Luggage (JK)
DAVE MATTHEWS BAND Come Tomorrow (MP)
MYSTERY Lies And Butterflies (UE)
THE NIGHT FLIGHT ORCHESTRA Sometimes The World Ain't Enough (TS)
CARL PALMER'S ELP LEGACY Live (STS)
PENTAGON Die Vertreibung Der Bösen Geister Aus Dem Pentagon (MD)
THE PINEAPPLE THIEF Dissolution (TS)
PRIMAL FEAR Apocalypse (MS)
PROCOL HARUM Grand Hotel | Exotic Birds And Fruit | The Prodigal Stranger (MD)
PROWLERS Navigli Riflessi (JM)
RANESTRANE A Space Odyssey, Final Part: Starchild (MD)
REGAL WORM Pig Views (TK)
ROZ VITALIS The Hidden Man Of The Heart (JM)
RUNRIG Rarities (SM)
SAINT JUST Prog Explosion And Other Stories (JM)
SCIENCE NV The Quest For Prester John Volume 2 (JM)
THE SEA WITHIN The Sea Within (RK)
SEASONS OF TIME Welcome To The Unknown (MD)
IL SENTIERO DI TAUS Macrocosmosi (JM)
SEQUENTIA LEGENDA Renaissance (JM)
SEVEN REIZH L'Albatros (TS)
MIKE SHINODA Post Traumatic (TS)
PAUL SIMON In The Blue Light (TS)
SINTESI DEL VIAGGIO DI ES Il Sole Alle Spalle (JM)
SOLAR PROJECT Utopia (MD)
SOUTHERN EMPIRE Civilisation (RK)
SUNCHILD Messages From Afar: The Division And Illusion Of Time (MB)
STARFISH64 The Future In Reverse (JM)
TARJA Act II (SM)
THRICE Palms (RK)
TOLEDO STEEL No Quarter (MS)
TORSO Limbs (MO)
U.D.O. Steelfactory (MS)
ÜMIT! Black Is The NEUE Schwarz - The Testament Of Ümit! (TK)
UNA STAGIONE ALL'INFERNO Il Mostro Di Firenze (JM)
UNKH iNNERVERSE (JM)
US Lindisfarne (MD)
KAMASI WASHINGTON Heaven And Earth (MP)
DAVID WEIGEL Progressive Rock - Pomp, Bombast Und Tausend Takte (PV)
WOOLLY WOLSTENHOLME Strange Worlds - A Collection 1980-2010 (MD)
YES FEATURING JON ANDERSON, TREVOR RABIN, RICK WAKEMAN Live At The Apollo (TS)
MIKE ZITO First Class Life (MS)
QUICKIES
BIFFY CLYRO MTV Unplugged (RK)
BLACKOUT PROBLEMS Kaos (RK)
AARON BROOKS Homunculus (MD)
CHINAWHITE Different (MD)
DEAD MAN'S EYES Words Of Prey (MD)
DEAF HAVANA Rituals (RK)
NICK FLESSA Flyover States (MD)
FOREIGNER With The 21st Century Symphony Orchestra & Chorus (RK)
GOOD CHARLOTTE Generation Rx (RK)
GRASLAND Echt Null! (MD)
GREAT LEAP SKYWARD Map Of Broken Dreams (JK)
HUDSON-FORD Daylight (MD)
GLENN HUGHES The Official Bootleg Box Set, Volume One (MD)
INTERPOL Marauder (RK)
IRON MAIDEN Shattered Past (JK)
JONATHAN JEREMIAH Good Day (RK)
KRAKÓW Minus (MD)
LEAP DAY Timelapse (MD)
LOVE MACHINE Times To Come (MD)
MARLA & DAVID CELIA Daydreamers (MD)
AL DI MEOLA Elegant Gypsy & More Live (SM)
THE MOODY BLUES Days Of Future Passed Live (JK)
MOTHER BASS Mother Bass (JM)
NIRVANA Black Flower (MD)
PATIENT, PATIENT Chasma (RK)
QFT Live In Space (MD)
SCHØNNING & SEJR Constellations (JM)
SEVENTH WAVE Things To Come | Psi-Fi (MD)
SOONAGO Nephele (RK)
SOULS OF DEAF Fortune Favors The Bold (MD)
SPACE ELEVATOR I | II (JK)
SUNRISE AURANAUT Inserter (MD)
DAVID SYLVIAN & HOLGER CZUKAY Plight & Premonition, Flux & Mutability (RK)
TANGLED THOUGHTS OF LEAVING No Tether (RK)
THUNDER Stage (RK)
ULTRAPHONIX Original Human Music (MD)
GIZMO VARILLAS Dreaming Of Better Days (RK)
WE ARE SENTINELS We Are Sentinels (JK)
WILL WILDE Bring It On Home (RK)
EMPIRE Heft 124
Im Heft 124 haben wir unter anderem auch ein neues Interview mit Anna von Hausswolff - die sich sichtlich über das letzte freute...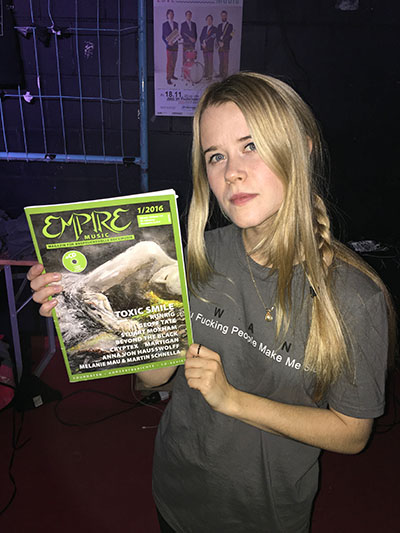 Neuer EMPIRE-MUSIC Mailorder-Shop
Wie Ihr auch schon der Anzeige im Heft 123 entnommen habt, schloss am 26.12. nach über 2 Jahrzehnten der alte Online-Shop von Michael Bäcker unter der Adresse empire-music.de.
In Zukunft findet Ihr sein großes CD- und DVD-Angebot in seinem neuen Shop auf der Plattform Discogs, am einfachsten über diese neue Adresse:
Leider können die Kontodaten des alten Shops nicht in den neuen Discogs-Shop übertragen werden, Ihr müsst Euch daher entweder einfach bei Discogs neu anmelden, oder Ihr könnt Euch auch mit einem bestehenden Facebook- oder Google-Account einloggen. Michael bedankt sich bei allen treuen Kunden des alten Shops und hofft, Euch alle im Shop auf Discogs mit neuen, besseren Suchfiltern und ausführlichen Infos zu jeder CD wiederzusehen.
NEU EMPIRE Sonderheft 2
Das erste EMPIRE MUSIC Sonderheft bekommt eine Fortsetzung mit allen Bands, die letztes Jahr auf dem "Night of the Prog" Festival 2016 gespielt haben... "Another Day in the Life of a Festival".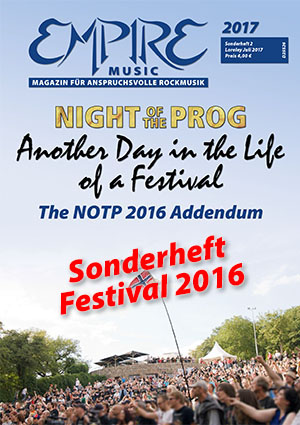 Bestellung und alle Einzelheiten dazu auf der Sonderseite www.empiremusic.de/loreley
EMPIRE Heft 120
Auch Steve Hackett ist seit vielen Jahren Fan und Unterstützer unseres Magazins und wurde in Empire 120 interviewt...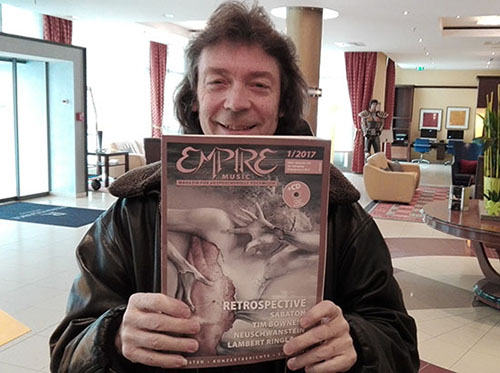 EMPIRE Heft 120
Im Heft 120 haben wir ein Interview mit dem Ayreon-Mastermind Arjen Anthony Lucassen - der seit vielen Jahren ein bekennender Fan vom Empire-Magazin und seiner Sampler-CD ist, wie er uns auch stolz zeigt...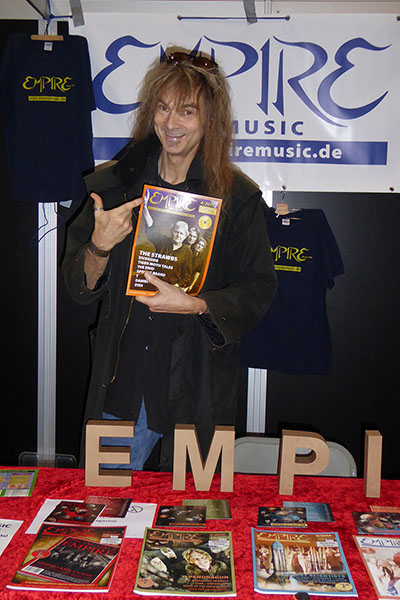 EMPIRE Sonderheft 1
Das erste EMPIRE MUSIC Sonderheft: Zum Anlass des 10. Jubiläums des "Night of the Prog" Festivals in diesem Jahr - und im 25. Jahr unseres Magazins - erschien das große und opulent bebilderte Jubiläumsheft "A Day in the Life of a Festival".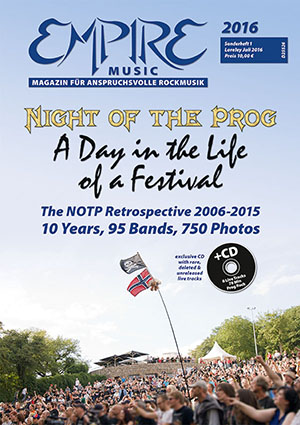 Bestellung und alle Einzelheiten dazu auf der Sonderseite www.empiremusic.de/loreley