News
EMPIRE Heft 144
Die März-Ausgabe 2022 ist verschickt und sollte bei allen Abonnenten bis Mitte des Monats angekommen sein. Hier wie immer eine kleine Vorschau auf unsere Themen.
Das Heft kann auch einzeln im Empire-Music oder PPR Online-Shop bestellt werden.
Das alternative "Jewel Case"-Cover für die CD (zum selber Ausdrucken) steht hier in der Download Sektion zur Verfügung.
Im Editorial von Heft 143 war zu lesen, dass es die teuerste Ausgabe unserer Magazingeschichte war. Die enormen Lieferkettenprobleme und die weiter explodierenden Papierpreise haben diese Ausgabe sogar noch teurer werden lassen. Durch die Unterstützung etlicher Labels und einzelner Bands, die diesmal verstärkt Anzeigen gebucht hatten, konnten wir den Schaden zum Glück noch unter Kontrolle halten. Wir bedanken uns bei allen und rufen gerne dazu auf, die Anzeigen zu lesen und sich (hoffentlich) auch für das eine oder andere davon begeistern zu lassen. Ohne Solidarität von allen Menschen, die mit und für Musik arbeiten, werden wir alle keine Chance haben.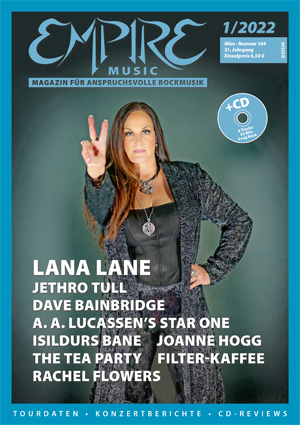 INTERVIEWS
LANA LANE (MB)
JETHRO TULL (TS)
ARJEN ANTHONY LUCASSEN'S STAR ONE (SM)
ISILDURS BANE (TS)
THE TEA PARTY (RK)
DAVE BAINBRIDGE (TS)
JOANNE HOGG (RK)
RACHEL FLOWERS (TS)
FILTER-KAFFEE (STS)
LIVE Reviews
T & CHANDELIER (STS)
O'MALLEY/AMBARCHI/CURTIS (MP)
THE JESUS AND MARY CHAIN (MP)
BAYON MEETS SYMPHONY (BK)
CHARLES LLOYD QUARTET (MP)
STEVE HOGARTH (BK)
›DOMENICA PROG‹ (BK)
MANUEL SCHMID & MAREK ARNOLD (CK)
CD/DVD Reviews
THE ANT BAND A Light On The Hill (MC)
APOGEE The Blessing And The Curse (MD)
DAVE BAINBRIDGE To The Far Away (RK)
BERNARD AND PÖRSTI Robinson Crusoe (JM)
BIG BIG TRAIN Welcome To The Planet (TS)
BREIDABLIK Alduorka (MD)
NICK CAVE & THE BAD SEEDS B-Sides & Rarities, Part 2 (MP)
CYRIL Amenti's Coin, Secret Place Pt. II (MD)
EARTHLESS Night Parade Of One Hundred Demons (RK)
EPIDERMIS Genius Of Original Force (MD)
FILTER-KAFFEE 105 (STS)
FLOATING POINTS & PHAROAH SANDERS Promises (MP)
ROBBEN FORD Pure (PV)
BETH HART A Tribute To Led Zeppelin (TS)
ANNA VON HAUSSWOLFF Live At Montreux Jazz Festival (MP)
INSPIERTY Constellation (MD)
ROSS JENNINGS A Shadow Of My Future Self (MD)
JETHRO TULL The Zealot Gene (TS)
KARIBOW Age Of Amber (MD)
KATATONIA Mnemosynean (JK)
ALICIA KEYS Keys (MP)
ESA KOTILAINEN Unisali (JM)
LALU Paint The Sky (RK)
LANA LANE Neptune Blue (UE)
BERTRAND LOREAU Let The Light Surround You (OM)
MARILLION An Hour Before It's Dark (RK)
MAYBESHEWILL No Feeling Is Final (MD)
RICK MILLER Old Souls (MD)
MIND FURNITURE An Illustrated Map Of The Heart (MD)
CLIVE MITTEN Tales From A Misspent Youth, Volume 1 (TS)
MOLESOME Are You There? (TK)
O'PHRENIC Fata Morgana (STS)
OFFICER! Paragraphs & Principles (MC)
PFM I Dreamed Of Electric Sheep – Ho Sognato Pecore Lettrice (TS)
ANTHONY PHILLIPS Archive Collection Volume I & II (MD)
POWER PALADIN With The Magic Of Windfyre Steel (MS)
JAN REETZE Der Sound Der Jahre (STS)
IL ROVESCIO DELLA MEDAGLIA La Bibbia – 50th Anniversary (ROK)
SCHILLER Epic (TS)
SLEEPMAKESWAVES Live At The Metro (MD)
SOULSPLITTER Connection (RK)
STAR ONE Revel In Time (SM)
T Pareidoliving (MO)
TAMARISK Suspended Animation (Tales From Our Time In The Nineteen Eighties) (MD)
THE TEA PARTY Blood Moon Rising (RK)
TOCOTRONIC Nie Wieder Krieg (MP)
VERSENGOLD Was Kost Die Welt (ROK)
VICTORY Gods Of Tomorrow (MS)
KALLE WALLNER Voices (STS)
FRANK ZAPPA 200 Motels (MC)
ZINKL-GOZON Rebirth (MH)
QUICKIES
AFFINITY Affinity (MD)
AIRBAG A Day In The Studio (MD)
ALASTOR Onwards And Downwards (RK)
AMBIGRAM Ambigram (MD)
ASIA The Official Bootlegs, Volume One (TS)
ASP Endlich! (MD)
AT THE MOVIES The Soundtrack Of Your Life, Vol. 1 & 2 (RK)
BELEDO Seriously Deep (MD)
BREAKFAST It's Time For Breakfast (MD)
CATS IN SPACE Diamonds – The Best Of (MD)
CLAYHANDS Is This Yes? (MD)
CLOSET DISCO QUEEN & THE FLYING RACLETTE Omelette Du Fromage (MD)
CLOSURE IN MOSCOW Pink Lemonade (MD)
DAS KITSCH Teer Und Federn (MD)
DEEP PURPLE Turning To Crime (RK)
DHOPE Musical Exhibitions (MD)
DOOMS CHILDREN Dooms Children (RK)
DREAM OCEAN The Missing Stone (JK)
DUST IN MIND CTRL (MD)
ECHOTIDE Into The Half Light (MD)
EINSEINSEINS Zwei (MD)
ELIAS HULK Unchained (MD)
ENDLESS DIVE A Brief History Of A Kind Human (MD)
FIELDS Feeling Free – The Complete Recordings (1971-1973) (MD)
STEFANO "LUPO" GALIFI Dei Ricordi, Un Museo (MD)
GET WELL SOON Amen (RK)
BEN GRANFELT Live... Because We Can! (MD)
DARYL HALL & JOHN OATES Live At The Troubadour (MD)
VANESA HARBEK Visiones (MD)
HAWKWIND Dust Of Time (MD)
KAPELLE PETRA Die Vier Jahreszeiten (RK)
TILL KERSTING Circuskind (MD)
KING ZEBRA Survivors (MD)
JACK LANCASTER & ROBIN LUMLEY Peter And The Wolf (MD)
LARSEN & THE COLOURED DREAMS Bucket List (MD)
LEVITATION MINDWORKS Entering Kingdom Come (MD)
MALO MORAY & HIS INFLATABLE KNEE Improvisations From The Solar System (And Other Solo Pieces) (MD)
LOREENA MCKENNITT The Visit – The Definitive Edition (TS)
OFFICER! Brexit Means Toxic (MC)
ORSAK:OSLO Skimmer/Vemod (MD)
ALAN PARSONS The Neverending Show – Live In The Netherlands (MD)
PEE WEE BLUESGANG A Soft Suicide (MD)
THE PERC MEETS THE HIDDEN GENTLEMAN Lavender (MD)
PIRATE Left Of Mind (MD)
PLENILUNIO Il Gioco Imperfetto (MD)
PLUTO JONZE Awe (MD)
PROFESSOR TIP TOP Lanes Of Time (MD)
MARKUS REUTER Truce 2 (MD)
LANA DEL REY Blue Banisters (MP)
IAN PARRY'S ROCK EMPORIUM Brute Force (MS)
THE SAMURAI OF PROG Omnibus 2 – The Middle Years (TS)
SCHÄFER Mosaik 127 (MD)
ROBERT SCHROEDER Spaces Of A Dream (OM)
SHAMBLEMATHS Shamblemaths 2 (MD)
SILLY Instandbesetzt (PV)
SLADE Slade Alive | Slade In Flame (MD)
SLOW CRUSH Hush (RK)
THE SLOW SHOW Still Life (RK)
SOLKYRI No House (MD)
SOONAGO Fathom (MD)
SOUND OF SMOKE Tales (MD)
THE SPACELORDS Unknown Species (MD)
SPIDERGAWD VI (RK)
SPRINGSTEEN E STREET BAND The Legendary '79 No Nukes Concerts (TS)
CAT STEVENS Teaser And The Firecat (MD)
STRAWBS The Broken Hearted Bride (MD)
SUNN O))) Metta, Benevolence – (MP)
TAUMEL Now We Stay Forever Lost In Space Together (MD)
THIS ETERNAL DECAY Nocturnæ (MD)
TIME TRAVELLER Chapters V & VI (JM)
TIMELOCK Sygn Yn (JM)
VANDERLINDE Muy Rico (MD)
VILLA NOISE Conversations On A Lonely Star (MD)
JOE WEINECK Inner Circle (JM)
30 Jahre Empire Magazin
Die alten Empire-Magazine 1-103 bis 2013 sind nun leider schon lange vergriffen. Zu unserem 30. Jubiläum haben wir aber noch einmal alle 99 Heftcover (es gab insgesamt 4 Doppelhefte) in einer Galerie zusammengestellt und wünschen Euch viel (nostalgischen) Spaß, in den alten Titelbildern zu stöbern...
EMPIRE Heft 124
Im Heft 124 haben wir unter anderem auch ein neues Interview mit Anna von Hausswolff - die sich sichtlich über das letzte freute...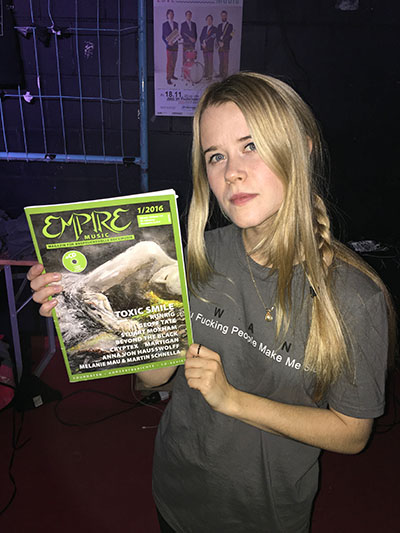 Neuer EMPIRE-MUSIC Mailorder-Shop
Wie Ihr auch schon der Anzeige im Heft 123 entnommen habt, schloss am 26.12. nach über 2 Jahrzehnten der alte Online-Shop von Michael Bäcker unter der Adresse empire-music.de.
In Zukunft findet Ihr sein großes CD- und DVD-Angebot in seinem neuen Shop auf der Plattform Discogs, am einfachsten über diese neue Adresse:
Leider können die Kontodaten des alten Shops nicht in den neuen Discogs-Shop übertragen werden, Ihr müsst Euch daher entweder einfach bei Discogs neu anmelden, oder Ihr könnt Euch auch mit einem bestehenden Facebook- oder Google-Account einloggen. Michael bedankt sich bei allen treuen Kunden des alten Shops und hofft, Euch alle im Shop auf Discogs mit neuen, besseren Suchfiltern und ausführlichen Infos zu jeder CD wiederzusehen.
NEU EMPIRE Sonderheft 2
Das erste EMPIRE MUSIC Sonderheft bekommt eine Fortsetzung mit allen Bands, die letztes Jahr auf dem "Night of the Prog" Festival 2016 gespielt haben... "Another Day in the Life of a Festival".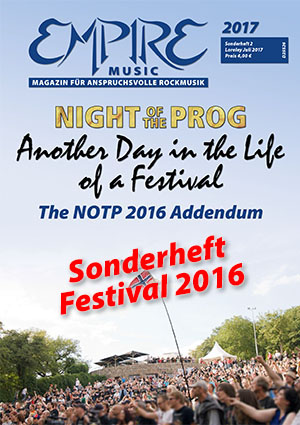 Bestellung und alle Einzelheiten dazu auf der Sonderseite www.empiremusic.de/loreley
EMPIRE Heft 120
Auch Steve Hackett ist seit vielen Jahren Fan und Unterstützer unseres Magazins und wurde in Empire 120 interviewt...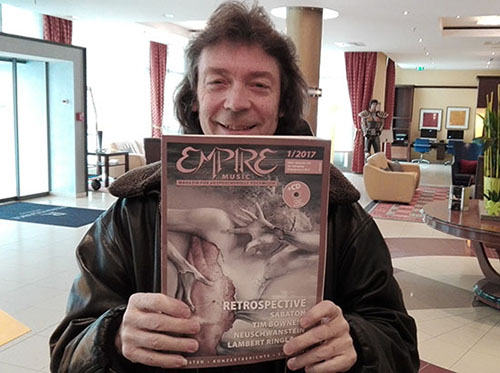 EMPIRE Heft 120
Im Heft 120 haben wir ein Interview mit dem Ayreon-Mastermind Arjen Anthony Lucassen - der seit vielen Jahren ein bekennender Fan vom Empire-Magazin und seiner Sampler-CD ist, wie er uns auch stolz zeigt...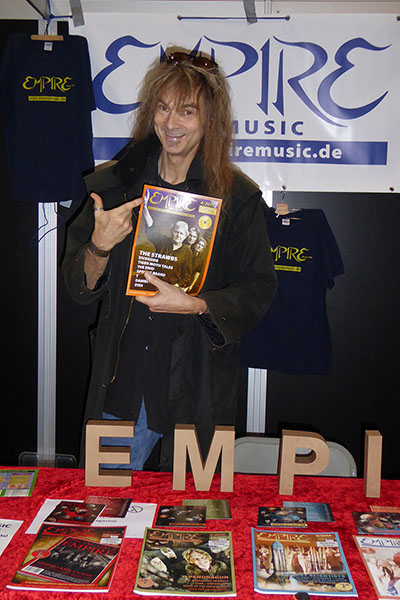 EMPIRE Sonderheft 1
Das erste EMPIRE MUSIC Sonderheft: Zum Anlass des 10. Jubiläums des "Night of the Prog" Festivals in diesem Jahr - und im 25. Jahr unseres Magazins - erschien das große und opulent bebilderte Jubiläumsheft "A Day in the Life of a Festival".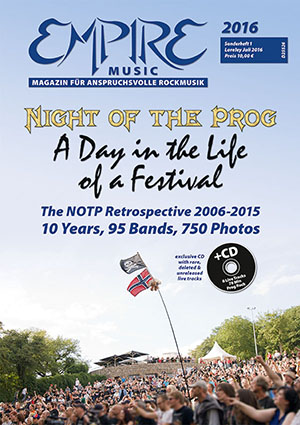 Bestellung und alle Einzelheiten dazu auf der Sonderseite www.empiremusic.de/loreley