News
EMPIRE Heft 143
Die Dezember-Ausgabe 2021 ist verschickt und sollte bei allen Abonnenten bis Mitte des Monats angekommen sein. Hier wie immer eine kleine Vorschau auf unsere Themen.
Das Heft kann auch einzeln im Empire-Music oder PPR Online-Shop bestellt werden.
Das alternative "Jewel Case"-Cover für die CD (zum selber Ausdrucken) steht hier in der Download Sektion zur Verfügung.
Wir wünschen allen Leserinnen und Lesern ein frohes Weihnachtsfest und ein gutes Neues Jahr!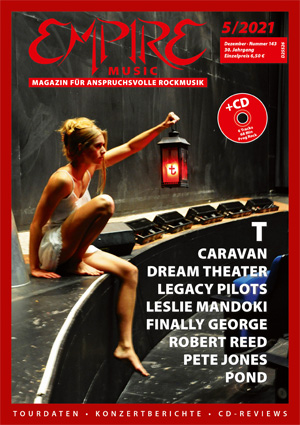 INTERVIEWS
THOMAS THIELEN (MO)
CARAVAN (TS)
LESLIE MANDOKI (SM)
DREAM THEATER (VS)
ROBERT REED (TS)
PETE JONES (TS)
POND (STS)
LEGACY PILOTS (MD)
FINALLY GEORGE (TS)
LIVE Reviews
STEPHAN EICHER (CP)
GURU GURU (STS)
COARBEGH (STM)
PYRAMID PEAK (STS)
PATRICK BRUEL (MP)
MAGMA (CT)
LIONEL LOUEKE, VINCENT PEIRANI & ÉMILE PARISIEN (MP)
AVISHAI COHEN TRIO (MP)
LAZULI (CK)
GENESES (KB)
GENESIS ›The Last Domino?‹ (VW)
›2 DAYS PROG+1‹ Festival (BK)
CD/DVD Reviews
ABBA Voyage (MP)
GIUSEPPE FARA Alexandra – Zwischen Traum Und Wirklichkeit (MC)
AMAROK Hero (JM)
AXESS Imagination (STS)
JOHNNY CASH At The Carousel Ballroom April 24, 1968 (OM)
CITY WEEZLE No.2 (MD)
ALESSANDRO CORVAGLIA Out Of The Gate (MD)
CYAN For King And Country (TS)
DOLL CIRCUS Eat This! (STS)
DREAM THEATER A View From The Top Of The World (VS)
DRIFTING SUN Forsaken Innocence (MD)
EFTERKLANG Windflowers (MP)
NORBERT EGGER & NATURAL BLUES I Am Not Don Quixote (ROK)
EMERSON, LAKE & PALMER Out Of This World: Live (1970-1997) (MD)
RACHEL FLOWERS Bigger On The Inside (RK)
FORCE OF PROGRESS R3Design (MD)
GRUPPO AUTONOMO SUONATORI Omnia Sunt Communia (JM)
HUNKA MUNKA Foreste Interstellari (JM)
IRON MAIDEN Senjutsu (MS)
ELTON JOHN The Lockdown Sessions (TS)
ANTONY KALUGIN Chameleon Shapeshifter (TK)
DAVY KNOWLES What Happens Next (OM)
LEGACY PILOTS The Penrose Triangle (MD)
MARILLION Fugazi (AS)
MARTHA RABBIT Phonolith (MP)
ELISA MONTALDO Fistful Of Planets Part II (JM)
MOSTLY AUTUMN Graveyard Star (STM)
CHRISTIAN MUENZNER Path Of The Hero (MS)
BARBARA PRAVI On N'Enferme Pas Les Oiseaux (MP)
ARTHUAN REBIS Sacred Woods (JM)
RED SAND The Sound Of The Seventh Bell (UE)
ROB REED The Ringmaster Part One (TS)
SATURNIA Stranded In The Green (PV)
ST. TROPEZ Icarus (JM)
ED STARINK World (STS)
TOEHIDER The First Six | The Last Six (RK)
PAUL BRANNIGAN Eddie Van Halen – Ein Leben (PV)
THE WATCH The Art Of Bleeding (UE)
KANYE WEST Donda (MP)
ZAZ Isa (MP)
ZERO TIMES EVERYTHING Sound Of Music (MD)
QUICKIES
ADNA Black Water (MD)
THE BEATLES Let It Be – 50th Anniversary Edition (TS)
THE BRIDES OF THE BLACK ROOM Blood And Fire (MD)
BURNT BELIEF Mutual Isolation (MD)
PHILIPPE CAILLAT Acoustic Travel (MD)
CLEPSYDRA The Gap | More Grains Of Sand (KB)
CLOSURE IN MOSCOW First Temple (MD)
COARBEGH Watercolours (MD)
JOERG DANKERT Restore Faith (JM)
DEAFENING OPERA Driftwood (MD)
DONNER Hesitant Light (JM)
ECLIPSE Wired (MD)
BRIAN FALLON Night Divine (RK)
FLYING NORWEGIANS New Day | Wounded Bird (MD)
GO MUSIC 25th Anniversary (MD)
HELP YOURSELF Passing Through – The Complete Studio Recordings (MD)
HIMMELLEGEME Variola Vera (MD)
CHRIS JAGGER Mixing Up The Medicine (MD)
JUDAS PRIEST Reflections – 50 Heavy Metal Years Of Music (MD)
KORNMO Fimbulvinter (MD)
KOSMODOME Kosmodome (MD)
KOSMOGON Mässan (JM)
LEHNEN Negative Space (RK)
LIZARD Tales From Artichoke Wood (MD)
LOU CIFER AND THE HELLIONS Hell In The Barn (MD)
MARCO MATTEI Out Of Control (MD)
MONSTEREO In The Hollow Of A Wave (MD)
MARK MURDOCK Visitors From Another Planet (MD)
MYTHOPOEIC MIND Hatchling (JM)
THE NERVE Audiodacity (MD)
OBRASQI Dopowiedzenia (MD)
PAKT PAKT (MD)
PENDRAGON The Jewel & Fly High Fall Far (MB)
STEVE PERRY The Season (RK)
MADELEINE PEYROUX Careless Love (MD)
THE PINEAPPLE THIEF Nothing But The Truth (TS)
POLIVERSO Sunbound (ROK)
RADIO HAZE Strangers (MD)
R.E.M. New Adventures In Hi-Fi (MD)
ROPES OF NIGHT Impossible Space (MD)
CARLOS SANTANA Blessings And Miracles (RK)
SEIMS Four (MD)
SORDAL Juno & Jupiter (JM)
STEELY DAN Northeast Corridor – Steely Dan Live (MD)
DONALD FAGEN The Nightfly Live (MD)
SUPER FLORENCE JAM We Always Knew It Would Come To This (MD)
SVNTAX ERROR Message (MD)
SYNDONE Kama Sutra (MD)
ROGER TAYLOR Outsider (MD)
TESSERACT Portals (MD)
THRICE Horizons/East (RK)
TIBET Tibet (MD)
TREMONTI Marching In Time (RK)
VANDENBERG The Complete Atco Recordings 1982-2004 (MD)
VANEXA The Last In Black (JM)
VINEGAR JOE Finer Things – The Island Recordings 1972-1973 (MD)
WE LOST THE SEA Departure Songs (MD)
WINTER Pale Horse (MD)
30 Jahre Empire Magazin
Die alten Empire-Magazine 1-103 bis 2013 sind nun leider schon lange vergriffen. Zu unserem 30. Jubiläum haben wir aber noch einmal alle 99 Heftcover (es gab insgesamt 4 Doppelhefte) in einer Galerie zusammengestellt und wünschen Euch viel (nostalgischen) Spaß, in den alten Titelbildern zu stöbern...
EMPIRE Heft 124
Im Heft 124 haben wir unter anderem auch ein neues Interview mit Anna von Hausswolff - die sich sichtlich über das letzte freute...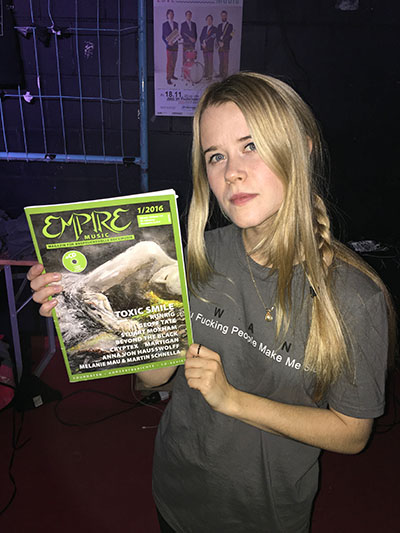 Neuer EMPIRE-MUSIC Mailorder-Shop
Wie Ihr auch schon der Anzeige im Heft 123 entnommen habt, schloss am 26.12. nach über 2 Jahrzehnten der alte Online-Shop von Michael Bäcker unter der Adresse empire-music.de.
In Zukunft findet Ihr sein großes CD- und DVD-Angebot in seinem neuen Shop auf der Plattform Discogs, am einfachsten über diese neue Adresse:
Leider können die Kontodaten des alten Shops nicht in den neuen Discogs-Shop übertragen werden, Ihr müsst Euch daher entweder einfach bei Discogs neu anmelden, oder Ihr könnt Euch auch mit einem bestehenden Facebook- oder Google-Account einloggen. Michael bedankt sich bei allen treuen Kunden des alten Shops und hofft, Euch alle im Shop auf Discogs mit neuen, besseren Suchfiltern und ausführlichen Infos zu jeder CD wiederzusehen.
NEU EMPIRE Sonderheft 2
Das erste EMPIRE MUSIC Sonderheft bekommt eine Fortsetzung mit allen Bands, die letztes Jahr auf dem "Night of the Prog" Festival 2016 gespielt haben... "Another Day in the Life of a Festival".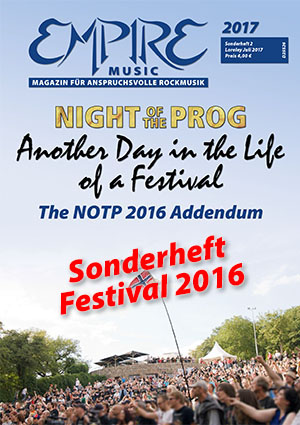 Bestellung und alle Einzelheiten dazu auf der Sonderseite www.empiremusic.de/loreley
EMPIRE Heft 120
Auch Steve Hackett ist seit vielen Jahren Fan und Unterstützer unseres Magazins und wurde in Empire 120 interviewt...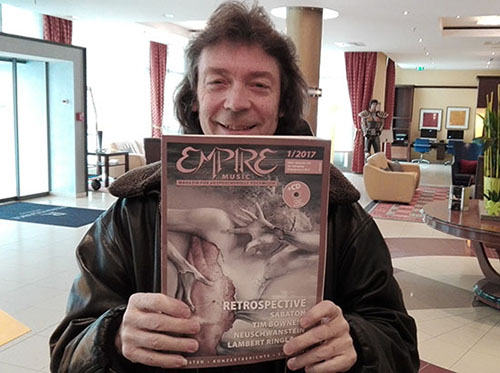 EMPIRE Heft 120
Im Heft 120 haben wir ein Interview mit dem Ayreon-Mastermind Arjen Anthony Lucassen - der seit vielen Jahren ein bekennender Fan vom Empire-Magazin und seiner Sampler-CD ist, wie er uns auch stolz zeigt...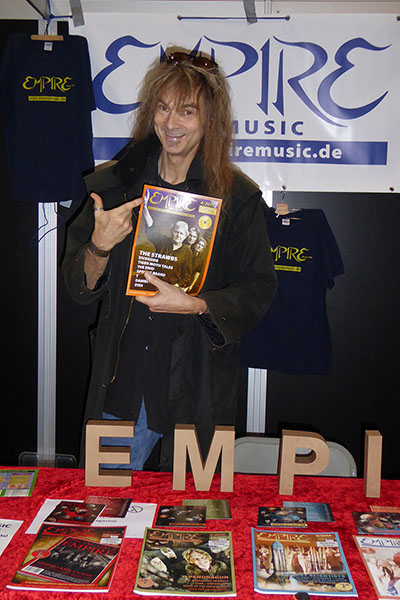 EMPIRE Sonderheft 1
Das erste EMPIRE MUSIC Sonderheft: Zum Anlass des 10. Jubiläums des "Night of the Prog" Festivals in diesem Jahr - und im 25. Jahr unseres Magazins - erschien das große und opulent bebilderte Jubiläumsheft "A Day in the Life of a Festival".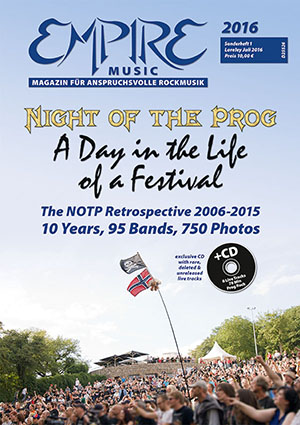 Bestellung und alle Einzelheiten dazu auf der Sonderseite www.empiremusic.de/loreley