News
Abschied von Iris Winkler
Am Sonntag, den 2. Juni hat unsere langjährige Kollegin und gute Freundin Iris Winkler den langen Kampf gegen ihre schwere Krankheit verloren. Iris war eine phantastische Fotografin, deren Konzertfotos die Seele der Musik, die sie liebte, eingefangen haben und die auch in unserem Magazin viele Jahre lang den Lesern die Gefühle dieser Konzerte vermitteln konnten. Aber am meisten werden wir ihre Persönlichkeit, ihre positive Lebenseinstellung und ihre freundliche, sanfte Art vermissen, wann immer wir mit ihr zusammen über Musik und alle Dinge der Welt plaudern konnten. In wenigen Wochen wollten wir sie auf der Loreley wiedersehen, nun reißt ihr Tod uns allen eine fürchterliche Lücke. Unser Mitgefühl gilt ihrer Familie und ihren Freunden, wir werden Iris niemals vergessen.
Die Empire Redaktion und alle Mitarbeiter.
EMPIRE Heft 130
Die Mai-Ausgabe ist verschickt und sollte bei allen Abonnenten angekommen sein. Hier wie immer eine kleine Vorschau auf unsere Themen.
Das Heft kann auch einzeln im Empire-Music oder PPR Online-Shop bestellt werden.
Das alternative "Jewel Case"-Cover für die CD (zum selber Ausdrucken) steht hier in der Download Sektion zur Verfügung.
Wir wünschen Euch viel Spaß beim Lesen.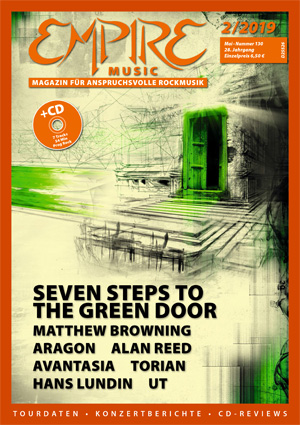 INTERVIEWS
SEVEN STEPS TO THE GREEN DOOR (MD)
AVANTASIA (TS)
MATTHEW BROWNING (TS)
UT (MC)
HANS LUNDIN (TS)
ARAGON (TS)
ALAN REED (TS)
TORIAN (MS)
LIVE Reviews
SOPHIE HUNGER (BK)
DAVE MATTHEWS BAND (MP)
JAIL JOB EVE (TS)
LOREENA MCKENNITT (TS)
THE NEAL MORSE BAND (BK)
›CRUISE TO THE EDGE‹ 2019 (VW)
MARILLION ›WEEKEND 2019‹ (BK)
CD/DVD Reviews
BRYAN ADAMS Shine A Light (MS)
ANCIENT VEIL New (JM)
ANUBIS Lights Of Change – Live In Europe 2018 (UE)
TOBIAS SAMMET'S AVANTASIA Mooglow – The Narratives Of A Misplaced Entity (TS)
AWAITING DAWN Leave No Trace (JM)
BABA YOGA L'Uomo Progressivo (JM)
BARO PROG-JETS Lucillo & Giada/Topic Würlenio (JM)
BIG BIG TRAIN Grand Tour (TS)
BIG COUNTRY Live At Rockpalast 1986 & 1991 (TS)
BREIDABLIK Nhoohr (JM)
MATTHEW BROWNING Love & Grief (TS)
WOJCIECH CIURAJ Ballady Bez Romansów (JM)
COARBEGH The Sound And Flow Of London Town (MD)
CYRIL The Way Through (MD)
DARKWATER Human (JM)
LOU DOILLON Soliloquy (MP)
ECHOES Live From The Dark Side – A Tribute To Pink Floyd (JK)
THE EMERALD DAWN Nocturne (MD)
SHARON VAN ETTEN Remind Me Tomorrow (MP)
FIZBERS Die Without Living (MD)
THE FLAME Endless Sky (MB)
ROBERT FORSTER Inferno (MC)
FROM THE FIRE Thirty Days And Dirty Nights | Evil Men Do | OctOpus (TS)
GARY G. ORCHESTRA The Way Of Life (JM)
GHOSTBOUND All Is Phantom (MS)
GONG The Universe Also Collapses (MD)
GREEN DESERT TREE Progressive Worlds (MD)
DOMINIQUE GUIOT L'Univers De La Mer (MD)
HATS OFF GENTLEMEN IT'S ADEQUATE Broken But Still Standing | Out Of Mind (MD)
HEAVEN & EARTH Hard To Kill (MS)
JOHN ILLSLEY Coming Up For Air (TS)
FREDRIK KLINGWALL Sentience (JM)
THE LAST DETAIL At Last... The Tale And Other Stories (JM)
LIZARD Half-Live | Destruction And Little Pieces Of Cake (MD)
LONELY ROBOT Under Stars (RK)
HANS LUNDIN The Solo Years 1982-1989 (MD)
MACCHINA PNEUMATICA Riflessi E Maschere (JM)
MACHINES DREAM Revisionist History (MD)
MOTHER OF MILLIONS Artifacts (RK)
MT. AMBER Another Moon (MD)
MYRATH Shehili (SM)
FERNANDO PERDOMO Out To Sea 2 (MD)
QUEENSRŸCHE The Verdict (AS)
ALAN REED & THE DAUGHTERS OF EXPEDIENCY Live: From The Razor's Edge (TS)
RENAISSANCE A Song For All Seasons (MD)
RHAPSODY OF FIRE The Eighth Mountain (MS)
BJØRN RIIS A Storm Is Coming (MD)
RUPHUS New Born Day (TK)
RUSTIN MAN Drift Code (MP)
SALUKI Amazing Games (MD)
THE SAMURAI OF PROG Omnibus – The Early Years (TK)
STEFAN C. SCHENKEL Dominium Terrae (JM)
SECRET SKY Secret Sky (TS)
SEQUENTIA LEGENDA Over There (JM)
SEVEN STEPS TO THE GREEN DOOR The?Lie (MD)
PAOLO SIANI FT. NUOVA IDEA The Leprechaun's Pot Of Gold (JM)
SIDETRACK WALKER Come What May (JM)
SPACE DEBRIS She's A Temple (PV)
TEAR GAS Tear Gas (MD)
STEPHAN THELEN Fractal Guitar (JM)
UNITED PROGRESSIVE FRATERNITY Planetary Overload – Part I: Loss (JM)
UT Ut & Confidential | Conviction (MC)
KURT VILE Bottle It In (MP)
GERD WEYHING SubTerraMachIneA (MD)
WHITESNAKE Slide It In (JK)
WITHIN TEMPTATION Resist (MP)
QUICKIES
AMERICAN FOOTBALL ( Ralf Koch)
ASTRAL SON Wonderful Beyond (PV)
AWAKEN I AM The Beauty In Tragedy (RK)
BADFLOWER OK, I'm Sick (RK)
THE ELECTRIK RENDEZVOUS Warrior ( Sascha Mauritz)
FIRST BREATH AFTER COMA NU ( Ralf Koch)
FOREIGNER Live At The Rainbow '78 (MD)
JERZY GÓRKA ARTKIESTRA ( Martin Dambeck)
GREENSLADE Time And Tide ( Martin Dambeck)
GROBSCHNITT Black & White IV: Kinder + Narren | Sonnentanz | Fantasten | Last Party (TS)
NINA HAGEN BAND | LAKE Double Classics ( Martin Dambeck)
BRUCE HORNSBY Absolute Zero ( Ralf Koch)
JOURNEY (AS)
KAMALA Your Sugar (MD)
KARMA RASSA Vesna... Snova Vesna ( Martin Dambeck)
KAYANIS Mundane (MD)
KELLERKIND BERLIN ( Jürgen Meurer)
KETTCAR ( Ralf Koch)
KISS Kissworld – The Best Of Kiss (SM)
THE LIVING END Wunderbar ( Ralf Koch)
LUCIFER'S FRIEND Black Moon (MD)
LUCY IN BLUE In Flight ( Martin Dambeck)
MARS PROJECT House Of The Restless ( Martin Dambeck)
KRISSY MATTHEWS Monster In Me ( Tim Stecher)
MÖRGLBL The Story Of Scott Rötti (MD)
PATRICK MORAZ The Story Of I ( Martin Dambeck)
JAMES MORRISON ( Ralf Koch)
MYTHOPOEIC MIND Mythopoetry ( Martin Dambeck)
STEVIE NICKS Stand Back (JK)
NO MAN'S VALLEY ( Martin Dambeck)
O.R.K. Ramagehead ( Martin Dambeck)
OVERKIND Acheron (JM)
TOM PETTY & THE HEARTBREAKERS (MD)
PLOTNICKY 4.3 ( Martin Dambeck)
POIL | NI Sus | Pantophobie ( Martin Dambeck)
PRISTINE Road Back To Ruin ( Ralf Koch)
RADARE Der Endless Dream ( Martin Dambeck)
RIPE & RUIN Breaking Circles ( Ralf Koch)
SEASONAL Heartvoid (MD)
SWIFAN EOHL & THE MUDRA CHOIR ( Martin Dambeck)
THIRD EAR BAND Alchemy (MD)
TOTO 40 Tours Around The Sun (TS)
THE TRONOSONIC EXPERIENCE (MD)
VILLAGERS The Art Of Pretending To Swim ( Ralf Koch)
W.E.T. Earthrage ( Michael Schübeler)
SNOWY WHITE & THE WHITE FLAMES ( Martin Dambeck)
WHITE HIGHWAY Hittin' The Road ( Martin Dambeck)
ED WYNNE ( Ralf Koch|MC)
EMPIRE Heft 124
Im Heft 124 haben wir unter anderem auch ein neues Interview mit Anna von Hausswolff - die sich sichtlich über das letzte freute...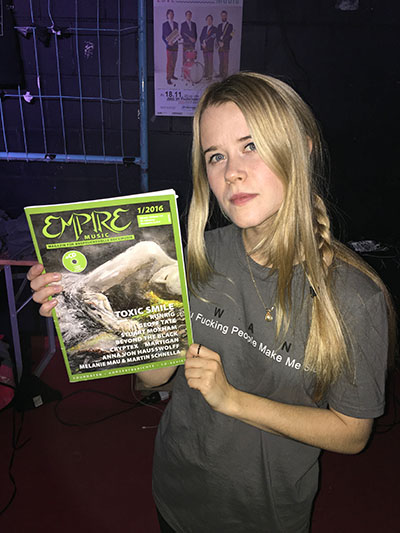 Neuer EMPIRE-MUSIC Mailorder-Shop
Wie Ihr auch schon der Anzeige im Heft 123 entnommen habt, schloss am 26.12. nach über 2 Jahrzehnten der alte Online-Shop von Michael Bäcker unter der Adresse empire-music.de.
In Zukunft findet Ihr sein großes CD- und DVD-Angebot in seinem neuen Shop auf der Plattform Discogs, am einfachsten über diese neue Adresse:
Leider können die Kontodaten des alten Shops nicht in den neuen Discogs-Shop übertragen werden, Ihr müsst Euch daher entweder einfach bei Discogs neu anmelden, oder Ihr könnt Euch auch mit einem bestehenden Facebook- oder Google-Account einloggen. Michael bedankt sich bei allen treuen Kunden des alten Shops und hofft, Euch alle im Shop auf Discogs mit neuen, besseren Suchfiltern und ausführlichen Infos zu jeder CD wiederzusehen.
NEU EMPIRE Sonderheft 2
Das erste EMPIRE MUSIC Sonderheft bekommt eine Fortsetzung mit allen Bands, die letztes Jahr auf dem "Night of the Prog" Festival 2016 gespielt haben... "Another Day in the Life of a Festival".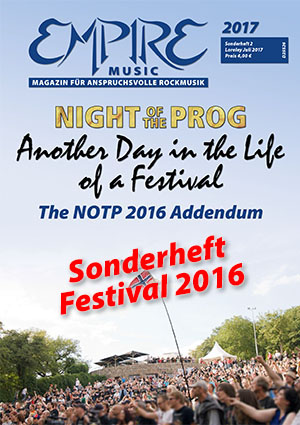 Bestellung und alle Einzelheiten dazu auf der Sonderseite www.empiremusic.de/loreley
EMPIRE Heft 120
Auch Steve Hackett ist seit vielen Jahren Fan und Unterstützer unseres Magazins und wurde in Empire 120 interviewt...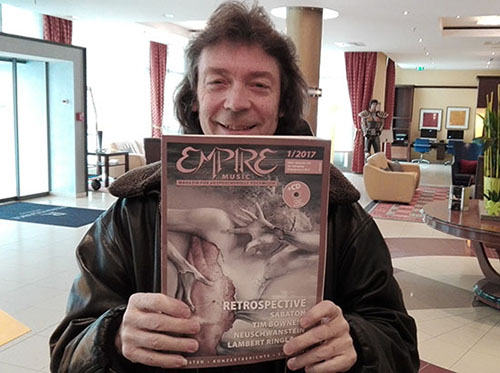 EMPIRE Heft 120
Im Heft 120 haben wir ein Interview mit dem Ayreon-Mastermind Arjen Anthony Lucassen - der seit vielen Jahren ein bekennender Fan vom Empire-Magazin und seiner Sampler-CD ist, wie er uns auch stolz zeigt...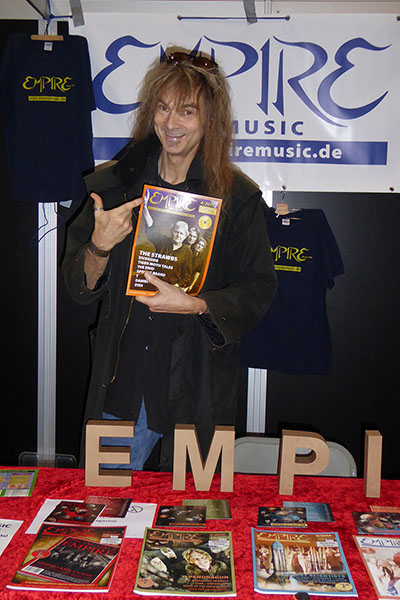 EMPIRE Sonderheft 1
Das erste EMPIRE MUSIC Sonderheft: Zum Anlass des 10. Jubiläums des "Night of the Prog" Festivals in diesem Jahr - und im 25. Jahr unseres Magazins - erschien das große und opulent bebilderte Jubiläumsheft "A Day in the Life of a Festival".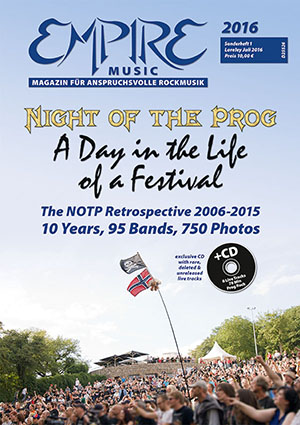 Bestellung und alle Einzelheiten dazu auf der Sonderseite www.empiremusic.de/loreley