News
30 Jahre Empire Magazin
Die alten Empire-Magazine 1-103 bis 2013 sind nun leider schon lange vergriffen. Zu unserem 30. Jubiläum haben wir aber noch einmal alle 99 Heftcover (es gab insgesamt 4 Doppelhefte) in einer Galerie zusammengestellt und wünschen Euch viel (nostalgischen) Spaß, in den alten Titelbildern zu stöbern...
EMPIRE Heft 142
Die Oktober-Ausgabe 2021 ist verschickt und sollte bei allen Abonnenten bis Mitte des Monats angekommen sein. Hier wie immer eine kleine Vorschau auf unsere Themen.
Das Heft kann auch einzeln im Empire-Music oder PPR Online-Shop bestellt werden.
Das alternative "Jewel Case"-Cover für die CD (zum selber Ausdrucken) steht hier in der Download Sektion zur Verfügung.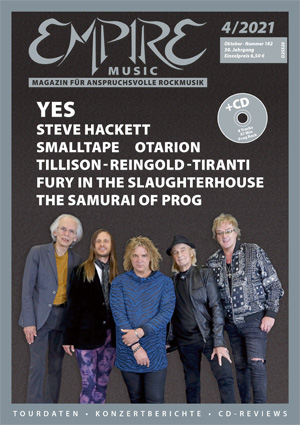 INTERVIEWS
YES (TS)
SMALLTAPE (TS)
STEVE HACKETT (TS)
FURY IN THE SLAUGHTERHOUSE (RK)
OTARION (STS)
THE SAMURAI OF PROG (TS)
TILLISON REINGOLD TIRANTI (TS)
LIVE Reviews
RAY WILSON & BAND ›TIME & SOCIAL DISTANCE TOUR‹ 2021 (BK)
KRAAN (CT)
BOB DYLAN ›SHADOW KINGDOM‹ (MP)
RPWL (CK|UE)
›FOREST FIGHT FOR SUNLIGHT‹ II (MC)
›AQUAMARIA FESTIVAL‹ 2021 (BK)
›WOODSTOCK FOREVER FESTIVAL‹ 2021 (MB)
›ARTROCK FESTIVAL‹ IX (BK|ROK|CK|UE)
CD/DVD Reviews
ATRAVAN The Grey Line (MD)
BLAZON RITE Endless Halls Of Golden Totem (MS)
JACKSON BROWNE Downhill From Everywhere (TS)
CARAVAN It's None Of Your Business (TS)
CATALYST*R Catalyst*R (TK)
CHTHONIC Megaport 2021 Anti-Epidemic-Gear-Set (TK)
THE COLD STARES Heavy Shoes (OM)
CONFUSION FIELD Disconnection Complete (MD)
DEAFHEAVEN Infinite Granite (RK)
DREAMMAGE Roads (STS)
MELISSA ETHERIDGE One Way Out (RK)
EVERSHIP The Uncrowned King, Act 1 (MD)
DER EWIGE TAG Meteore (SM)
FANGER & SCHÖNWÄLDER FEAT. LUTZ GRAF-ULBRICH Analog Overdose 6 (STS)
MYLÈNE FARMER Plus Grandir 1986-1996 (MC)
FEELING OF PRESENCE Of Lost Illusion (MD)
FINALLY GEORGE Icy Skies (MD)
FREDRIK FORSBERG Nur Ein Spiel (STS)
VALERIE GRACIOUS, STEVE UNRUH, PHIDEAUX XAVIER 71319 Live At Monforti Manor (MD)
STEVE HACKETT Surrender Of Silence (TS)
GEORGE HARRISON All Things Must Pass (TS)
INFINITOME Voyage Home (MD)
ISILDURS BANE & PETER HAMMILL In Disequilibrium (MD)
ISON Aurora (STM)
ANTONY KALUGIN Stellar Gardener (TK)
KICKBIT INFORMATION Bitkicks – The Graue Recordings (MD)
KLONE Alive (MD)
JEFF KOLLMAN East Of Heaven (MS)
GABRIEL LE MAR Berlin Guitar (STS)
LEPROUS Aphelion (TS)
KIKO LOUREIRO Open Source (MS)
MAGENTA Angels And Damned – 20th Anniversary Show (TK)
YNGWIE MALMSTEEN Parabellum (OM|MS)
MANDOKI SOULMATES Utopia For Realists – Hungarian Pictures (SM)
MEESHA A Change Of Scenery (STS)
MDOU MOCTAR Afrique Victime (MP)
THE NEAL MORSE BAND Innocence & Danger (SM)
ORDEN OGAN Final Days (STS)
OTARION No Time Was Lost (MD)
KIMMO PÖRSTI Past And Present (TS)
INGA RUMPF Universe Of Dreams (RK)
THE SAMURAI OF PROG The White Snake And Other Grimm Tales II (TS)
SMALLTAPE The Hungry Heart (TS)
STYX Crash Of The Crown (MD)
TAMEERA My Mind (MS)
TILLISON REINGOLD TIRANTI Allium: Una Storia (TS)
TURBULENCE Frontal (RK)
VAN DER GRAAF GENERATOR The Charisma Years 1970-1978 (TS)
JOCHEN VOLPERT Seven (STS)
RAY WILSON The Weight Of Man (JM)
YES The Quest (TS)
MIKE ZITO Resurrection (MS)
QUICKIES
/A\\ /A\\ (MD)
ALWANZATAR Den Glemte Dalen (MD)
AZURE Of Brine And Angel's Beaks (MD)
THE BEACH BOYS Feel Flows, The Sunflower And Surf's Up Sessions (MD)
STEFAN BERGGREN These Are The Times (JK)
BIG BIG TRAIN Summer's Lease (TS)
ANDERS BUAAS Tarot (MD)
DEWA BUDJANA Naurora (MD)
CAPTAIN KICKARSE AND THE AWESOMES Grim Repercussions (MD)
CARAVAN Who Do You Think We Are? (TS)
DAVID JUDSON CLEMMONS Tribe & Throne (RK)
COLOSSEUM Transmissions – Live At The BBC (MD)
DAVID CROSBY For Free (TS)
THE DEVIL'S STAIRCASE The Devil's Staircase (MD)
DUFFY Scruffy Duffy (MD)
GIANCARLO ERRA Departure Tapes (MD)
MYLÈNE FARMER Avant Que L'Ombre (Edition Intégrale) (MC)
FINAL STEP Disconnections (MD)
GENESIS The Last Domino (TS)
GLASGOW COMA SCALE Sirens (MD)
KIKU LATTE Stories (MD)
AMANDA LEHMANN Innocence And Illusion (MD)
MARIUS LEIRÅNES Langtidsperspektiv (MD)
MAHOGANY FROG In The Electric Universe (MD)
MATERIALEYES Three Of A Kind (MD)
BRIAN MAY Back To The Light (MD)
PAUL MCCARTNEY III Imagined (MD)
MIDNITE CITY Itch You Can't Scratch (JK)
THE MIGHTY ONE Torch Of Rock And Roll (JK)
JOHN MURRY The Stars Are God's Bullet Holes (MD)
NEUMATIC PARLO Random Toaster (MD)
MICK PAUL Parallel Lives (MD)
PEE WEE BLUESGANG Cool Man's Burning (MD)
QUEENSRŸCHE Operation: Mindcrime | Empire (AS)
DENNIS REA Giant Steppes (MD)
RESISTOR The 5th Season (MD)
RYMO Kinetic (MD)
ASAF SIRKIS Solar Flash (MD)
THE SUN OR THE MOON Cosmic (MD)
SUPER FLORENCE JAM Super Florence Jam (MD)
TANYC Tanyc (MD)
THIRD EAR BAND Mosaics – The Albums 1969-1972 (MD)
THOMSEN III (MD)
TRIFECTA Fragments (MD)
ROBIN TROWER Another Days Blues (MD)
VESTAMARAN Bungalow Rex (MD)
WHITE MOTH BLACK BUTTERFLY The Cost Of Dreaming (MD)
MARK WINGFIELD, JANE CHAPMAN, ADRIANO ADEWALE Zoji (MD)
THE WOODS BAND The Woods Band (MD)
EMPIRE Heft 124
Im Heft 124 haben wir unter anderem auch ein neues Interview mit Anna von Hausswolff - die sich sichtlich über das letzte freute...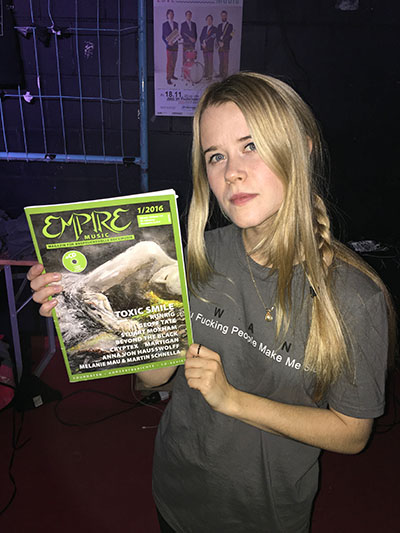 Neuer EMPIRE-MUSIC Mailorder-Shop
Wie Ihr auch schon der Anzeige im Heft 123 entnommen habt, schloss am 26.12. nach über 2 Jahrzehnten der alte Online-Shop von Michael Bäcker unter der Adresse empire-music.de.
In Zukunft findet Ihr sein großes CD- und DVD-Angebot in seinem neuen Shop auf der Plattform Discogs, am einfachsten über diese neue Adresse:
Leider können die Kontodaten des alten Shops nicht in den neuen Discogs-Shop übertragen werden, Ihr müsst Euch daher entweder einfach bei Discogs neu anmelden, oder Ihr könnt Euch auch mit einem bestehenden Facebook- oder Google-Account einloggen. Michael bedankt sich bei allen treuen Kunden des alten Shops und hofft, Euch alle im Shop auf Discogs mit neuen, besseren Suchfiltern und ausführlichen Infos zu jeder CD wiederzusehen.
NEU EMPIRE Sonderheft 2
Das erste EMPIRE MUSIC Sonderheft bekommt eine Fortsetzung mit allen Bands, die letztes Jahr auf dem "Night of the Prog" Festival 2016 gespielt haben... "Another Day in the Life of a Festival".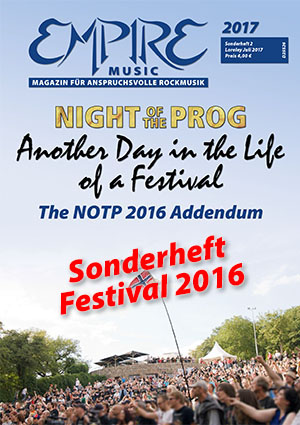 Bestellung und alle Einzelheiten dazu auf der Sonderseite www.empiremusic.de/loreley
EMPIRE Heft 120
Auch Steve Hackett ist seit vielen Jahren Fan und Unterstützer unseres Magazins und wurde in Empire 120 interviewt...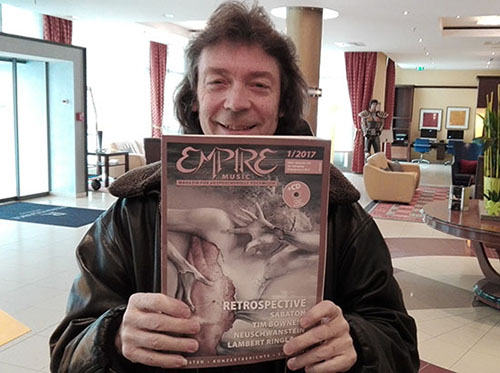 EMPIRE Heft 120
Im Heft 120 haben wir ein Interview mit dem Ayreon-Mastermind Arjen Anthony Lucassen - der seit vielen Jahren ein bekennender Fan vom Empire-Magazin und seiner Sampler-CD ist, wie er uns auch stolz zeigt...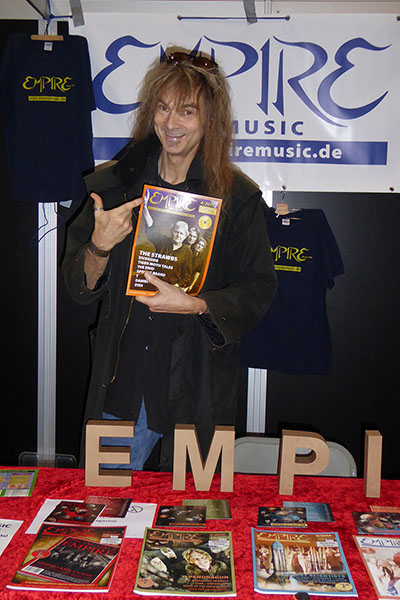 EMPIRE Sonderheft 1
Das erste EMPIRE MUSIC Sonderheft: Zum Anlass des 10. Jubiläums des "Night of the Prog" Festivals in diesem Jahr - und im 25. Jahr unseres Magazins - erschien das große und opulent bebilderte Jubiläumsheft "A Day in the Life of a Festival".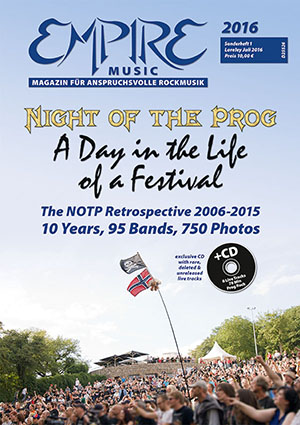 Bestellung und alle Einzelheiten dazu auf der Sonderseite www.empiremusic.de/loreley