News
EMPIRE Heft 139
Das Empire Magazin beginnt 2021 seinen 30. Jahrgang, ein Jubiläum, das wir im Laufe des Jahres noch angemessen begehen werden...
Die März-Ausgabe 2021 ist verschickt und sollte bei allen Abonnenten bis Mitte des Monats angekommen sein. Hier wie immer eine kleine Vorschau auf unsere Themen.
Das Heft kann auch einzeln im Empire-Music oder PPR Online-Shop bestellt werden.
Das alternative "Jewel Case"-Cover für die CD (zum selber Ausdrucken) steht hier in der Download Sektion zur Verfügung.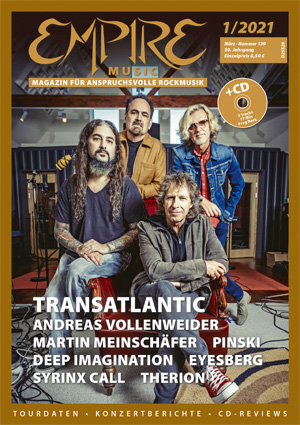 INTERVIEWS
TRANSATLANTIC (SM)
ANDREAS VOLLENWEIDER (TS)
EYESBERG (MD)
PINSKI (BK)
MARTIN MEINSCHÄFER (STS)
THERION (VS)
SYRINX CALL (MD)
DEEP IMAGINATION (STS)
LIVE Reviews
NICK CAVE (MP)
GORILLAZ (MP)
KATIE DOHERTY (MC)
MARTIN LEVAC (MC)
GUILDO HORN & DIE ORTHOPÄDISCHEN STRÜMPFE (MP)
JEAN-MICHEL JARRE (MC)
CD/DVD Reviews
AC/DC Power Up (MS)
ALTARE THOTEMICO Selfie Ergo Sum (JM)
ARENA From The Beginning – A Photographic History Of The First 25 Years! (TK)
ARTI & MESTIERI Essentia – Live In Japan (JM)
AXESS Zen (STS)
BELLE & SEBASTIAN What To Look For In Summer (MP)
BILLION DOLLAR BABIES Battle Axe (MD)
BLACKOUT PROBLEMS Dark (RK)
NICKLAS BRÄNNSTRÖM Circle Of Silence (JM)
COMMUNIC Hiding From The World (MS)
STEFFEN RADLMAIER [Hrsg.] The Crazy World Of Kevin Coyne (MC)
CRYSTAL PALACE Scattered Over Europe (UE)
DAWNATION The Mad Behind (JM)
DECARLO Lightning Strikes Twice (MS)
ELEN Blind Über Rot (MS)
ESKALATION Advances! (JM)
ESTHESIS The Awakening (JM)
EVERGREY Escape Of The Phoenix (SM)
EYESBERG Claustrophobia (MD)
FATES WARNING Long Day Good Night (AS)
FLEET FOXES Shore (MP)
FLOR DE LOTO Árbol De La Vida (JM)
FLOR DE LOTO Eclipse (JM)
FROST* 13 Winters (AS)
GLÄDJEKÄLLOR Jesuskomplex (MS)
JIMI HENDRIX EXPERIENCE Live In Maui (MD)
JARGON The Fading Thought (JM)
THE KINKS Lola Versus Powerman And The Moneygoround Part One (MC)
LEVEL PI Elektronische Philosophie (STS)
LIKE WENDY The Fisher (MB)
LUNAR CLOCK The Scream Of Nature (JM)
MARK KELLY'S MARATHON Mark Kelly's Marathon (RK)
MELANIE MAU & MARTIN SCHNELLA Crowdless Sessions (MD)
PAUL MCCARTNEY McCartney III (TS)
MILLENIUM The Sin (PV)
MOONBOOTER Beyond The Neon Lights (STS)
NEAL MORSE Jesus Christ The Exorcist – Live At Morsefest 2018 (RK)
MYSTERY Caught In The Whirlwind Of Time (CK)
NEPTUNITE Sensor (JM)
CYNTHIA NICKSCHAS Egoschwein (MS)
OFFICER! Yes Yes No No Yes No Yes (MC)
OTARION Prayer From The Deep (JM)
PINSKI We All Stole From The Apple Tree (BK)
PYRAMID PEAK Symmetry (STS)
REFLECTION CLUB Still Thick As A Brick (JM)
RIVERSIDE Lost'n'Found – Live In Tilburg (RK)
ROVESCIO DELLA MEDAGLIA Contaminazione 2.0 (JM)
THE SAMURAI OF PROG Beyond The Wardrobe (JM)
KLAUS SCHØNNING Symphodyssés V-VIII (JM)
SEETHER Si Vis Pacem, Para Bellum (MS)
SYRINX CALL Mirrorneuron (MD)
THE TANGENT Auto Reconnaissance (PV)
TAUMEL There Is No Time To Run Away From Here (PV)
TRANSATLANTIC The Absolute Universe: The Breath Of Life (Abridged Version) | Forevermore (Extended Version) (RK)
VANDEN PLAS The Ghost Xperiment: Illumination (JK)
VIOLENT SILENCE Twilight Furies (JM)
THE WAR ON DRUGS Live Drugs (MP)
STEVEN WILSON The Future Bites (RK)
YOBREPUS Mycelium Days (JM)
QUICKIES
ALIZÉE Gourmandises | Mes Courants Electriques (MC)
ART OF ILLUSION X Marks The Spot (MD)
IL BACIO DELLA MEDUSA AnimAcusticA (MD)
REB BEACH A View From The Inside (MD)
BERGETON Miami Murder (MD)
BITCH FALCON Staring At Clocks (RK)
THE BLACK Ars Metal Mentis (JM)
BLACK FOXXES Black Foxxes (RK)
BLUE ÖYSTER CULT A Long Day's Night | Live At The Rock Of Ages Festival (MM)
GRAHAM BONNET Solo Albums 1974-1992 (MD)
BRAINBOX Brainbox (MD)
ROLAND BÜHLMANN Dubnos (MD)
DAVID BYRON Take No Prisoners (MD)
PETTER CARLSEN The Sum Of Every Shade (RK)
STEWART CLARK Let's Go There (MD)
CLEM CLEMPSON In The Public Interest (MD)
CLUTCH Weathermaker Vault Series Vol. 1 (RK)
COLLAPSE UNDER THE EMPIRE Everything We Will Leave Beyond Us (MD)
COLOSSEUM Transmissions – Live At The BBC (MD)
CORECASS Void (MD)
CREEDENCE CLEARWATER REVIVAL Pendulum | Mardi Gras (MD)
CURVED AIR The Albums 1970-1973 (MD)
DARWIN DarWin 2: A Frozen War (MD)
THE DEAD DAISIES Holy Ground (RK)
DEADBURGER FACTORY La Chiamata (MD)
DERHARMS Neun Schöne Lieder (MD)
DEWOLFF Wolffpack (OM)
NEIL DIAMOND Classic Diamonds (TS)
DIO Holy Diver Live | Evil Or Divine (JK)
ELLEFSON No Cover (MD)
ELLESMERE Wyrd (MD)
ETERNAL IDOL Renaissance (MD)
FARO Luminance (JM)
FEE Rezeptfrei | SchizoFEEnie (MD)
FOO FIGHTERS Medicine At Midnight (RK)
FREN Where Do You Want Ghosts To Reside (MD)
GRYPHON Get Out Of My Father's Car! (MD)
THE GUILDMASTER The Knight And The Ghost (JM)
DAVE HAUSE Patty/Paddy (MD)
HAWKWIND 50 Live (MD)
IMMINENCE Turn The Light On (RK)
L'IMPERO DELLE OMBRE Racconti Macabri Vol. III (JM)
INNER ODYSSEY The Void (RK)
KATATONIA Dead Air (MD)
LEE KERSLAKE Eleventeen (MD)
HEINZ-RUDOLF KUNZE Wie Der Name Schon Sagt – Solo Live (TS)
LAWA The Parallax View (MD)
LOVE MACHINE Düsseldorf-Tokyo (MD)
STEVE LUKATHER I Found The Sun Again (SM)
LUNATIC SOUL Through Shaded Woods (MD)
LYKANTROPI Tales To Be Told (MD)
MÆANDER Der Lauf Der Dinge (MD)
MAGNUM Dance Of The Black Tattoo (AS)
MEER Playing House (MD)
NARYAN The Withering (MD)
NEEDLEPOINT Walking Up That Valley (MD)
OCEAN GATES Ocean Gates (JM)
OUR OCEANS While Time Disappears (RK)
PALADIN Charge! (MD)
PAN/SCAN Kosmonauter (MD)
IL PARADISO DEGLI ORCHI Samir (MD)
STEVE PERRY Traces – Alternate Versions & Sketches (MD)
ANTHONY PHILLIPS Missing Links I-IV (MD)
THE PICTUREBOOKS The Early Years (RK)
THE PINEAPPLE THIEF The Soord Sessions Vol. 4 (RK)
PINK FLOYD Delicate Sound Of Thunder (SM)
BJØRN RIIS Desolate Place (MD)
RITUAL Glimpses From The Story Of Mr. Bogd (JM)
DANIELE SOLLO Order And DisOrder (MD)
LA STANZA DELLE MASCHERE La Stanza Delle Maschere (JM)
STRAWBS Settlement (MD)
SUBMARINE SILENCE Did Swans Ever See God? (MD)
TAYLOR SWIFT Evermore (MP)
SYNTONIC [mo-zey-ik] (RK)
10 CODE Ride (RK)
TIME SHIFT ACCIDENT Chronosthesia (JM)
TOE FAT Bad Side Of The Moon – An Anthology (1970-1972) (MD)
DANIEL TOMPKINS Ruins (RK)
TYPHOON Sympathetic Magic (RK)
VARIOUS ARTISTS Kraut! Die Innovativen Jahre Des Krautrock 1968-1979 Teil 4 (MD)
WHITE ROSE TRANSMISSION Happiness At Last (MD)
JOSEPH WILLIAMS Denizen Tenant (OM)
WITCHWOOD Before The Winter (JM)
EMPIRE Heft 124
Im Heft 124 haben wir unter anderem auch ein neues Interview mit Anna von Hausswolff - die sich sichtlich über das letzte freute...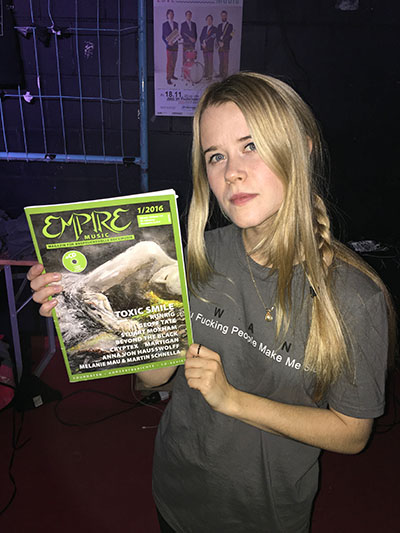 Neuer EMPIRE-MUSIC Mailorder-Shop
Wie Ihr auch schon der Anzeige im Heft 123 entnommen habt, schloss am 26.12. nach über 2 Jahrzehnten der alte Online-Shop von Michael Bäcker unter der Adresse empire-music.de.
In Zukunft findet Ihr sein großes CD- und DVD-Angebot in seinem neuen Shop auf der Plattform Discogs, am einfachsten über diese neue Adresse:
Leider können die Kontodaten des alten Shops nicht in den neuen Discogs-Shop übertragen werden, Ihr müsst Euch daher entweder einfach bei Discogs neu anmelden, oder Ihr könnt Euch auch mit einem bestehenden Facebook- oder Google-Account einloggen. Michael bedankt sich bei allen treuen Kunden des alten Shops und hofft, Euch alle im Shop auf Discogs mit neuen, besseren Suchfiltern und ausführlichen Infos zu jeder CD wiederzusehen.
NEU EMPIRE Sonderheft 2
Das erste EMPIRE MUSIC Sonderheft bekommt eine Fortsetzung mit allen Bands, die letztes Jahr auf dem "Night of the Prog" Festival 2016 gespielt haben... "Another Day in the Life of a Festival".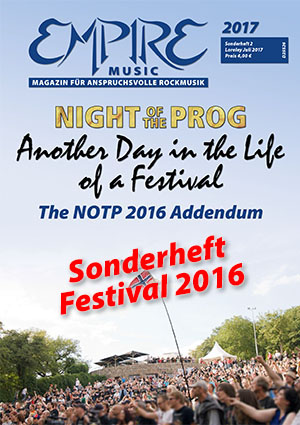 Bestellung und alle Einzelheiten dazu auf der Sonderseite www.empiremusic.de/loreley
EMPIRE Heft 120
Auch Steve Hackett ist seit vielen Jahren Fan und Unterstützer unseres Magazins und wurde in Empire 120 interviewt...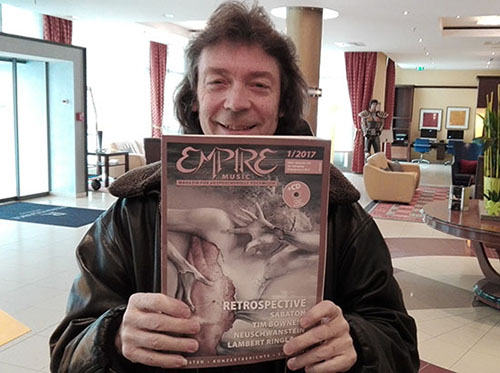 EMPIRE Heft 120
Im Heft 120 haben wir ein Interview mit dem Ayreon-Mastermind Arjen Anthony Lucassen - der seit vielen Jahren ein bekennender Fan vom Empire-Magazin und seiner Sampler-CD ist, wie er uns auch stolz zeigt...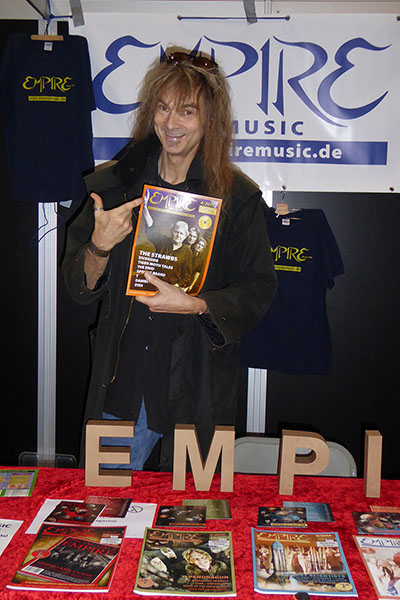 EMPIRE Sonderheft 1
Das erste EMPIRE MUSIC Sonderheft: Zum Anlass des 10. Jubiläums des "Night of the Prog" Festivals in diesem Jahr - und im 25. Jahr unseres Magazins - erschien das große und opulent bebilderte Jubiläumsheft "A Day in the Life of a Festival".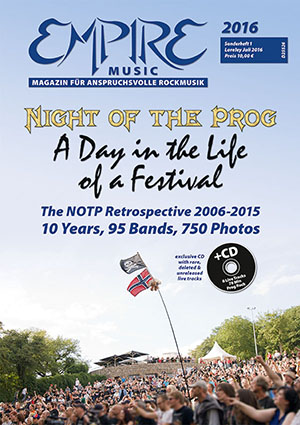 Bestellung und alle Einzelheiten dazu auf der Sonderseite www.empiremusic.de/loreley