News
EMPIRE Heft 152
Die September-Ausgabe 2023 ist nun verschickt und sollte bei allen Abonnenten bis Ende des Monats angekommen sein.
Das Heft kann auch einzeln im Empire-Music oder PPR Online-Shop bestellt werden.
Das alternative "Jewel Case"-Cover für die CD (zum selber Ausdrucken) steht hier in der Download Sektion zur Verfügung.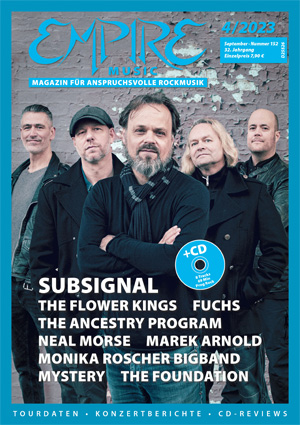 INTERVIEWS
SUBSIGNAL (MD)
THE FLOWER KINGS (RM)
THE ANCESTRY PROGRAM (MD)
NEAL MORSE (RM)
MAREK ARNOLD (MD)
MONIKA ROSCHER BIGBAND (TS)
FUCHS (RM)
THE FOUNDATION (RM)
MYSTERY (RM)
LIVE Reviews
THE INTERSPHERE (JK)
SAGA (BK)
PETER GABRIEL (MC)
MYLÈNE FARMER (MC)
SIGUR RÓS (BK)
ARCH ENEMY (MP)
JON ANDERSON & PAUL GREEN ROCK ACADEMY (CK)
KRAFTWERK (VS)
›RHINE RIVER CRUISE‹ (MC)
›MIDSUMMER PROG FESTIVAL‹ (RS)
›NIGHT OF THE PROG XVI‹ (STS|CK|UE|CHK|ROK|MO)
CD/DVD Reviews
ALCATRAZZ Take No Prisoners (MS)
THE ANCESTRY PROGRAM Of Silent Mammalia Part II (MD)
MIRIAM AST TRIO Tales & Tongues (TS)
AUDIO'M Godzilla (MD)
AVKRVST The Approbation (RK)
BEND THE FUTURE Sounds So Wrong (MD)
BREILING & BRÜCKNER Puuro Ja Silta (STS)
DANNY BRYANT Rise (TS)
COMPUTERCHEMIST Mysterious Cave Of Eternal Theta (JM)
STEWART COPELAND Police Deranged For Orchestra (RK)
SIMONE COZZETTO Oblivion (MS)
DEEP IMAGINATION The Children Of The Moon (MD)
EARTHSIDE Let The Truth Speak (OM)
PETER GEE Pilgrim (TK)
GLEISBERG Floating In Your Soul (STS)
THOMAS GLÖNKLER Tiefenland (MD)
GRETA VAN FLEET Starcatcher (RK)
IFSOUNDS MMXX (MD)
JASON ISBELL AND THE 400 UNIT Weathervanes (MP)
KARNATAKA Requiem For A Dream (UE)
KELMEN Results (STS)
GLEB KOLYADIN The Outland (MD)
LAMBERT Bon Courage (OM)
MALOMBRA T.R.E.S. (JM)
MATTEO MANCUSO The Journey (OM)
MONJOIE Tanto Tempo Fa Prima Del Caos (JM)
OBLIVION PROTOCOL The Fall Of The Shires (SM)
BLAINE L. REININGER Ocean Planet (JM)
RING VAN MÖBIUS Commissioned Works Pt II – Six Drops Of Poison (MD)
THE SAMURAI OF PROG The Man In The Iron Mask (TS)
GIL SCOTT-HERON & HIS AMNESIA EXPRESS Legend In His Own Mind (STS)
SEQUENTIA LEGENDA Alcyone (JM)
SIGUR RÓS Átta (MP)
IL SOGNO DI RUBIK Stati Equivoci Dell'Essere (JM)
SUBSIGNAL A Poetry Of Rain (MD)
THE SUN OR THE MOON Andromeda (MD)
SWANS The Beggar (MP)
VERONICA SWIFT Veronica Swift (TS)
IL TESTAMENTO DEGLI ARCADI Il Testamento Degli Arcadi (JM)
FURIO CHIRICO'S THE TRIP Equinox (JM)
VANDENBERG Sin (OM)
VIOLENT JASPER Control (RM)
QUICKIES
ALLEN-FORRESTER BAND Allen-Forrester Band (MD)
ARTEFACTRON Artefactron (JM)
ASHINOA L'Orée (MD)
C.K. BAKER BAND Find Your Way (TS)
ANNIE BARBAZZA Annie's Playlist | Annie's Playlist 2 (JM)
BIG RED FIRE TRUCK Trouble In Paradise (MD)
BILLY TALENT Live At Festhalle Frankfurt (RK)
BLACK ORCHID EMPIRE Tempus Veritas (RK)
BLACK STONE CHERRY Screamin' At The Sky (TS)
BLUE DAWN Reflections From An Unseen World (JM)
T.G. COPPERFIELD WITH BEN FORRESTER Out In The Desert (MD)
CORMORANO Obliquizioni D'Autunno (JM)
DEGREED Public Address (MD)
DREAM THE ELECTRIC SLEEP Giants' Newground | American Mystic (RK)
THE ELECTRIC FAMILY Live At Filmfest Schwerin (MD)
FEUERSCHWANZ Fegefeuer (TS)
FIXATION More Subtle Than Death (RK)
GEORGE GAKIS Parallel Dimensions (MD)
GODSTICKS This Is What A Winner Looks Like (MD)
GURU GURU Three Faces Of Guru Guru (MD)
HEATWAVES Kappa (MD)
HELD BY TREES Solace – Live From Real World Studios | Eventide (MD)
HEMINA Romancing The Ether (MD)
HEX A.D. Delightful Sharp Edges (MD)
KITE PARADE Retro (RK)
LIFESTREAM Alter Echo (JM)
LOUKA Bis Auf Weiteres Lebendig (TS)
DAVE MATTHEWS BAND Walk Around The Moon (MP)
MINDANCE Colors (JM)
NEAL MORSE The Dreamer – Joseph: Part One (RK)
THE NEAL MORSE BAND An Evening Of Innocence & Danger: Live In Hamburg (SM)
MOVEMENTS Ruckus! (RK)
NILE ON WAX After Heaven (MD)
NOTHING BUT THIEVES Dead Club City (RK)
OCTOPUS The Lost Tapes (MD)
OMNI Crónicas Del Viento (MD)
ONZA Divergencia Y Convergencia (MD)
RAFAEL PACHA A Bunch Of Forest Songs (MD)
JUDITH PARTS Meadowsweet (MD)
POOR GENETIC MATERIAL Elsewhere (MD)
M.H.'S PSYCHEDELIC GROUND The Time Machine Collapses (JM)
SCALADEI School Of Pure Soul (MD)
ROBERT SCHROEDER Into The Light (OM)
SEDDOK Geometrie Nere (JM)
VANJA SKY Reborn (MD)
SOFT MACHINE Other Doors (MD)
CHRIS STAPLES Cloud Souvenirs (MD)
STEPHEN STILLS Live At Berkeley 1971 (MD)
STONE WATER Make Me Try (MD)
STREETMARK Nordland (MD)
SUSANNE SUNDFØR Blómi (MP)
THEES UHLMANN & BAND 100.000 Songs – Live In Hamburg (RK)
VARIOUS ARTISTS Y.O.U. – Italian Guitarists Pay Homage To Allan Holdsworth (JM)
LE VELE DI ONIRIDE La Quadratura Del Cerchio (JM)
THE WAKING SLEEPER BAND Planetarium (JM)
CHARLIE WATTS Anthology (MD)
WITCHFIELD 3 (JM)
FRANK ZAPPA Funky Nothingness (TS)
EMPIRE ›NOTP 2023‹ Festivalprogramm (Sonderheft 4)
Wie im letzten Jahr haben wir unser traditionelles "Night Of The Prog"-Festivalprogramm (24 Seiten in hochwertigem Druck mit Vorstellungen, Fotos, Line-Ups und Discographien aller 19 Festival-Bands) dieses Jahr erneut in einem separaten Sonderheft herausgebracht.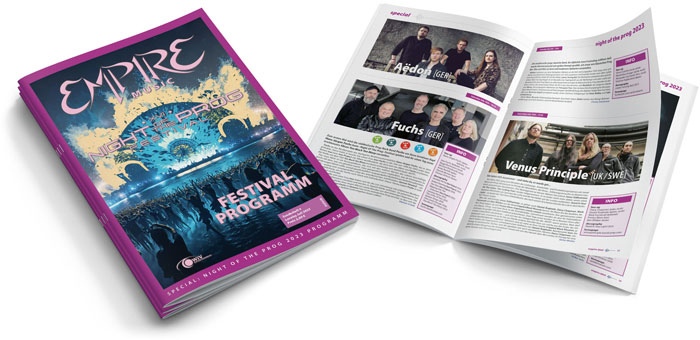 Das Heft ist nicht im Empire-Abonnement enthalten und wird auf dem Festival an der Ticket-Kasse, am Merchandise und natürlich an unserem Empire-Stand für nur 3€ verkauft.
Wer das Festival nicht besuchen wird, aber als Souvenir trotzdem ein Exemplar erwerben möchte, kann es auch per Mail für 5€ (inkl. Versand innerhalb Deutschlands, Ausland auf Anfrage) bei uns bestellen. Schreibt uns bitte einfach per Mail, die Adresse findet ihr auf unserer Kontaktseite.
Wichtiger Hinweis: Der Postversand findet erst nach dem Festival statt!
30 Jahre Empire Magazin
Die alten Empire-Magazine 1-103 bis 2013 sind nun leider schon lange vergriffen. Zu unserem 30. Jubiläum haben wir aber noch einmal alle 99 Heftcover (es gab insgesamt 4 Doppelhefte) in einer Galerie zusammengestellt und wünschen Euch viel (nostalgischen) Spaß, in den alten Titelbildern zu stöbern...
EMPIRE Heft 124
Im Heft 124 haben wir unter anderem auch ein neues Interview mit Anna von Hausswolff - die sich sichtlich über das letzte freute...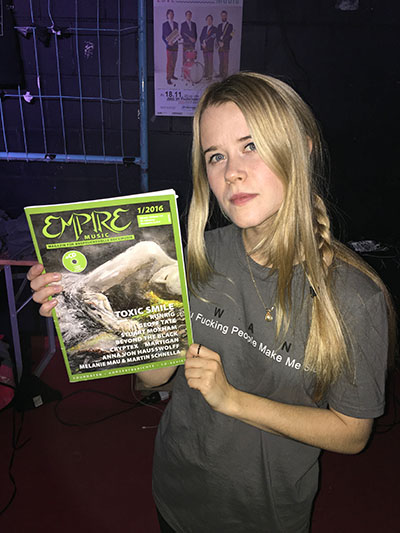 Neuer EMPIRE-MUSIC Mailorder-Shop
Wie Ihr auch schon der Anzeige im Heft 123 entnommen habt, schloss am 26.12. nach über 2 Jahrzehnten der alte Online-Shop von Michael Bäcker unter der Adresse empire-music.de.
In Zukunft findet Ihr sein großes CD- und DVD-Angebot in seinem neuen Shop auf der Plattform Discogs, am einfachsten über diese neue Adresse:
Leider können die Kontodaten des alten Shops nicht in den neuen Discogs-Shop übertragen werden, Ihr müsst Euch daher entweder einfach bei Discogs neu anmelden, oder Ihr könnt Euch auch mit einem bestehenden Facebook- oder Google-Account einloggen. Michael bedankt sich bei allen treuen Kunden des alten Shops und hofft, Euch alle im Shop auf Discogs mit neuen, besseren Suchfiltern und ausführlichen Infos zu jeder CD wiederzusehen.
EMPIRE Heft 120
Auch Steve Hackett ist seit vielen Jahren Fan und Unterstützer unseres Magazins und wurde in Empire 120 interviewt...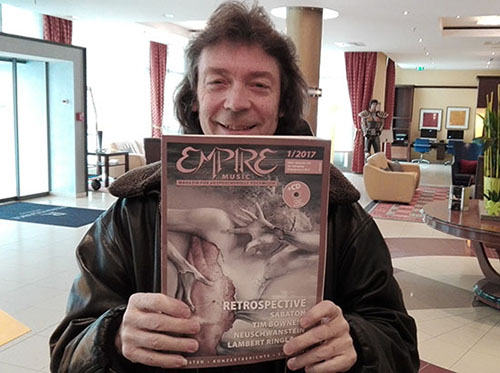 EMPIRE Heft 120
Im Heft 120 haben wir ein Interview mit dem Ayreon-Mastermind Arjen Anthony Lucassen - der seit vielen Jahren ein bekennender Fan vom Empire-Magazin und seiner Sampler-CD ist, wie er uns auch stolz zeigt...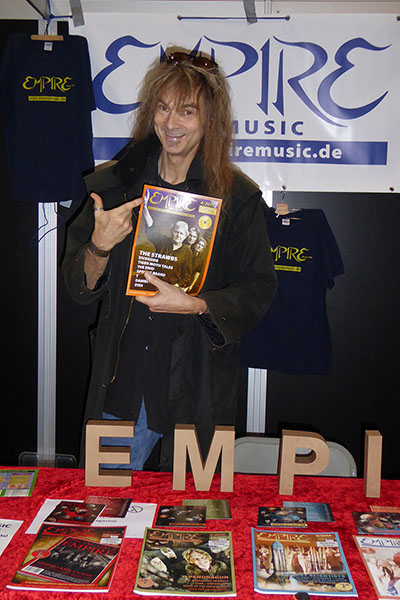 EMPIRE Sonderheft 1
Das erste EMPIRE MUSIC Sonderheft: Zum Anlass des 10. Jubiläums des "Night of the Prog" Festivals in diesem Jahr - und im 25. Jahr unseres Magazins - erschien das große und opulent bebilderte Jubiläumsheft "A Day in the Life of a Festival".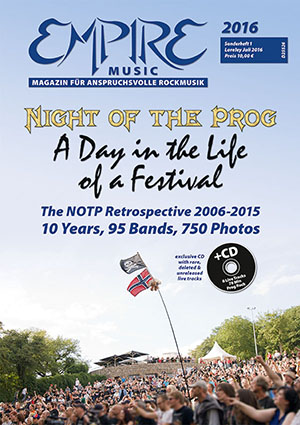 Bestellung und alle Einzelheiten dazu auf der Sonderseite www.empiremusic.de/loreley