News
EMPIRE Heft 129
Die März-Ausgabe ist verschickt und sollte bei allen Abonnenten angekommen sein. Hier wie immer eine kleine Vorschau auf unsere Themen.
Das Heft kann auch einzeln im Empire-Music oder PPR Online-Shop bestellt werden.
Das alternative "Jewel Case"-Cover für die CD (zum selber Ausdrucken) steht hier in der Download Sektion zur Verfügung.
Wir wünschen Euch viel Spaß beim Lesen.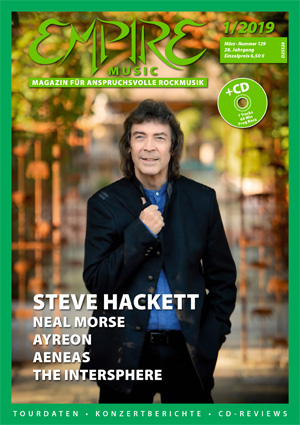 INTERVIEWS
STEVE HACKETT (SM)
NEAL MORSE (SM)
AYREON (MD)
THE INTERSPERE (RK)
AENEAS (SM)
LIVE Reviews
DORIAN SORRIAUX (MO)
FARFLUNG (MO)
GREY CZAR (MO)
URIAH HEEP & THE ZOMBIES (MD)
FISH (AS)
NIGHTWISH (MP)
MARILLION ›Theatre Tour 2018‹ (BK)
ÁRSTÍÐIR (BK)
THE FLOWER KINGS REVISITED & SPOCK'S BEARD (BK)
›ELECTRONIC CIRCUS FESTIVAL‹ (STS)
CD/DVD Reviews
ALL TRAPS ON EARTH A Drop Of Light (MD)
ANIMA MUNDI Once Upon A Live (UE)
ANTIMATTER Black Market Enlightenment (TK)
ARABS IN ASPIC Live At Avantgarden (MD)
ARCA PROGJET Arca Progjet (JM)
AUTUMN Stacking Smoke (JM)
AVENGER The Slaughter Never Stops (MS)
THE BEATLES The Beatles (White Album) (TS)
JASON BECKER Triumphant Hearts (SM)
BLACK STRAT BAND Absence (JM)
BRIX & THE EXTRICATED Part 2 | Breaking State (MC)
DAVIS BROOKS Violin & Electronics 2 (JM)
DEWA BUDJANA Mahandini (JM)
KATE BUSH Remastered Part I & II (MC)
CEVEO Jordsand (MO)
CHRISTINE AND THE QUEENS Chris (MP)
COMMONWEALTH Everyone Around Me (RK)
CURVED AIR The Second British Rock Meeting 1972 - The Curved Air Rarities Series Volume 3 (MD)
DEEP PURPLE In Rock - Der Lange Weg Zu Einem Meisterwerk (PV)
DILEMMA Random Acts Of Liberation (MD)
DREAM THEATER Distance Over Time (RK)
ELLESMERE Ellesmere II - From Sea And Beyond (MD)
EVERGREY The Atlantic (MS)
EVERSHIP Evership II (MD)
FIFTH ANGEL The Third Secret (MS)
FOCUS Focus 11 (MD)
41POINT9 Mr. Astute Trousers (MD)
ERIC GALES The Bookends (SM)
GHOST Prequelle (MP)
HERBERT GRÖNEMEYER Tumult (TS)
GURU GURU [DIETER WÖHRLE] Was Macht Ihr Eigentlich, Wenn Ihr Einmal Älter Seid? (ROK)
STEVE HACKETT At The Edge Of Light (AS)
HAZARDS OF SWIMMING NAKED Take Great Joy (MD)
RUDOLF HEIMANN Die Unendlichkeit (OM)
HEIR APPARENT The View From Below (MS)
HELLOWEEN Starlight - The Noise Records Collection (JK)
IAMTHEMORNING Ocean Sounds (MD)
THE INTERSPHERE The Grand Delusion (RK)
KARIBOW MOnuMENTO (MD)
KRAAN The Trio Years (PV)
LOOKING–GLASS LANTERN A Tapestry Of Tales (MD)
MAD FELLAZ Mad Fellaz III (BK)
MAGENTA We Are Seven - Live (TK)
MAGNUM Live At The Symphony Hall (AS)
MARILLION Clutching At Straws (AS)
MELANIE MAU & MARTIN SCHNELLA Pieces To Remember (MD)
THE NEAL MORSE BAND The Great Adventure (SM|MP)
MOONSHINE BLAST Reality Fear (MB)
MOSTLY AUTUMN White Rainbow (UE)
EDDIE MULDER Waves (MD)
MUMFORD & SONS Delta (MP)
NAZARETH Tattooed On My Brain (MS)
NEW NEKTAR Megalomania (MD)
LUCIANO ONETTI Sonno Profondo & Francesca (JM)
OZONE PLAYER The Mind Gap (JM)
PARADISE LOST Medusa (MS)
FERNANDO PERDOMO Zebra Crossing (MD)
THE PIANO ROOM 2084 (MD)
PROGELAND Harmony Of The Universe (JM)
QUIET EARTH Dragons & Butterflies (MD)
HOLGER RÖDER Dialog Of Landscapes (JM)
RPWL Tales From Outer Space (MD)
SCARABÆUSDREAM Crescendo (RK)
MANUEL SCHMID & MAREK ARNOLD Zeiten (MD)
IL SEGNO DEL COMANDO L'Incanto Dello Zero (JM)
SKUNK ANANSIE 25Live@25 (RK)
SOEN Lotus (RK)
SONIQ THEATER Brandenburg (JM)
SOUP Live Cuts (RK)
SYNDONE Mysoginia (MD)
PAOLA TAGLIAFERRO Fabulae (JM)
TEXEL Zooming Into Focus (MD)
THIRD EAR BAND Elements 1970–1971 (MD)
TIME OF COMMOTION Live From The 70's (JM)
TORIAN God Of Storms (MS)
TRIGON 30 Jahre Traumzeit (MO)
VARIOUS ARTISTS ›Terror Tales, A Tribute To Death SS‹ (JM)
VARIOUS ARTISTS ›Yesterday And Today - A 50th Anniversary Tribute To Yes‹ (MD)
LUCY WAINWRIGHT ROCHE Little Beast (MC)
WATCHER OF THE TREES Fireflies In The Wood (MD)
WHEEL Moving Backwards (RK)
WILLE & THE BANDITS Paths (RK)
THE WINDMILL Tribus (MD)
THE WINSTONS & EDMSC Pictures At An Exhibition (MD)
ZAZ Effet Miroir (MP)
QUICKIES
ALBION You'll Be Mine (MD)
ALL THEM WITCHES ATW (RK)
ART AGAINST AGONY Shiva Appreciation Society (JK)
PETER BANKS'S HARMONY IN DIVERSITY The Complete Recordings (MD)
BIG BROTHER & THE HOLDING COMPANY Supper On River Rhine (MD)
BIRTH CONTROL Live Harmonie Bonn 2018 (MD)
THE BLACK Reliquarium & Infernus, Paradisus Et Purgatorium (JM)
TIM BLAKE Lighthouse - An Anthology 1973–2012 (MD)
THE BLUE STONES Black Holes (RK)
BOUNDARIES Boundaries (RK)
BREATHE ATLANTIS Soulmade (RK)
LINDSEY BUCKINGHAM Solo Anthology - The Best Of Lindsey Buckingham (JK)
PHIL COLLINS Plays Well With Others (RK)
LA COSCIENZA DI ZENO Una Vita Migliore (MD)
DAVID CROSS & ANDREW BOOKER Ends Meeting (MD)
DEAD LETTER CIRCUS Dead Letter Circus (RK)
DOMINOE The Lost Radio Show (JK)
FIST OF RAGE Black Water (JM)
IT BITES Live In London (TS)
JOE JACKSON Fool (TS)
THE RYSZARD KRAMARSKI PROJECT Sounds From The Past (MD)
MILLENIUM MMXVIII (MD)
NAZARETH Loud & Proud! Anthology (JK)
PFM The Manticore Studio Albums 1973–77 (MD)
PFM Celebration - Live In Nottingham 1976 (MD)
PHENOMENA Phenomena I | Phenomena II: Dream Runner | Phenomena III: Innervision (MD)
ANTHONY PHILLIPS & ANDREW SKEET Seventh Heaven (MD)
PRINS SVART Prins Svart (JK)
PROCOL HARUM Procol's Ninth (MD)
RIVAL SONS Feral Roots (RK)
SHUFFLE #WontTheyFade? (RK)
ALAN SIMON Excalibur - The Ladies Of The Lake (MD)
SIMPLY RED Symphonica In Rosso (RK)
PAUL SMITH Diagrams (RK)
DON STEVENSON Buskin' In The Subway (MD)
THE STRUTS Young & Dangerous (RK)
SWITCHFOOT Native Tongue (RK)
TANGERINE DREAM The Blue Years Studio Albums 1985–87 (MD)
TUSMØRKE Osloborgerlig Tusmørke - Vardøger Og Utburder Vol. 1 (MD)
THE UNIVERSE BY EAR II (MD)
VANDENBERG'S MOONKINGS Rugged And Unplugged (SM)
VIRGIN STEELE Seven Devils Moonshine (JK)
WALFAD Colloids (JM)
EMPIRE Heft 124
Im Heft 124 haben wir unter anderem auch ein neues Interview mit Anna von Hausswolff - die sich sichtlich über das letzte freute...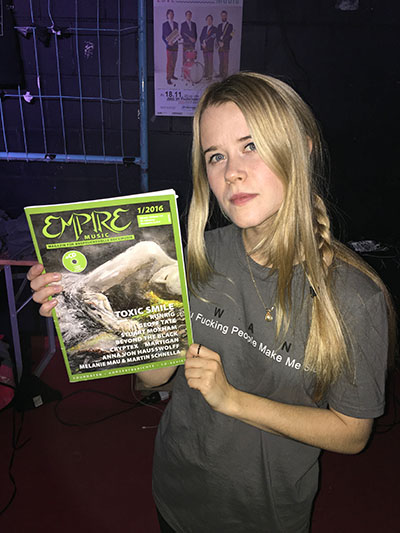 Neuer EMPIRE-MUSIC Mailorder-Shop
Wie Ihr auch schon der Anzeige im Heft 123 entnommen habt, schloss am 26.12. nach über 2 Jahrzehnten der alte Online-Shop von Michael Bäcker unter der Adresse empire-music.de.
In Zukunft findet Ihr sein großes CD- und DVD-Angebot in seinem neuen Shop auf der Plattform Discogs, am einfachsten über diese neue Adresse:
Leider können die Kontodaten des alten Shops nicht in den neuen Discogs-Shop übertragen werden, Ihr müsst Euch daher entweder einfach bei Discogs neu anmelden, oder Ihr könnt Euch auch mit einem bestehenden Facebook- oder Google-Account einloggen. Michael bedankt sich bei allen treuen Kunden des alten Shops und hofft, Euch alle im Shop auf Discogs mit neuen, besseren Suchfiltern und ausführlichen Infos zu jeder CD wiederzusehen.
NEU EMPIRE Sonderheft 2
Das erste EMPIRE MUSIC Sonderheft bekommt eine Fortsetzung mit allen Bands, die letztes Jahr auf dem "Night of the Prog" Festival 2016 gespielt haben... "Another Day in the Life of a Festival".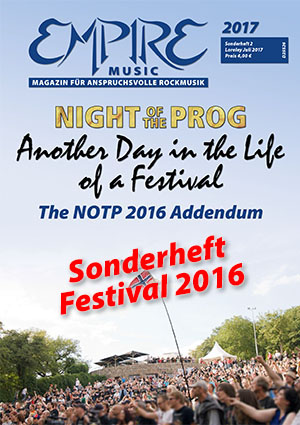 Bestellung und alle Einzelheiten dazu auf der Sonderseite www.empiremusic.de/loreley
EMPIRE Heft 120
Auch Steve Hackett ist seit vielen Jahren Fan und Unterstützer unseres Magazins und wurde in Empire 120 interviewt...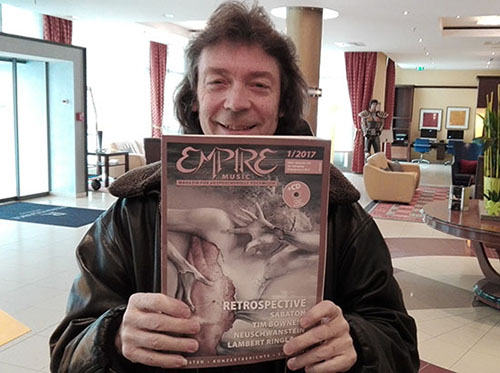 EMPIRE Heft 120
Im Heft 120 haben wir ein Interview mit dem Ayreon-Mastermind Arjen Anthony Lucassen - der seit vielen Jahren ein bekennender Fan vom Empire-Magazin und seiner Sampler-CD ist, wie er uns auch stolz zeigt...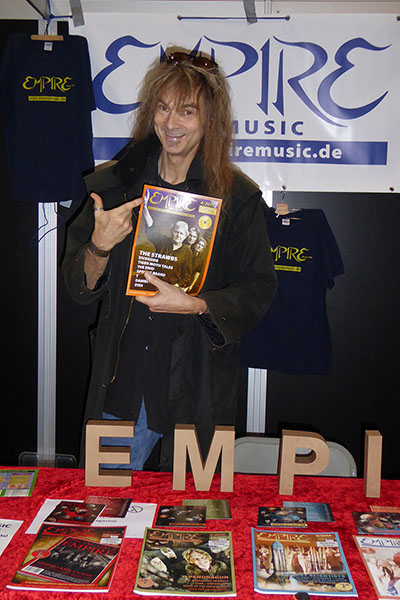 EMPIRE Sonderheft 1
Das erste EMPIRE MUSIC Sonderheft: Zum Anlass des 10. Jubiläums des "Night of the Prog" Festivals in diesem Jahr - und im 25. Jahr unseres Magazins - erschien das große und opulent bebilderte Jubiläumsheft "A Day in the Life of a Festival".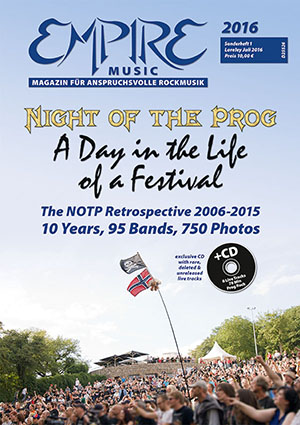 Bestellung und alle Einzelheiten dazu auf der Sonderseite www.empiremusic.de/loreley