News
EMPIRE Heft 149
Die März-Ausgabe 2023 ist nun verschickt und sollte bei allen Abonnenten bis Mitte des Monats angekommen sein.
Das Heft kann auch einzeln im Empire-Music oder PPR Online-Shop bestellt werden.
Das alternative "Jewel Case"-Cover für die CD (zum selber Ausdrucken) steht hier in der Download Sektion zur Verfügung.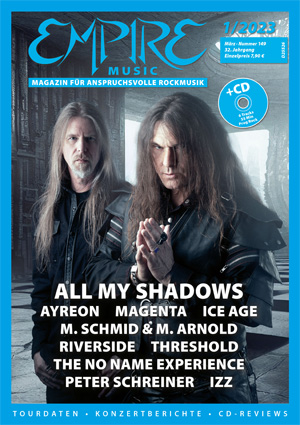 INTERVIEWS
ALL MY SHADOWS (JK)
MAGENTA (RM)
RIVERSIDE (RM)
AYREON (RM)
THRESHOLD (RM)
IZZ (RM)
MANUEL SCHMID & MAREK ARNOLD (ROK)
ICE AGE (MD)
THE NO NAME EXPERIENCE (MD)
PETER SCHREINER (TS)
LIVE Reviews
5/8ERL IN EHR'N (MO)
LA VILLA STRANGIATO (JT)
NAZARETH (RM)
THE MUSICAL BOX (MO)
NIGHTWISH (MP)
SAMMARY & SOULSPLITTER (CT)
KELMEN (STS)
AMAROK (STS)
LAIBACH (BK)
IQ (CK)
STONED JESUS, GREENLEAF, SOMALI YACHT CLUB (MO)
CD/DVD Reviews
ALL MY SHADOWS Eerie Monsters (RM)
ANTIMATTER A Profusion Of Thought (TK)
ATSUKO CHIBA Water, It Feels Like It's Growing (RK)
BANDA BELZONI Timbuctu (JM)
BLUE OCTOBER Spinning The Truth Around (Part I) (MD)
BRETT MORGEN Bowie – Moonage Daydream (CP|MP)
DAVID BOWIE Divine Symmetry (MP)
BROEKHUIS, KELLER & SCHÖNWÄLDER The Vlagtwedde Tapes (STS)
JOHN CALE Mercy (MP)
LEO CARNICELLA Super-Sargasso Sea | Until A New Dawn (MD)
BENJAMIN CLEMENTINE And I Have Been (MP)
THE AARON CLIFT EXPERIMENT The Age Of Misinformation (JM)
THE COLD STARES Voices (OM)
COMEDY OF ERRORS Time Machine (MB)
COMPUTERCHEMIST Where The Clouds Touch The Sky (JM)
DAAL Daedalus (JM)
F.D. PROJECT Distance (STS)
ECHO US Inland Empire (SHK)
NORBERT EGGER & NATURAL BLUES The Blues Standard Series, Vol. 4 (ROK)
THE FALL [1970s] (MC)
GENESIS BBC Broadcasts (MD)
MARK BELL Genesis – The Lamb Lies Down On Broadway (UE)
GIRISH AND THE CHRONICLES Back On Earth (MB)
ICE AGE Waves Of Loss And Power (MD)
KING CRIMSON In The Court Of The Crimson King (MP)
LAKE CISCO Bricks (RK)
LAZULI Onze (TS)
LEATHERWOLF Kill The Hunted (MS)
MAGENTA The White Witch – A Symphonic Trilogy (TK)
VINNIE MOORE Double Exposure (MS)
OVERHEAD Telepathic Minds (STS)
PALE The Night, The Dawn And What Remains (RK)
RANESTRANE Apocalypse Now (JM)
REMINA Strata (SHK)
RETROSPECTIVE Introvert (STS)
RIVERSIDE ID.Entity (RK)
THE ROME PRO(G)JECT Compendium Of A Lifetime (JM)
RPWL Crime Scene (TS)
PETER SCHREINER & DIE RELEVANZ I (TS)
SECRET RULE The Resilient (MS)
CARL SENTANCE Electric Eye (MS)
STERN-COMBO MEISSEN Finlandia (PV)
SYNDONE Kāma Sūtra (JM)
THRESHOLD Dividing Lines (RK)
TNNE Life 3.0 (MD)
ALESSIO TRAPELLA La Ricerca Dell'Imperfezione (BK)
UMME BLOCK State Of Limbo (MS)
RICK WAKEMAN A Gallery Of The Imagination (MD)
FRANK ZAPPA Waka/Wazoo (TS)
QUICKIES
THE AEON The Baphomet Dream (JM)
ANCHOR AND BURDEN Kosmonautik Pilgrimage (MD)
CARAVELA ESCARLATE III (MD)
COLOSSEUM Live At Rockpalast 2003 (MD)
ALFIO COSTA Frammenti (JM)
DARKTHRONE Astral Fortress (MD)
CHÉ AIMEE DORVAL The Crowned (MD)
EXPIATORIA Shadows (JM)
THE GATEKEEPERS The Gatekeepers (MD)
GRIMNER Urfader (MD)
JONATHAN HULTÉN The Forest Sessions (MD)
INHALO Sever (MD)
INSTRUMENT Sonic Cure (MD)
ISOBAR III (MD)
JEFFK Tar (MD)
JOURNEY Live In Concert At Lollapalooza (MD)
KASKADEUR Phantom Vibrations (MD)
JUHA KUJANPÄÄ Old Ways, New Ways (JM)
LIMITE ACQUE SICURE Limite Acque Sicure (MD)
THE LOST VISION OF THE CHANDOO PRIEST The Lost Vision Of The Chandoo Priest (MD)
MACCHINA PNEUMATICA Appartenenza (JM)
MOTHER'S CAKE Cyberfunk! (RK)
THE ONE Sunrise (MD)
PEROPERO Massive Tales Of Doom (MD)
PHOENIX AGAIN Vision (JM)
POIL UEDA PoiL Ueda (MD)
PRISTINE The Lines We Cross (RK)
REUTER MOTZER GROHOWSKI Bleed (MD)
AKSEL RØED'S OTHER ASPECTS Do You Dream In Colours? (MD)
RICCARDO ROMANO LAND Spectrum (JM)
ROTOR Sieben (MD)
RULAMAN To Serve The Dune (MD)
MITCH RYDER Georgia Drift (MD)
ROBERT SCHROEDER Floating Music (OM)
SEXTROW Addicted To Rock (MD)
SONIQ THEATER Robotron (JM)
SOUND OF SMOKE Phases (MD)
CAT STEVENS Catch Bull At Four (MD)
STICK MEN Tentacles (MD)
STRAIGHT SHOOTER My Time – Your Time (MD)
THE TANGENT Pyramids, Stars And Other Stories – The Tangent Live Recordings 2004-2017 (RK)
TERAMAZE Flight Of The Wounded (RK)
THUNDERBÜNNY Psychedelic State Of Mind (MD)
FRANK ZAPPA Zappa '80 – Mudd Club/Munich (TS)
30 Jahre Empire Magazin
Die alten Empire-Magazine 1-103 bis 2013 sind nun leider schon lange vergriffen. Zu unserem 30. Jubiläum haben wir aber noch einmal alle 99 Heftcover (es gab insgesamt 4 Doppelhefte) in einer Galerie zusammengestellt und wünschen Euch viel (nostalgischen) Spaß, in den alten Titelbildern zu stöbern...
EMPIRE Heft 124
Im Heft 124 haben wir unter anderem auch ein neues Interview mit Anna von Hausswolff - die sich sichtlich über das letzte freute...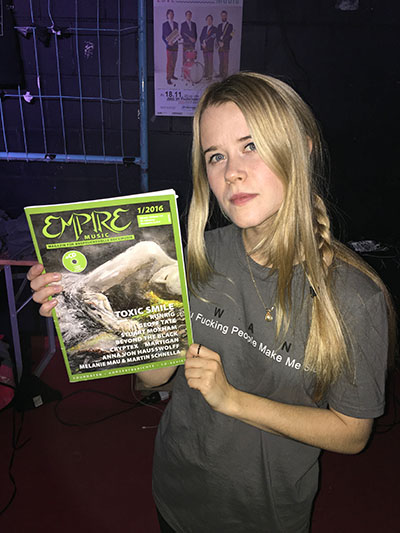 Neuer EMPIRE-MUSIC Mailorder-Shop
Wie Ihr auch schon der Anzeige im Heft 123 entnommen habt, schloss am 26.12. nach über 2 Jahrzehnten der alte Online-Shop von Michael Bäcker unter der Adresse empire-music.de.
In Zukunft findet Ihr sein großes CD- und DVD-Angebot in seinem neuen Shop auf der Plattform Discogs, am einfachsten über diese neue Adresse:
Leider können die Kontodaten des alten Shops nicht in den neuen Discogs-Shop übertragen werden, Ihr müsst Euch daher entweder einfach bei Discogs neu anmelden, oder Ihr könnt Euch auch mit einem bestehenden Facebook- oder Google-Account einloggen. Michael bedankt sich bei allen treuen Kunden des alten Shops und hofft, Euch alle im Shop auf Discogs mit neuen, besseren Suchfiltern und ausführlichen Infos zu jeder CD wiederzusehen.
NEU EMPIRE Sonderheft 2
Das erste EMPIRE MUSIC Sonderheft bekommt eine Fortsetzung mit allen Bands, die letztes Jahr auf dem "Night of the Prog" Festival 2016 gespielt haben... "Another Day in the Life of a Festival".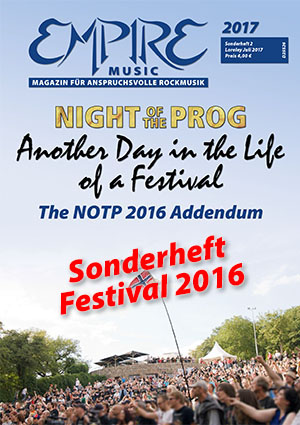 Bestellung und alle Einzelheiten dazu auf der Sonderseite www.empiremusic.de/loreley
EMPIRE Heft 120
Auch Steve Hackett ist seit vielen Jahren Fan und Unterstützer unseres Magazins und wurde in Empire 120 interviewt...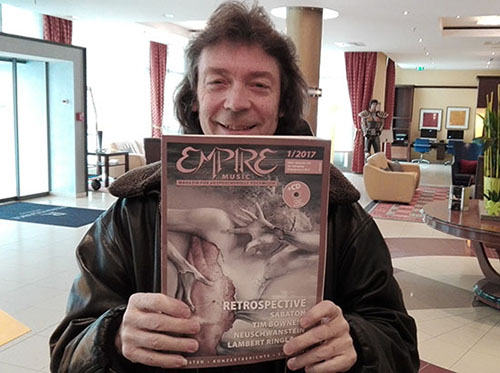 EMPIRE Heft 120
Im Heft 120 haben wir ein Interview mit dem Ayreon-Mastermind Arjen Anthony Lucassen - der seit vielen Jahren ein bekennender Fan vom Empire-Magazin und seiner Sampler-CD ist, wie er uns auch stolz zeigt...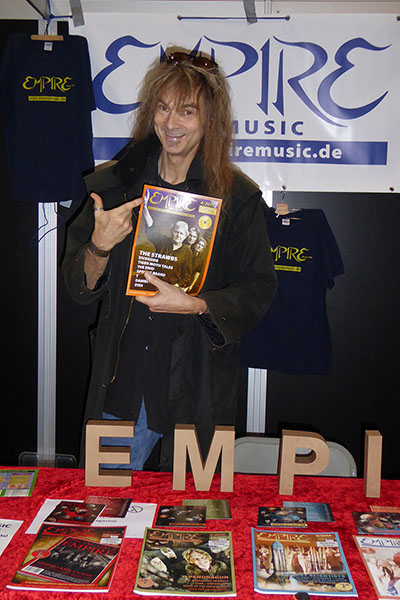 EMPIRE Sonderheft 1
Das erste EMPIRE MUSIC Sonderheft: Zum Anlass des 10. Jubiläums des "Night of the Prog" Festivals in diesem Jahr - und im 25. Jahr unseres Magazins - erschien das große und opulent bebilderte Jubiläumsheft "A Day in the Life of a Festival".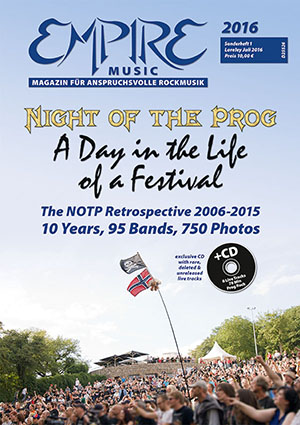 Bestellung und alle Einzelheiten dazu auf der Sonderseite www.empiremusic.de/loreley