News
EMPIRE Heft 150
Die Mai-Ausgabe 2023 ist nun verschickt und sollte bei allen Abonnenten bis Mitte des Monats angekommen sein.
Das Heft kann auch einzeln im Empire-Music oder PPR Online-Shop bestellt werden.
Das alternative "Jewel Case"-Cover für die CD (zum selber Ausdrucken) steht hier in der Download Sektion zur Verfügung.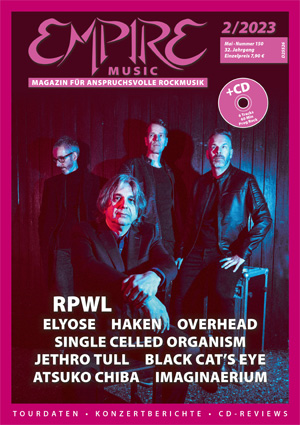 INTERVIEWS
RPWL (TS)
HAKEN (RM)
OVERHEAD (RM)
ELYOSE (SHK)
JETHRO TULL (RM)
SINGLE CELLED ORGANISM (TS)
IMAGINAERIUM (RM)
THE BLACK CAT'S EYE (MD)
ATSUKO CHIBA (RK)
LIVE Reviews
COLOUR HAZE (MO)
JOHN CALE (MC)
THE RESIDENTS (MC)
KNORKATOR (BK)
DEUS (MP)
BROEKHUIS, KELLER & SCHÖNWÄLDER (STS)
SHONEN KNIFE (MC)
MARTIN EDEN (CK)
SUNSTAIN, CHANGO, LIQUID SUN, LES LEKIN ›Premierenabend‹ (MO)
›DOME OF ROCK FESTIVAL‹ (MO)
MARILLION ›WEEKEND 2023‹ (BK)
CD/DVD Reviews
ASSHOFF & BRADI Ich Will (ROK)
ANDREAS BAADEN Night Walk (STS)
BELLE & SEBASTIAN Late Developers (MP)
MARCO BERNARD The Boy Who Wouldn't Grow Up (JM)
THE BLACK CAT'S EYE The Empty Space Between A Seamount And Shock-Headed Julia (MD)
CELESTE With Celestial Symphony Orchestra (JM)
DAISY CHAPMAN She Took Flight (STM)
CYDONIA Stations (MD)
DAWNATION ...Well For The Past (MD)
DEPECHE MODE Memento Mori (TS)
BOB DYLAN Fragments – Time Out Of Mind Sessions (1996-1997) (MP)
NORBERT EGGER Norbert Egger's 50th Stage Anniversary Album (MP)
ELYOSE Déviante (SHK)
GANDALF Eartheana (STS)
M.H.'S PSYCHEDELIC GROUND Tactu Malum (JM)
MIRIAM HANIKA Wurzeln Und Flügel (TS)
HORSLIPS More Than You Can Chew (MC)
IC FALKENBERG Staub (PV)
LAURENCE JONES Destination Unknown (MS)
MARTEN KANTUS Counterpose (JM)
LEGACY PILOTS Helix (MD)
ARJEN LUCASSEN'S SUPERSONIC REVOLUTION Golden Age Of Music (RM)
LA MANSARDE HERMÉTIQUE The Attic Diaries – Episode 1 (STS)
MANTICORE Elements (TK)
PETER MERGENER New Horizons (OM)
RICK MILLER Altered States (MD)
MOON LETTERS Thank You From The Future (SHK)
ADA MORGHE Lost (TK)
MOSTLY AUTUMN Back In These Arms (UE)
OTARION Lógos (STS)
PARIAHLORD Vultures (STS)
CIRO PERRINO Absence Of Time Vol. One (JM)
COLIN RAYMENT Equilibrium (STS)
RICOCHET Kazakhstan (MD)
SEQUENTIA LEGENDA The 432 Hz Berlin School Box (JM)
SINGLE CELLED ORGANISM Event Horizon (TS)
TRANSATLANTIC The Final Flight – Live At L'Olympia (SM)
TRITOP Rise Of Kassandra (MD)
TWENTY FOUR HOURS Ladybirds (JM)
U2 Songs Of Surrender (MP)
THE VIEW INSIDE Strange Destinations (MD)
ZAZIE Aile-P (MC)
QUICKIES
ALCO FRISBASS Le Mystère Du Gué Pucelle (JM)
AQUAEL Anthology (JM)
JOE BONAMASSA Tales Of Time (SM)
DOBBELTGJENGER The Twins (MD)
MATT DORSEY Let Go (RK)
LES DUNES Les Dunes (MD)
FALLING EDGE Final Dissent (Into Madness?) (JM)
FARGO Geli (MD)
FRODE FIVEL All You See (JM)
HACKBERRY Breathing Space (MD)
HAKEN Fauna (RK)
HONG FAUX Desolation Years (RK)
INNER PROSPEKT Canvas Three (MD)
RICHARD KERSTEN & MARCUS GHOREISCHIAN Inspired By The Beatles – Sippin' Lemonade In The Sunshine (MD)
KLONE Meanwhile (RK)
KRYUHM Only In My Mind (JM)
LAKES Elysian Skies (RK)
JAMIE LENMAN The Atheist (RK)
LIES Lies (RK)
LUMSK Fremmede Toner (MD)
M-OPUS At The Mercy Of Manannán (MD)
MAGICK TOUCH Cakes & Coffins (MD)
ROB MORATTI Epical (RK)
MOTIONSICK The Inner Side (MD)
MOWGLI Gueule De Boa (MD)
MUSA DAGH No Future (RK)
MUSHROOM GIANT In A Forest (MD)
PITOU Big Tear (MD)
PROTZ In Dog We Trust (MD)
JAIME ROSAS Ikaro (JM)
SHONEN KNIFE Our Best Place (MC)
SMOKEMASTER Cosmic Connector (TS)
SVNTAX ERROR The Vanishing Existence (MD)
TENEDLE Demetra (MD)
STEPHAN THELEN Fractal Guitar 3 (MD)
UNIVERSUM25 Universum25 (TS)
UNQUIET MUSIC LTD. MEMEmusic (MD)
VADE ARATRO Agreste Celeste (JM)
30 Jahre Empire Magazin
Die alten Empire-Magazine 1-103 bis 2013 sind nun leider schon lange vergriffen. Zu unserem 30. Jubiläum haben wir aber noch einmal alle 99 Heftcover (es gab insgesamt 4 Doppelhefte) in einer Galerie zusammengestellt und wünschen Euch viel (nostalgischen) Spaß, in den alten Titelbildern zu stöbern...
EMPIRE Heft 124
Im Heft 124 haben wir unter anderem auch ein neues Interview mit Anna von Hausswolff - die sich sichtlich über das letzte freute...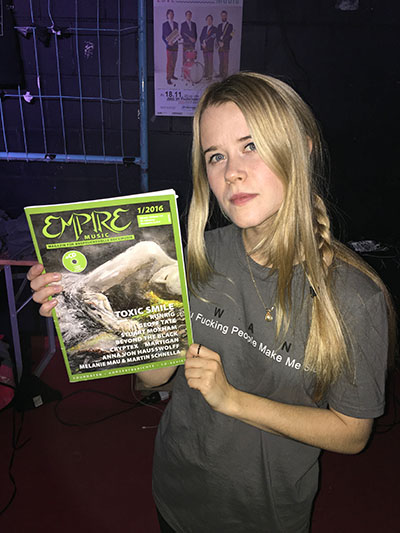 Neuer EMPIRE-MUSIC Mailorder-Shop
Wie Ihr auch schon der Anzeige im Heft 123 entnommen habt, schloss am 26.12. nach über 2 Jahrzehnten der alte Online-Shop von Michael Bäcker unter der Adresse empire-music.de.
In Zukunft findet Ihr sein großes CD- und DVD-Angebot in seinem neuen Shop auf der Plattform Discogs, am einfachsten über diese neue Adresse:
Leider können die Kontodaten des alten Shops nicht in den neuen Discogs-Shop übertragen werden, Ihr müsst Euch daher entweder einfach bei Discogs neu anmelden, oder Ihr könnt Euch auch mit einem bestehenden Facebook- oder Google-Account einloggen. Michael bedankt sich bei allen treuen Kunden des alten Shops und hofft, Euch alle im Shop auf Discogs mit neuen, besseren Suchfiltern und ausführlichen Infos zu jeder CD wiederzusehen.
NEU EMPIRE Sonderheft 2
Das erste EMPIRE MUSIC Sonderheft bekommt eine Fortsetzung mit allen Bands, die letztes Jahr auf dem "Night of the Prog" Festival 2016 gespielt haben... "Another Day in the Life of a Festival".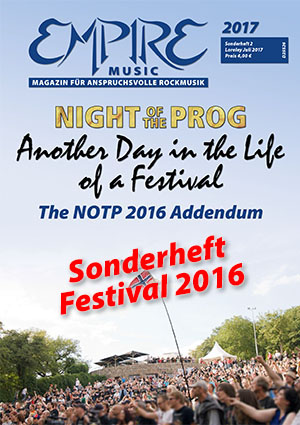 Bestellung und alle Einzelheiten dazu auf der Sonderseite www.empiremusic.de/loreley
EMPIRE Heft 120
Auch Steve Hackett ist seit vielen Jahren Fan und Unterstützer unseres Magazins und wurde in Empire 120 interviewt...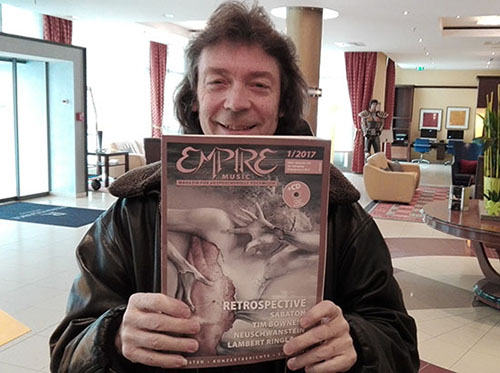 EMPIRE Heft 120
Im Heft 120 haben wir ein Interview mit dem Ayreon-Mastermind Arjen Anthony Lucassen - der seit vielen Jahren ein bekennender Fan vom Empire-Magazin und seiner Sampler-CD ist, wie er uns auch stolz zeigt...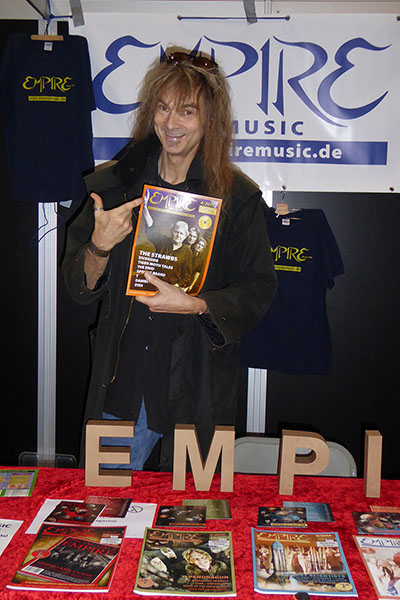 EMPIRE Sonderheft 1
Das erste EMPIRE MUSIC Sonderheft: Zum Anlass des 10. Jubiläums des "Night of the Prog" Festivals in diesem Jahr - und im 25. Jahr unseres Magazins - erschien das große und opulent bebilderte Jubiläumsheft "A Day in the Life of a Festival".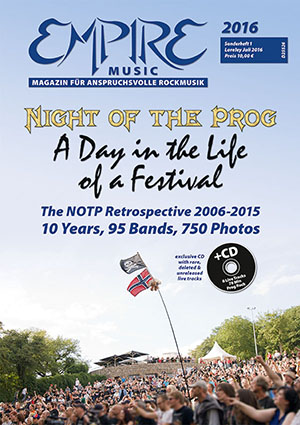 Bestellung und alle Einzelheiten dazu auf der Sonderseite www.empiremusic.de/loreley