News
EMPIRE Heft 138
Die Dezember-Ausgabe 2020 ist verschickt und sollte bei allen Abonnenten bis Mitte des Monats angekommen sein. Hier wie immer eine kleine Vorschau auf unsere Themen.
Wichtiger Hinweis: Unmittelbar nach der Drucklegung wurde leider das ›Artrock Festival‹ 2021 in Reichenbach auf den 20.-22.08. verschoben. Die Anzeige auf Seite 2 des Magazins zeigt daher leider noch den ursprünglichen Termin im April. Wir hatten für den Veranstalter und alle Besucher bis auf den letzten Augenblick gehofft, dass der Termin trotz der Pandemie gehalten werden kann, was nun aber leider nicht der Fall ist.
Das Heft kann auch einzeln im Empire-Music oder PPR Online-Shop bestellt werden.
Das alternative "Jewel Case"-Cover für die CD (zum selber Ausdrucken) steht hier in der Download Sektion zur Verfügung.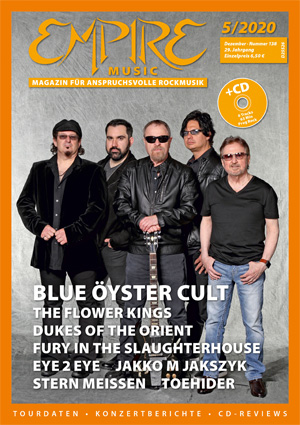 INTERVIEWS
BLUE ÖYSTER CULT (MM)
THE FLOWER KINGS (TS)
STERN MEISSEN (BK)
DUKES OF THE ORIENT (MB)
JAKKO M JAKSZYK (SM)
TOEHIDER (RK)
FURY IN THE SLAUGHTERHOUSE (RK)
EYE 2 EYE (MD)
LIVE Reviews
EIVØR (STM)
MY SLEEPING KARMA (CT)
LONG DISTANCE CALLING (CT)
JESSICA LEE MORGAN (MC)
›ARTROCK FESTIVAL VIII‹ (BK|CK|UE|ROK)
CD/DVD Reviews
ABYSAL – THE ADAM JURCZYŃSKI PROJECT Return To The Live (MD)
AMAROK The Storm (JM)
TORI AMOS Widerstand (PV)
BAYLEY & HUNT Whispers (MD)
BERNARD & PÖRSTI La Tierra (TK)
BIRDPEN The Lockdown Sessions | Companion | Some Things You Cannot Save | There's Something Wrong With Everything Live (RK)
BRUDINI From Darkness, Light (JM)
MICHAEL BRÜCKNER Footprints (STS)
COMPUTERCHEMIST That Which Prevails (STS)
THE DAY Soon I Will Forget (RK)
DEEP IMAGINATION My Silent Celebration (MD)
DJABE The Magic Stag (MD)
DYBLE LONGDON Between A Breath And A Breath (MC)
RIKK ECCENT Black Halo (JM)
ERMES/HARMS Fingerhut (MD)
EYE 2 EYE Nowhere Highway (MD)
THE FLOWER KINGS Islands (PV)
GABRIEL New Life (JM)
GAZPACHO Fireworker (MD)
GORILLAZ Song Machine Season One: Strange Timez (MP)
STEVE HACKETT Selling England By The Pound & Spectral Mornings – Live At Hammersmith (AS)
ROBERT HART Pure (MS)
HAWKWIND LIGHT ORCHESTRA Carnivorous (MD)
JAKKO M JAKSZYK Secrets & Lies (SM)
KENZINER Phoenix (MS)
ALICIA KEYS Alicia (MP)
LOUANE Joie De Vivre (MP)
MARQUETTE Into The Wild (MD)
LA MASCHERA DI CERA S.E.I. (MD)
NICK MASON'S SAUCERFUL OF SECRETS Live At The Roundhouse (MP)
ROGER WATERS Us+Them (MP)
RICK MILLER Unstuck In Time (MD)
THE PINEAPPLE THIEF Versions Of The Truth (RK)
QUEEN+ADAM LAMBERT Live Around The World (TS)
RING VAN MÖBIUS The 3rd Majesty (MD)
SUZZY ROCHE & LUCY WAINWRIGHT ROCHE I Can Still Hear You (MC)
RUNRIG One Legend – Two Concerts, Live At Rockpalast 1996 & 2001 (SM)
SAMURAI Samurai (MD)
JOHANNES SCHMOELLING 20 (OM)
SEQUENTIA LEGENDA Beyond The Stars (STS)
SLEEPMAKESWAVES These Are Not Your Dreams (MD)
BRUCE SPRINGSTEEN Letter To You (SM)
SUFJAN STEVENS The Ascension (MP)
THE STRING THEORY The Los Angeles Suite (TK)
SWAPPERS ELEVEN From A Distance (JM)
TELERGY Black Swallow (MD)
10 YEARS Violent Allies (OM)
THEO Figureheads (AS)
RICHARD & LINDA THOMPSON Hard Luck Stories (1972-1982) (MC)
TOEHIDER I Like It (RK)
TOLEDO STEEL The First Strike Of Steel – The Early Years Anthology (MS)
DEVIN TOWNSEND Order Of Magnitude: Empath Live Volume 1 (SM)
VERBAL DELIRIUM From The Small Hours Of Weakness (KB)
WHITE CRONE The Poisoner (MS)
SNOWY WHITE & THE WHITE FLAMES Something On Me (MM)
THE WINDROSE CONCERN Angel Of Entropy (MD)
WOBBLER Dwellers Of The Deep (MD)
YACOBS Beautiful (JM)
YES The Royal Affair Tour – Live From Las Vegas (TS)
QUICKIES
ACUTE MIND Under The Empty Sky (JM)
HANNAH ALDRIDGE Live In Black And White (MD)
ALL THEM WITCHES Nothing As The Ideal (RK)
JON ANDERSON Songs Of Seven (MD)
AUTOMATISM Immersion (MD)
BLACK SABBATH Paranoid (JK)
BLITZEN TRAPPER Holy Smokes Future Jokes (MD)
BROTHER FIRETRIBE Feel The Burn (MD)
PAUL CARRACK Another Side Of Paul Carrack (MD)
SIMON COLLINS Becoming Human (RK)
CROWN OF GLORY Ad Infinitum (MD)
CULPEPER'S ORCHARD Mountain Music – The Polydor Recordings 1971-1973 (MD)
EELS Earth To Dora (RK)
JOHN FOGERTY Fogerty's Factory (MD)
FOOKS NIHIL Fooks Nihil (MD)
FOREIGN The Symphony Of The Wandering Jew Part II (JK)
FORKUPINES Islands (RK)
GONG WAH Gong Wah (RK)
LE GRAND SBAM Furvent (MD)
BEN GRANFELT True Colours (MM)
THE HOLY Mono Freedom (RK)
JOHNROSE Wings (TS)
KADAVAR The Isolation Tapes (RK)
KEVIN KENDLE Deep Skies 6: Laniakea (JM)
KRYPTOGRAF Kryptograf (MD)
LAUGHING STOCK The Island (MD)
JOHN LENNON Gimme Some Truth – The Ultimate Mixes (MD)
LESTER Die Beste Aller Zeiten (RK)
LINHAY On How To Disappear (RK)
MUDDY MANNINEN River Flows (JM)
ALANIS MORISSETTE Such Pretty Forks In The Road (RK)
MOTORPSYCHO The All Is One (RK)
EDDIE MULDER Beyond The Eye (JM)
NEÀNDER Eremit (RK)
STEVIE NICKS The 24 Karat Gold Tour – Live In Concert (TS)
NOTHING BUT THIEVES Moral Panic (RK)
OLD KERRY MCKEE Mono Secular Sounds (MD)
OLIVEIRO GAVIN DE RANIERI The Big Game (MD)
PANZERBALLETT Planet Z (MD)
A PERFECT DAY With Eyes Wide Open (RK)
TOM PETTY Wildflowers & All The Rest (RK)
PURE REASON REVOLUTION The Dark Third (SM)
PYMLICO On This Day (MD)
RACING CARS The Albums 1976-1978 (MD)
RANESTRANE The Wall (MD)
RHINOCEROS The Elektra Albums 1968-1970 (MD)
LEE RITENOUR Dreamcatcher (OM)
DAVE SCHOEPKE Tessellated Resonance (MD)
THE SENSIBLE GRAY CELLS Get Back Into The World (RK)
KENNY WAYNE SHEPHERD BAND Straight To You: Live (OM)
SIENA ROOT Different Realities | Far From The Sun (MD)
SILENT EYES Silent Eyes (MD)
SLOMOSA Slomosa (JM)
SLOW PULP Moveys (RK)
SNO BABIES Music From The Motion Picture (RK)
SQUEALER Insanity (JK)
STARING INTO NOTHING Love (MD)
STATUES Holocene (RK)
THE STRUTS Strange Days (RK)
TEARS FOR FEARS The Seeds Of Love (TS)
RAY THOMAS Words & Music (MD)
TURDETANS Suite Of Dreams (JM)
VARIOUS ARTISTS Kraut! Die Innovativen Jahre Des Krautrock 1968-1979 Teil 3 (MD)
LAURA VEIRS My Echo (RK)
ANDREAS VOLLENWEIDER Quiet Places (TS)
WE STOOD LIKE KINGS Classical Re:Works (RK)
EMPIRE Heft 124
Im Heft 124 haben wir unter anderem auch ein neues Interview mit Anna von Hausswolff - die sich sichtlich über das letzte freute...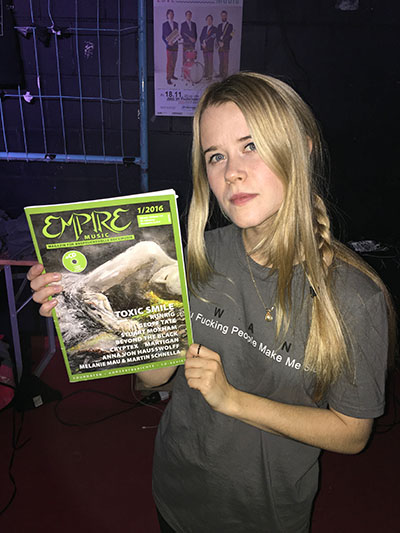 Neuer EMPIRE-MUSIC Mailorder-Shop
Wie Ihr auch schon der Anzeige im Heft 123 entnommen habt, schloss am 26.12. nach über 2 Jahrzehnten der alte Online-Shop von Michael Bäcker unter der Adresse empire-music.de.
In Zukunft findet Ihr sein großes CD- und DVD-Angebot in seinem neuen Shop auf der Plattform Discogs, am einfachsten über diese neue Adresse:
Leider können die Kontodaten des alten Shops nicht in den neuen Discogs-Shop übertragen werden, Ihr müsst Euch daher entweder einfach bei Discogs neu anmelden, oder Ihr könnt Euch auch mit einem bestehenden Facebook- oder Google-Account einloggen. Michael bedankt sich bei allen treuen Kunden des alten Shops und hofft, Euch alle im Shop auf Discogs mit neuen, besseren Suchfiltern und ausführlichen Infos zu jeder CD wiederzusehen.
NEU EMPIRE Sonderheft 2
Das erste EMPIRE MUSIC Sonderheft bekommt eine Fortsetzung mit allen Bands, die letztes Jahr auf dem "Night of the Prog" Festival 2016 gespielt haben... "Another Day in the Life of a Festival".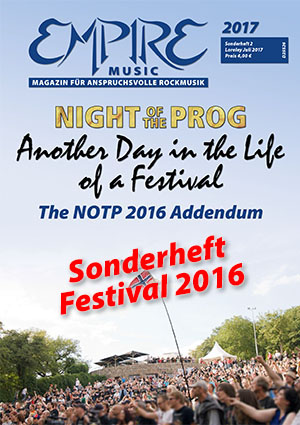 Bestellung und alle Einzelheiten dazu auf der Sonderseite www.empiremusic.de/loreley
EMPIRE Heft 120
Auch Steve Hackett ist seit vielen Jahren Fan und Unterstützer unseres Magazins und wurde in Empire 120 interviewt...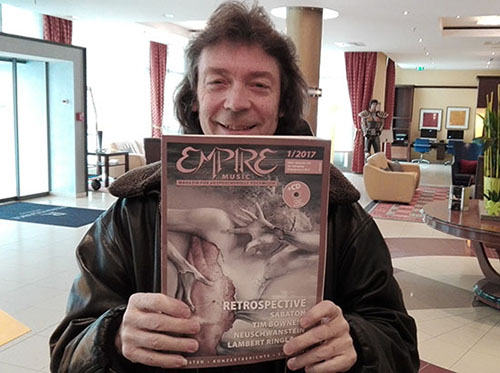 EMPIRE Heft 120
Im Heft 120 haben wir ein Interview mit dem Ayreon-Mastermind Arjen Anthony Lucassen - der seit vielen Jahren ein bekennender Fan vom Empire-Magazin und seiner Sampler-CD ist, wie er uns auch stolz zeigt...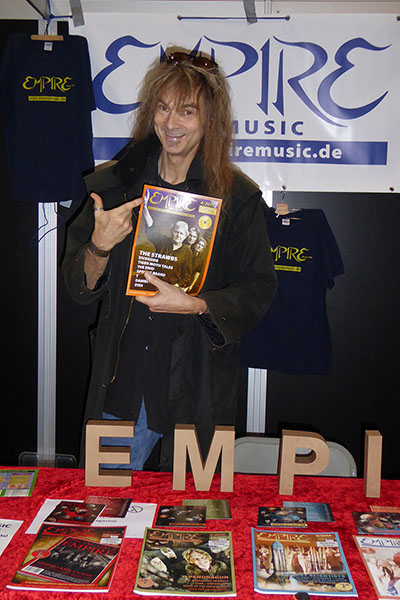 EMPIRE Sonderheft 1
Das erste EMPIRE MUSIC Sonderheft: Zum Anlass des 10. Jubiläums des "Night of the Prog" Festivals in diesem Jahr - und im 25. Jahr unseres Magazins - erschien das große und opulent bebilderte Jubiläumsheft "A Day in the Life of a Festival".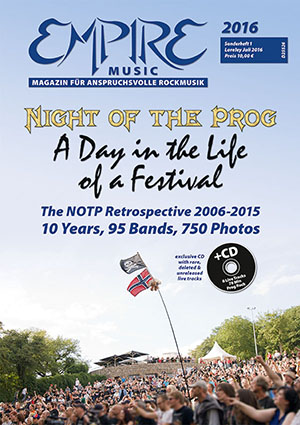 Bestellung und alle Einzelheiten dazu auf der Sonderseite www.empiremusic.de/loreley