News
Mit großer Trauer haben wir erfahren, dass Hansi Cross von der schwedischen Band Cross und Inhaber des Labels und Vertriebs Progress Records, mit denen auch Empire Music viele Jahre lang zusammengearbeitet hat, nach langer Krankheit verstorben ist.
www.facebook.com/CROSS-SWEDISH-PROG-180171690867
EMPIRE Heft 121
Die Juli-Ausgabe ist in die Post gegangen und inzwischen bei allen Abonnenten angekommen. Hier wie immer eine kleine Vorschau auf unsere Themen.
Das Heft kann auch einzeln im Empire-Music oder PPR Online-Shop bestellt werden.
Das alternative "Jewel Case"-Cover für die CD (zum selber Ausdrucken) steht hier in der Download Sektion zur Verfügung.
Wir wünschen Euch viel Spaß beim Lesen!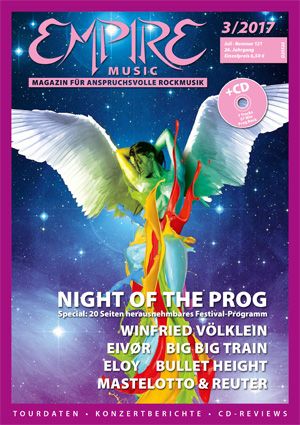 INTERVIEWS
BIG BIG TRAIN (TS)
BULLET HEIGHT (SM)
WINFRIED VÖLKLEIN (MC)
ELOY (RS)
PAT MASTELOTTO & MARKUS REUTER (TS)
EIVØR (VS)
LIVE Reviews
FRANK TURNER & SAM DUCKWORTH (MO)
GOSPEL DATING SERVICE (MO)
BOB DYLAN (MP)
NURSERY CRYME (MC)
MOSTLY AUTUMN (UE)
CHICK COREA (MP)
IRON MAIDEN (MP)
XIU XIU & DAZED PILOTS (MO)
THE RED PAINTINGS (MC)
FOREIGNER (BK)
PHIL COLLINS (MC)
CD/DVD Reviews
A KEW'S TAG Silence Of The Sirens (TK)
ABEL GANZ Gratuitous Flash - The 2016 Remaster (MD)
THE AFGHAN WHIGS In Spades (RK)
AIRPORTMAN Dust & Storm (JM)
AMPLIFIER Trippin' With Dr. Faustus (RK)
AN EARLY CASCADE Alteration (RK)
ANCIENT VEIL I Am Changing (JM)
ASHBY Fragmental (MS)
DAVE BAINBRIDGE Celestial Fire Live In The UK (RK)
THE BEATLES Sgt. Pepper's Lonely Hearts Club Band (TS)
BENT KNEE Land Animal (RK)
BIG BIG TRAIN Grimspound (TS)
TIM BLAKE The Tide Of The Century | Caldea Music II (MD)
BROTHER APE Karma (JM)
BULLET HEIGHT No Atonement (SM)
COLLEGIUM MUSICUM Konvergencie (JM)
CORRODED Defcon Zero (MS)
PETER COX Lonely Desert | Dawn Of The Age Of Aquarius | Ghost In The Machine (MD)
DAMANEK On Track (JM)
DARK AGES A Closer Look (JM)
THE DEAD DAISIES Live & Louder (JK)
DISEQUAZIONE Progressiva Desolazione Urbana (JM)
EMERSON, LAKE & PALMER Works Vol. 1 | Works Vol. 2 (TS)
ZSOLT ENYEDI Y:I (JM)
FATES WARNING Awaken The Guardian - Live (AS)
FAUNSHEAD Can't Dance (RK)
FEIST Pleasure (MP)
FISH Farewell To Childhood (AS)
FISH Field Of Crows (AS)
FISH The Moveable Feast (AS)
FISH ON FRIDAY Quiet Life (MD)
FRACTALMIND Stainless (MD)
GALAHAD Quiet Storms (RK)
GOLDEN CAVES Collision (JM)
GOV'T MULE Revolution Come, Revolution Go (TS)
RIKARD SJÖBLOM'S GUNGFLY On Her Journey To The Sun (RK)
HABELARD2 Qwerty (JM)
HAREM SCAREM United (MS)
RUDOLF HEIMANN Touch The Sky (OM)
HINTERLANDT Ode To Doubt (JM)
IL TEMPIO DELLE CLESSIDRE Il-Ludere (JM)
ISILDURS BANE Colours Not Found In Nature (MD)
KANT FREUD KAFKA Onírico (JM)
KARFAGEN Spektra (MD)
KARIBOW From Here To The Impossible (MD)
THE RYSZARD KRAMARSKI PROJECT Music Inspired By The Little Prince (MD)
KENDRICK LAMAR Damn. (MP)
KRZYSZTOF LEPIARCZYK Art Therapy (MD)
LINKIN PARK One More Light (TS|MS)
LONG EARTH The Source (MD)
MACHINES DREAM Black Science (MD)
MAGENTA We Are Legend (TS)
MAXOPHONE La Fabbrica Delle Nuvole (JM)
METUS Black Butterflies (MD)
NEKTAR Live In Bremen (MD)
NIRVANA Local Anaesthetic | (MD)
NORA PRENTISS They Made Mistakes Too (JM)
PANTHER & C. Il Giusto Equilibrio (JM)
AXEL RUDI PELL The Ballads V | Black Moon Pyramid | The Masquerade Ball | Shadow Zone (JK)
ANTHONY PHILLIPS Slow Dance (MD)
PROAGE A Different State Of Reality (MD)
RENAISSANCE Live At The BBC - Sight & Sound (MD)
THE ROLLING STONES Olé Olé Olé! (JK)
THE SAMURAI OF PROG On We Sail (JM)
SARIS Ghosts Of Yesterday (JM)
ROBERT SCHROEDER Velocity (OM)
SECOND HAND Death May Be Your Santa Claus (MD)
SECOND RELATION Eno (MD)
SMALLTAPE The Ocean (MD)
SORORITY NOISE You're Not As __ As You Think (RK)
SOUP Remedies (RK)
SPACE DEBRIS Behind The Gate (PV)
STING The Studio Collection: Volume II (JK)
STYX The Mission (TS)
SUNRISE AURANAUT The Ocean Of Unspoken Words (MD)
NAD SYLVAN The Bride Said No (SM)
U2 The Joshua Tree (TS)
VANDEN PLAS The Seraphic Live Works (JK)
VICTORY Two Years And A Few Beers Later (MS)
ROGER WATERS Is This The Life We Really Want? (MP)
WAVE Me And Reality (MD)
WESERBERGLAND Sehr Kosmisch, Ganz Progisch (MD)
YES Tales From Topographic Oceans (PV)
THE C.ZEK BAND Set You Free (JM)
QUICKIES
CLEAR BLUE SKY Clear Blue Sky (MD)
GLENN HUGHES Play Me Out (MD)
LOONYPARK Perpetual (MD)
MYSTERY Live At The Artrock Festival (UE)
NIHILING Batteri (RK)
RITCHIE BLACKMORE'S RAINBOW Stranger In Us All (MD)
SIMONE SESSA See The Zen Key (JM)
VARIOUS ARTISTS Omaggio Al Maestro Ennio Morricone (JM)
NEU EMPIRE Sonderheft 2
Das erste EMPIRE MUSIC Sonderheft bekommt eine Fortsetzung mit allen Bands, die letztes Jahr auf dem "Night of the Prog" Festival 2016 gespielt haben... "Another Day in the Life of a Festival".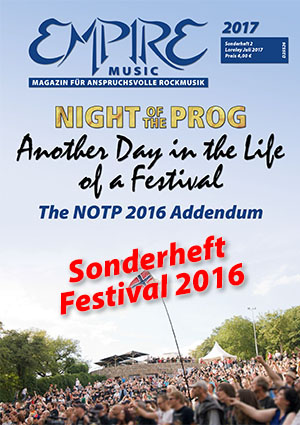 Bestellung und alle Einzelheiten dazu auf der Sonderseite www.empiremusic.de/loreley
EMPIRE Heft 120
Auch Steve Hackett ist seit vielen Jahren Fan und Unterstützer unseres Magazins und wurde in Empire 120 interviewt...
EMPIRE Heft 120
Im Heft 120 haben wir ein Interview mit dem Ayreon-Mastermind Arjen Anthony Lucassen - der seit vielen Jahren ein bekennender Fan vom Empire-Magazin und seiner Sampler-CD ist, wie er uns auch stolz zeigt...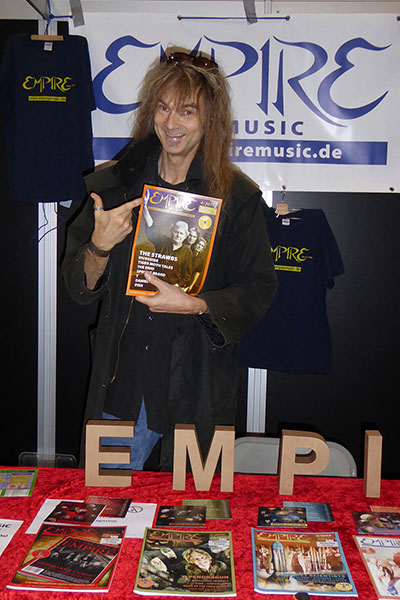 EMPIRE Sonderheft 1
Das erste EMPIRE MUSIC Sonderheft: Zum Anlass des 10. Jubiläums des "Night of the Prog" Festivals in diesem Jahr - und im 25. Jahr unseres Magazins - erschien das große und opulent bebilderte Jubiläumsheft "A Day in the Life of a Festival".
Bestellung und alle Einzelheiten dazu auf der Sonderseite www.empiremusic.de/loreley