News
Neuer EMPIRE-MUSIC Mailorder-Shop
Wie Ihr auch schon der Anzeige im aktuellen Heft entnommen habt, schließt am 26.12. nach über 2 Jahrzehnten der alte Online-Shop von Michael Bäcker unter der Adresse empire-music.de.
In Zukunft findet Ihr sein großes CD- und DVD-Angebot in seinem neuen Shop auf der Plattform Discogs, am einfachsten über diese neue Adresse:
Leider können die Kontodaten des alten Shops nicht in den neuen Discogs-Shop übertragen werden, Ihr müsst Euch daher entweder einfach bei Discogs neu anmelden, oder Ihr könnt Euch auch mit einem bestehenden Facebook- oder Google-Account einloggen. Michael bedankt sich bei allen treuen Kunden des alten Shops und hofft, Euch alle im Shop auf Discogs mit neuen, besseren Suchfiltern und ausführlichen Infos zu jeder CD wiederzusehen.
ZUM JAHRESENDE
Wir bedanken uns bei allen LeserInnen unseres Magazins und wünschen Euch ein frohes Weihnachtsfest und ein gutes neues Jahr 2018.
Das Empire Magazin würde ohne die Unterstützung unserer AbonnentInnen nicht erscheinen können, weshalb wir uns gerne an dieser Stelle für Eure langjährige Treue bedanken. Und falls Ihr bisher nur sporadische Leser wart, wir freuen uns natürlich über jeden neuen Abonnenten und haben dafür aktuell eine neue verbesserte Abo-Prämie im Angebot, bei der Ihr neben einem kostenlosen Zusatzheft noch weitere ältere Ausgaben zu stark reduzierten Sonderpreisen dazubestellen könnt. Einzelheiten findet Ihr auf unserem Abo-Formular.
Auf Wiedersehen und -lesen im neuen Jahr, Eure Empire-Redaktion.
EMPIRE Heft 123
Die Dezember-Ausgabe ist in die Post gegangen und sollte bei allen Abonnenten angekommen sein. Hier wie immer eine kleine Vorschau auf unsere Themen.
Das Heft kann auch einzeln im Empire-Music oder PPR Online-Shop bestellt werden.
Das alternative "Jewel Case"-Cover für die CD (zum selber Ausdrucken) steht hier in der Download Sektion zur Verfügung.
Wir wünschen Euch viel Spaß beim Lesen!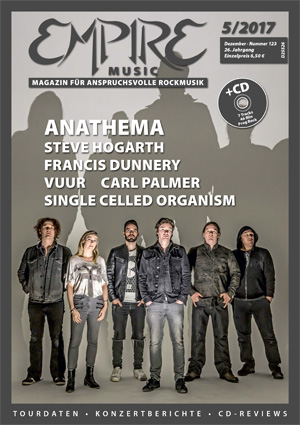 INTERVIEWS
ANATHEMA (RK)
ANNEKE VAN GIERSBERGEN'S VUUR (SM)
CARL PALMER / ELP (TS)
STEVE HOGARTH (TS)
SINGLE CELLED ORGANISM (TS)
FRANCIS DUNNERY (TS)
LIVE Reviews
FLOYD DREAM - THE WALL (UE)
MOTHER'S CAKE & PARASOL CARAVAN (MO)
BIG BIG TRAIN (TR|MW)
HOMELESS KINGS & HIGH TRANSITION/TWO ON GLUE (MO)
BRIAN AUGER'S OBLIVION EXPRESS FEAT. ALEX LIGERTWOOD (BK)
ANGE (CT)
THE CARPET CRAWLERS (VW)
GRAVEYARD & TROUBLED HORSE (MO)
NICK CAVE & THE BAD SEEDS (MP)
SAGA (AS)
PAT METHENY QUARTET (MP)
STEAMING SATELLITES (MO)
PENDRAGON (STS)
ANATHEMA (BK)
JAZZRAUSCH BIGBAND (MO)
THE RESIDENTS (CT)
BURGROCK FESTIVAL (UE)
2 DAYS PROG+1 - VERUNO PROG FESTIVAL 2017 (BK)
CD/DVD Reviews
ACQUA FRAGILE A New Chant (MD)
AKIKAZE Solstice (OM)
TORI AMOS Native Invader (MS)
SOPHYA BACCINI'S ARADIA Big Red Dragon (JM)
ATLANTIC BRIDGE Atlantic Bridge (MD)
BASTA! Elemento Antropico (JM)
BLUES PILLS Lady In Gold - Live In Paris (RK)
BUBBLEMATH Edit Peptide (JM)
DANIEL CAVANAGH Monochrome (RK)
IL CERCHIO D'ORO Il Fuoco Sotto La Cenere (JM)
CHEER-ACCIDENT Putting Off Death (JM)
AVISHAI COHEN 1970 (MP)
COLOUR HAZE In Her Garden (MO)
CROMONIC Time (MS)
DERJAN Trauerspiel (RK)
DEUS EX MACHINA Devoto (JM)
DJABE & STEVE HACKETT Life Is A Journey - The Sardinia Tapes (MD)
DRIFTING SUN Twilight (MD)
FRANCIS DUNNERY Vampires (TS)
JUDY DYBLE & ANDY LEWIS Summer Dancing (MC)
EMERSON, LAKE & PALMER Fanfare 1970-1997 (TS)
EXCALIBUR IV The Dark Age Of The Dragon (MD)
FIBONACCI SEQUENCE Cinema Finis (MD)
THE FLOCK Truth - The Columbia Recordings 69-70 (MD)
FRANKIE GOES TO HOLLYWOOD Welcome To The Pleasuredome (TS)
GENTLE GIANT Three Piece Suite (TS)
DAVID GILMOUR Live At Pompeii (TS)
GREEN & PHILHARMONISCHES ORCHESTER HAGEN Symphonic Floyd (MD)
JOHN HACKETT BAND We Are Not Alone (MD)
I AM THE MANIC WHALE Gathering The Waters (MD)
INXS Kick 30 (TS)
IAIN JENNINGS The House (MD)
DAVE KERZNER Static (TS)
CAROLE KING Tapestry: Live In Hyde Park (TS)
JUHA KUJANPÄÄ To Where My Wings Will Take Me (JM)
BERTRAND LOREAU Finally (OM)
BRIAN MAY Queen In 3-D (MC)
MISS VELVET & THE BLUE WOLF Bad Get Some (MD)
MOTORPSYCHO The Tower (MP)
MUFFX L'Ora Di Tutti (JM)
THE MUGSHOTS Something Weird (JM)
MULTI STORY Live At Acapela (MD)
CLIVE NOLAN King's Ransom (UE)
PANZERBALLETT X-Mas Death Jazz (MD)
PFM Emotional Tattoos (SM)
PHISH The Baker's Dozen (MP)
THE PINEAPPLE THIEF Where We Stood (MD)
PRIME CIRCLE If You Don't You Never Will (RK)
QUARTO VUOTO Illusioni (JM)
REVOLUTION SAINTS Light In The Dark (JK)
THE ROLLING STONES From The Vault: Sticky Fingers (JK)
THE ROLLING STONES Their Satanic Majesties Request (JK)
SAGA 40 Years Of Saga (TS)
ROBERT SCHROEDER D.Mo Vol. 4 - Harmonic Decadence (OM)
SILHOUETTE The World Is Flat And (MD)
SINGLE CELLED ORGANISM Splinter In The Eye (TS)
SOSPETTO Il Sonno Eterno (JM)
SPECIAL PROVIDENCE Will (JM)
SPOCK'S BEARD Snow Live (SM)
THINKING PLAGUE Hoping Against Hope (JM)
RICHARD THOMPSON Acoustic Classics II | Acoustic Rarities (MC)
THRESHOLD Legends Of The Shires (AS)
TRINITY XPERIMENT Anaesthesia (TS)
TROJKA I Speilvendthet (JM)
UNITOPIA More Than A Dream (JM)
STEVE WALSH Black Butterfly (SM)
THE WHO Tommy - Live At The Royal Albert Hall (JK)
WOBBLER From Silence To Somewhere (MD)
WUCAN Reap The Storm (IS)
QUICKIES
ARCANE ROOTS Melancholia Hymns (RK)
BODAST Towards Utopia (MD)
CALIGULA'S HORSE In Contact (RK)
PATRICK CAMPBELL-LYONS Me And My Friend (MD)
COOGANS BLUFF Bluff Live (MD)
DAYDREAM XI The Circus Of The Tattered And Torn (JK)
NEWTON FAULKNER Hit The Ground Running (RK)
FIRST BREATH AFTER COMA Drifter (RK)
GODSTICKS Faced With Rage (MD)
GRAN NOIR Electronic Eyes (RK)
THE GREAT HARRY HILLMAN Tilt (JM)
HÄLLAS Excerpts From A Future Past (MD)
CHRIS JAGGER All The Best (MD)
LES LEKIN Died With Fear (MD)
LESOIR Latitude (MD)
MAJOR PARKINSON Blackbox (MD)
NOTHING BUT THIEVES Broken Machine (RK)
NOVATIA Flow (MD)
PSYCHEDELIC WITCHCRAFT Sound Of The Wind (MD)
KLAUS SCHØNNING Kaleidoscope (JM)
SEQUENTIA LEGENDA Ethereal (JM)
SHAMAN'S HARVEST Red Hands Black Deeds (RK)
THE SPACELORDS Water Planet (MD)
STRAY All In Your Mind (MD)
THELEMA Stilllife (JM)
TUSMØRKE Bydrya (MD)
ULTRANOVA Orion (MD)
VARIOUS ARTISTS Noise Reduction System - Formative European Electronica 1974-1984 (MD)
WARRIOR Featuring Vinnie Vincent, Jimmy Waldo, Gary Shea, Hirsh Gardner (MD)
THE WATERBOYS Out Of All This Blue (RK)
THE WHO Maximum As & Bs (JK)
WIDOWMAKER Running Free: The Jet Recordings 76-77 (MD)
RYAN YARD The Nature Of Solitude (JM)
THE ZODIAC Cosmic Sounds (MD)
NEU EMPIRE Sonderheft 2
Das erste EMPIRE MUSIC Sonderheft bekommt eine Fortsetzung mit allen Bands, die letztes Jahr auf dem "Night of the Prog" Festival 2016 gespielt haben... "Another Day in the Life of a Festival".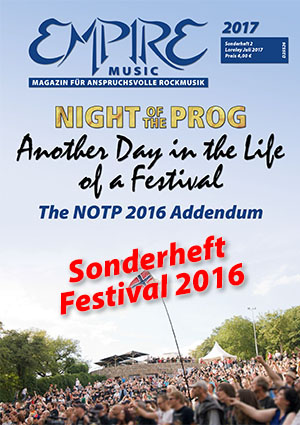 Bestellung und alle Einzelheiten dazu auf der Sonderseite www.empiremusic.de/loreley
EMPIRE Heft 120
Auch Steve Hackett ist seit vielen Jahren Fan und Unterstützer unseres Magazins und wurde in Empire 120 interviewt...
EMPIRE Heft 120
Im Heft 120 haben wir ein Interview mit dem Ayreon-Mastermind Arjen Anthony Lucassen - der seit vielen Jahren ein bekennender Fan vom Empire-Magazin und seiner Sampler-CD ist, wie er uns auch stolz zeigt...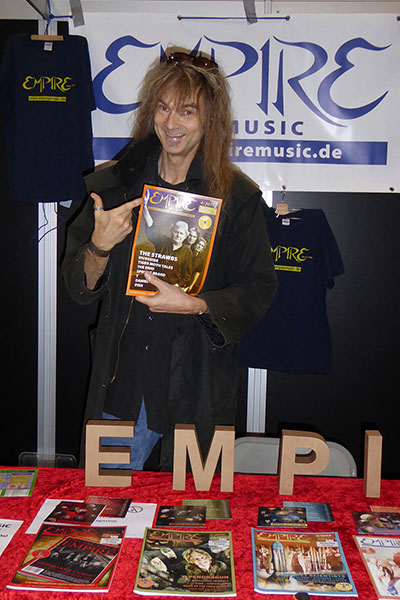 EMPIRE Sonderheft 1
Das erste EMPIRE MUSIC Sonderheft: Zum Anlass des 10. Jubiläums des "Night of the Prog" Festivals in diesem Jahr - und im 25. Jahr unseres Magazins - erschien das große und opulent bebilderte Jubiläumsheft "A Day in the Life of a Festival".
Bestellung und alle Einzelheiten dazu auf der Sonderseite www.empiremusic.de/loreley