News
EMPIRE Heft 126 Nachtrag
Zwei Hinweise in eigener Sache...
Die Hefte wurden am Donnerstag eingeliefert. Die Post garantiert für Pressesendungen eine Zustellung nach zwei Tagen, also Samstag. Tatsächlich ist der Großteil der Hefte erst heute (Dienstag) zugestellt worden. Das tut uns sehr leid, allerdings sind wir in dieser Sache leider machtlos, der Versand von Magazinen in dieser Form ist inzwischen alternativlos, denn es gibt keine anderen Anbieter. Trotzdem hoffen wir natürlich, dass alle Festival-Besucher ihr Heft nun noch rechtzeitig erhalten haben.
Eine zweite Information betrifft unser Festival-Programm: WiV Entertainment hat nach unserer Drucklegung für den Sonntag noch Gentle Knife und Casey McPherson in der Reihenfolge getauscht, so dass deren Zeiten in unserem Programmheft jetzt nicht mehr stimmen.
Die tatsächlichen Spielzeiten sind nun:
Casey McPherson 13.45 Uhr
Gentle Knife 15.00 Uhr
Wir wünschen allen Besuchern viel Spaß auf der Loreley!
EMPIRE Heft 126
Die Juli-Ausgabe ist in die Post gegangen und sollte bei allen Abonnenten pünklich vor dem "Night Of The Prog"-Wochenende angekommen sein. Traditionell enthält sie wieder das NOTP-Festivalprogramm in der Heftmitte, das auch herausgenommen und einzeln verwendet werden kann. Wir wünschen allen FestivalbesucherInnen viel Freude und sehen uns hoffentlich auch am Empire-Stand auf dem Gelände. Hier wie immer eine kleine Vorschau auf unsere Themen.
Das Heft kann auch einzeln im Empire-Music oder PPR Online-Shop bestellt werden.
Das alternative "Jewel Case"-Cover für die CD (zum selber Ausdrucken) steht hier in der Download Sektion zur Verfügung.
Wir wünschen Euch viel Spaß beim Lesen!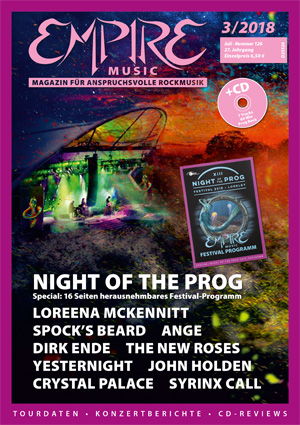 INTERVIEWS
SPOCK'S BEARD (SM)
ANGE (TS)
LOREENA MCKENNITT (TS)
CRYSTAL PALACE (CT)
SYRINX CALL (TS)
JOHN HOLDEN (TS)
YESTERNIGHT (TS)
THE NEW ROSES (RK)
DIRK ENDE (MS)
LIVE Reviews
ISOLATION BERLIN (MO)
ACHIM REICHELS ›A.R. & MACHINES‹ (STS)
RITCHIE BLACKMORE'S RAINBOW (BK)
TOLGA KASHIF ›THE GENESIS SUITE‹ (UE)
KARI BREMNES & BAND (BK)
RANESTRANE WEEKEND 2018 (BK)
THE ANALOGUES (TS)
EVA CROISSANT (MC)
INDOCHINE (MP)
CAMEL (CT)
ROGER WATERS (MP)
SPECIAL
16 SEITEN NOTP FESTIVALPROGRAMM 2018
CD/DVD Reviews
ARENA Double Vision (UE)
ART OF ILLUSION Cold War Of Solipsism (MD)
ARTI & MESTIERI Live In Japan (JM)
PETER BANKS The Self–Contained Trilogy | Be Well, Be Safe, Be Lucky... The Anthology (MD)
ANNIE BARBAZZA & MAX REPETTI Moonchild (JM)
BOREALIS The Offering (MS)
BRÜCKEN FROESE Beginn (MD)
BURNTFIELD Hereafter (MD)
CENTRAL PARK At The Burial Vault (MD)
CLAYMOREAN Sounds From A Dying World (MS)
DAVID CROSS & DAVID JACKSON Another Day (MD)
CRYSTAL PALACE Scattered Shards (UE)
THE DAME Losing Sight Of (MD)
THE DEAD DAISIES Burn It Down (JK)
LA DOTTRINA DEGLI OPPOSTI Arrivederci Sogni (JM)
FIELDS OF TROY The Great Perseverance (JM)
FLEETWOOD MAC Fleetwood Mac (SM)
GALASPHERE 347 Galasphere 347 (TS)
PETER GEE The Bible (MD)
GROBSCHNITT Black & White II & III (TS)
HAKEN L–1VE (SM)
FRANÇOISE HARDY Personne D'Autre (MC)
HARTMANN Hands On The Wheel (JK)
JOHN HOLDEN Capture Light (TS)
IN–SIDE Out–Side (JM)
KAMELOT The Shadow Theory (MS)
KLANGWELT The Incident (OM)
SONJA KRISTINA Anthology (MD)
LES LEKIN Died With Fear (MO)
LORDI Sexorcism (MS)
LUNATIC SOUL Under The Fragmented Sky (MD)
LOREENA MCKENNITT Lost Souls (TS)
JOHN MELLENCAMP Plain Spoken - From The Chicago Theatre (TS)
MY INDIGO My Indigo (MS)
NATHAN Era (JM)
AXEL RUDI PELL Knights Call (JK)
FERNANDO PERDOMO Out To Sea (MD)
A PERFECT CIRCLE Eat The Elephant (RK)
REAL AX BAND Just Vibrations - Live At The Quartier Latin Berlin (MD)
ROBERT REED Sanctuary III (TS)
R.E.M. Automatic For The People (TS)
REXORIA Queen Of Light (MS)
RIVENDEL Sisyfos (JM)
MICHAEL ROMEO War Of The Worlds, Pt. 1 (OM)
RTFACT Life Is Good (JM)
SCIENCE NV The Quest For Prester John Vol. 1 (JM)
SECRET RULE The Key To The World (MS)
SECURITY PROJECT Contact (TK)
ALAN SIMON Big Bang (MD)
SLEEPING PANDORA From Above (MD)
SPOCK'S BEARD Noise Floor (TS)
CHRIS SQUIRE Fish Out Of Water (AS)
SYRINX CALL The Moon On A Stick (TS)
DEVIN TOWNSEND PROJECT Ocean Machine - Live At The Ancient Roman Theater Plovdiv (SM)
TOXIC SMILE In Classic Extension (MD)
TUMBLETOWN Never Too Late (JM)
TWELFTH NIGHT Fact And Fiction (TS)
NOEL E. MONK Van Halen - Teufelspakt (PV)
JONATHAN WILSON Rare Birds (MP)
YES Fly From Here - Return Trip (AS)
YESTERNIGHT The False Awakening (TS)
YUKA & CHRONOSHIP Ship (MD)
QUICKIES
BLACK COUNTRY COMMUNION BCCIV (RK)
BLINDCAT Shockwave (JM)
BLUEMINDED When Lights Fade... (MD)
CHAPTER7 Frozen Fields (JM)
CITIZEN As You Please (RK)
CORDE OBLIQUE Back Through The Liquid Mirror (MD)
ELECTRIC LIGHT ORCHESTRA Out Of The Blue (TS)
FERONIA Anima Era (JM)
GAZPACHO Soyuz (TS)
KISSIN' DYNAMITE Ecstasy (JK)
THE PACHINKO FAKE Flakes - A Collection Of Fine Songs (MD)
ANTHONY PHILLIPS Private Parts & Pieces IX–XI (MD)
PINIOL Bran Coucou (MD)
MARKUS REUTER Falling For Ascension (TS)
RING OF GYGES Beyond The Night Sky (MD)
ROXY MUSIC Roxy Music (TS)
MARTIN TURNER The Beauty Of Chaos - Live At The Citadel (MD)
VARIOUS ARTISTS Harmony For Elephants (MD)
DARRYL WAY Vivaldi's Four Seasons In Rock (MD)
WHEEL The Divide EP (SM)
WISHBONE ASH Twin Barrels Burning | Raw To The Bone (MD)
THE WOMBATS Beautiful People Will Ruin Your Life (RK)
EMPIRE Heft 124
Im Heft 124 haben wir unter anderem auch ein neues Interview mit Anna von Hausswolff - die sich sichtlich über das letzte freute...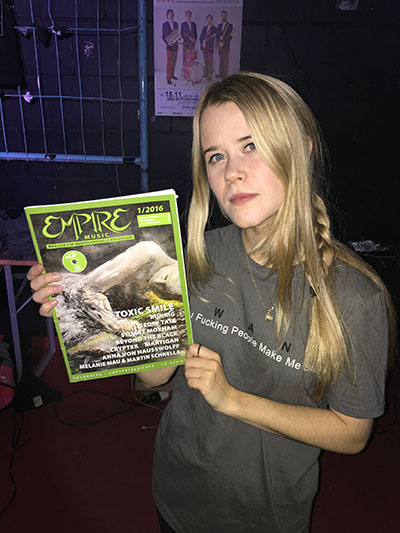 Neuer EMPIRE-MUSIC Mailorder-Shop
Wie Ihr auch schon der Anzeige im Heft 123 entnommen habt, schloss am 26.12. nach über 2 Jahrzehnten der alte Online-Shop von Michael Bäcker unter der Adresse empire-music.de.
In Zukunft findet Ihr sein großes CD- und DVD-Angebot in seinem neuen Shop auf der Plattform Discogs, am einfachsten über diese neue Adresse:
Leider können die Kontodaten des alten Shops nicht in den neuen Discogs-Shop übertragen werden, Ihr müsst Euch daher entweder einfach bei Discogs neu anmelden, oder Ihr könnt Euch auch mit einem bestehenden Facebook- oder Google-Account einloggen. Michael bedankt sich bei allen treuen Kunden des alten Shops und hofft, Euch alle im Shop auf Discogs mit neuen, besseren Suchfiltern und ausführlichen Infos zu jeder CD wiederzusehen.
NEU EMPIRE Sonderheft 2
Das erste EMPIRE MUSIC Sonderheft bekommt eine Fortsetzung mit allen Bands, die letztes Jahr auf dem "Night of the Prog" Festival 2016 gespielt haben... "Another Day in the Life of a Festival".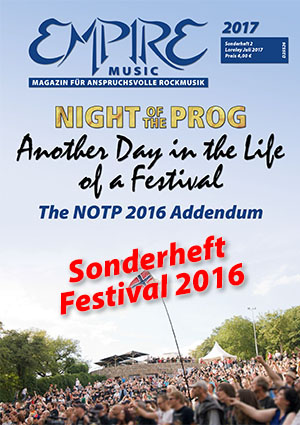 Bestellung und alle Einzelheiten dazu auf der Sonderseite www.empiremusic.de/loreley
EMPIRE Heft 120
Auch Steve Hackett ist seit vielen Jahren Fan und Unterstützer unseres Magazins und wurde in Empire 120 interviewt...
EMPIRE Heft 120
Im Heft 120 haben wir ein Interview mit dem Ayreon-Mastermind Arjen Anthony Lucassen - der seit vielen Jahren ein bekennender Fan vom Empire-Magazin und seiner Sampler-CD ist, wie er uns auch stolz zeigt...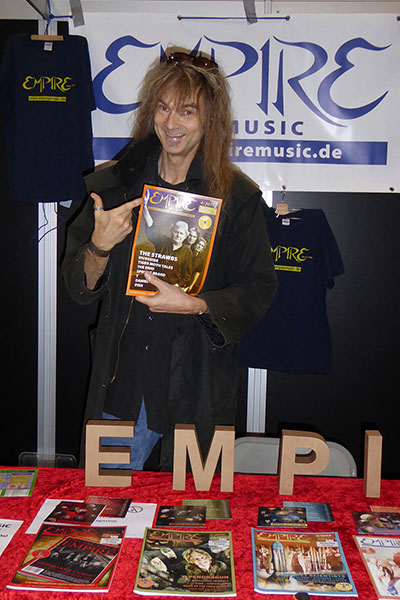 EMPIRE Sonderheft 1
Das erste EMPIRE MUSIC Sonderheft: Zum Anlass des 10. Jubiläums des "Night of the Prog" Festivals in diesem Jahr - und im 25. Jahr unseres Magazins - erschien das große und opulent bebilderte Jubiläumsheft "A Day in the Life of a Festival".
Bestellung und alle Einzelheiten dazu auf der Sonderseite www.empiremusic.de/loreley