News
Die Oktober-Ausgabe ist in die Post gegangen und sollte im Laufe der nächsten Woche bei allen Abonnenten ankommen. Hier wie immer eine kleine Vorschau auf unsere Themen.
Das Heft kann auch einzeln im Empire-Music oder PPR Online-Shop bestellt werden.
Das alternative "Jewel Case"-Cover für die CD (zum selber Ausdrucken) steht hier in der Download Sektion zur Verfügung.
Wir wünschen Euch viel Spaß beim Lesen!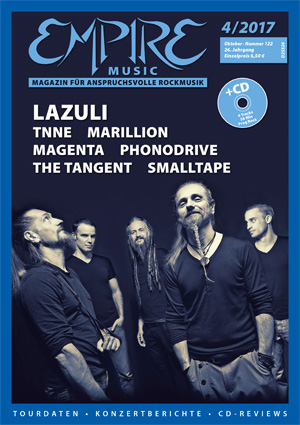 INTERVIEWS
MARILLION (RK)
MAGENTA (TS)
TNNE (MD)
LAZULI (TS)
THE TANGENT (SM)
SMALLTAPE (MD)
PHONODRIVE (VS)
LIVE Reviews
DEEP PURPLE (BK)
AMANDA PALMER & EDWARD KA-SPEL (MC)
BLUE ÖYSTER CULT & QUEENSRYCHE (MM)
MARK LANEGAN & DUKE GARWOOD / LYENN (MO)
ARCADE FIRE (MP)
DORFMUGGE (MC)
KARMA TO BURN & THE PILOTS / THE LITHIC SEA (MO)
KAMASI WASHINGTON (MP)
U2 (MP)
KADAVAR & CHANGO / SWANMAY (MO)
QUANTUM FANTAY (CT)
LABRASSBANDA & KILLAMONJAMBO / URNER MUSI (MO)
DOME OF ROCK FESTIVAL (MO)
LAKE ON FIRE FESTIVAL (MO)
NIGHT OF THE PROG 2017 (MO|UE|BK)
CD/DVD Reviews
AGUSA Agusa (MD)
ALMS An Irosmic Tragedy (JM)
ANATHEMA The Optimist (RK)
L'ANIMA Departures (MD)
ARABS IN ASPIC Syndenes Magi (JM)
ARCADE FIRE Everything Now (MP)
THE AUTIST The Coldest Sun (MS)
BARCLAY JAMES HARVEST Octoberon (MD)
BIG BIG TRAIN The Second Brightest Star (TS)
BRÖSELMASCHINE Indian Camel (JM)
LINDSEY BUCKINGHAM & CHRISTINE MCVIE Buckingham McVie (TS)
NICK CAVE & THE BAD SEEDS Lovely Creatures - The Best Of (MP)
THE CHASING MONSTER Tales (MS)
CLOVEN HOOF Who Mourns For The Morning Star (MS)
COLDPLAY Kaleidoscope (TS)
COLOSSEUM Those Who Are About To Die Salute You | Valentyne Suite | Daughter Of Time (MD)
CROWN OF THINGS 2nd Life (MS)
DISCIPLINE Captives Of The Wine Dark Sea (MD)
DISTANT DREAM It All Starts From Pieces (MS)
DOCTORS OF MADNESS Perfect Past (MC)
EGO Evoluzione Delle Forme (JM)
ELOY The Vision, The Sword And The Pyre, Pt.1 (RS)
EUROPE The Final Countdown - (JK)
FLAMBOROUGH HEAD Shreds Of Evidence - Obscure Live Tracks And Other Rarities (MD)
FLEET FOXES Crack-Up (MP)
FOR ALL WE KNOW Take Me Home (MD)
ERIC GALES Middle Of The Road (MS)
ANTONIO GIORGIO Golden Metal (JM)
GROBSCHNITT Black & White (TS)
HEYLEL Shades Of Time (JM)
YASI HOFER Faith (MS)
GLENN HUGHES Feel | Addiction | The Way It Is | Return Of Crystal Karma (MD)
HUMAN Human (MD)
INFRINGEMENT Transition (MD)
INVENTIONS Meta (JM)
JET BLACK SEA Absorption Lines (JM)
KNEKKLECTRIC For Mange Melodia (JM)
LAZULI Nos Âmes Saoules (TS)
LEPROUS Malina (SM)
LIFESIGNS Cardington (MB)
LIVE Mental Jewelry (RK)
MAGIA NERA L'Ultima Danza Di Ophelia (JM)
MAGIC BUS Phillip The Egg (JM)
MARILLION Misplaced Childhood (AS)
MIRIODOR Signal 9 (JM)
THE MISSING PIECE Dream Rider (MD)
MOGADOR Chaptersend (JM)
MONARCH TRAIL Sand (MD)
MONKEY DIET Inner Gobi (JM)
MOUTH Vortex (JM)
NICKELBACK Feed The Machine (MS)
PANDORA Ten Years Like In A Magic Dream (MD)
PBII Rocket - The Dreams Of Wubbo Ockels (MD)
RICHARD PINHAS & BARRY CLEVELAND Mu (JM)
PIXIE NINJA Ultrasound (JM)
PRISTINE Ninja (RK)
PROFESSOR TIP TOP Life Is No Matter (JM)
PROSPEKT The Illuminated Sky (MD)
QUANTUM FANTAY Tessellation Of (MD)
RPWL A New Dawn (RK)
MANUEL SCHMID Deine Liebe Und Mein Lied - Live (MD)
SCHOOLTREE Heterotopia (MD)
SEMISTEREO Trans Earth Injection (RK)
RON SEXSMITH The Last Rider (MP)
PAUL SIMON The Concert In Hyde Park (TS)
SIMPLE MINDS Acoustic In Concert (TS)
SKY ARCHITECT Nomad (JM)
SMALLTAPE The Ocean (MD)
SQUINTALOO Über Bord! (JM)
CHRISTINA STÜRMER Seite An Seite (MS)
SUBURBAN SAVAGES Kore Wa! (JM)
THE TANGENT The Slow Rust Of Forgotten Machinery (RK)
TNNE Wonderland (MD)
TRAUMA FORWARD Scars (JM)
UNIVERSAL TOTEM ORCHESTRA Mathematical Mother (JM)
VARIOUS ARTISTS Let The Electric Children Play: The Underground Story Of Transatlantic Records 1968-1976 (MD)
VARIOUS ARTISTS One Way Glass - Dancefloor Prog, Brit Jazz & Funky Folk 1968-1975 (MD)
THE VERVE Urban Hymns (TS)
VIOLENT ATTITUDE IF NOTICED Ourselves And Otherwise (MD)
VUUR In This Moment We Are Free - Cities (SM)
RICK WAKEMAN Art In Music Trilogy (MD)
THE WAR ON DRUGS A Deeper Understanding (MP)
LAL & MIKE WATERSON Bright Phoebus (MP)
RAY WILSON Time & Distance (MD)
STEVEN WILSON To The Bone (TS)
MIKE ZITO Make Blues Not War (MS)
QUICKIES
ACCORDO DEI CONTRARI Violato Intatto (MD)
ACQUA LIBERA Acqua Libera (JM)
ANIMA MORTE & FABIO FRIZZI Inertia Of The Risen (JM)
ASTROLABIO I Paralumi Della Ragione (JM)
BLINK-182 California (RK)
CIRCUS NEBULA Circus Nebula (JM)
CLOSE TALKER Lens (RK)
DANTE Where Life Was Beautiful (JK)
DIRTY SOUND MAGNET Western Lies (RK)
ELECTRIC SWAN Windblown (JM)
FAST ROMANTICS American Love (RK)
GERMEIN SISTERS Limited Edition EP (MB)
HARD STUFF The Complete (MD)
JOENSUU RIIHIMÄKI Where's The Fire, John? (JM)
KEELE Gut Und Dir (RK)
KENNETH MINOR Phantom Pain Reliever (MD)
META Spatterlight (JM)
MONNALISA In Principio (JM)
MOONWAGON Devil's Labyrinth (JM)
MOTHER NATURE Double Deal (JM)
NAU ALETHEIA Los Misterios De Eleusis (JM)
BILL NELSON Chance Encounters (MD)
MARTIN NEUHOLD & WOLFGANG GSELL Winter (JM)
OTARION Decide (JM)
PANTALEON Virus (JK)
PATTO Roll 'Em Smoke 'Em Put (MD)
PHOENIX AGAIN Unexplored (JM)
THE RIPTIDE MOVEMENT Ghosts (MD)
DANTE ROBERTO The Circle (MD)
JAMIE SAFT Loneliness Road (JM)
SEETHER Poison The Parish (RK)
SIAMESE Shameless (RK)
ERIC STEWART Anthology (MD)
SUPERCANIFRADICIADESPIAREDOSI Geni Compresi (JM)
TACITA INTESA Tacita Intesa (JM)
VETRIOLICA Dichiarazione D'Odio (JM)
NEU EMPIRE Sonderheft 2
Das erste EMPIRE MUSIC Sonderheft bekommt eine Fortsetzung mit allen Bands, die letztes Jahr auf dem "Night of the Prog" Festival 2016 gespielt haben... "Another Day in the Life of a Festival".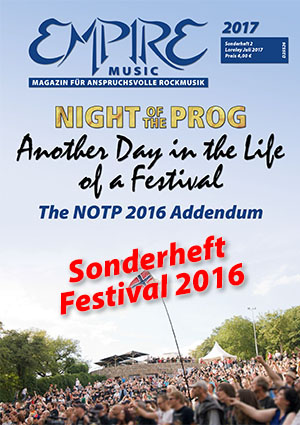 Bestellung und alle Einzelheiten dazu auf der Sonderseite www.empiremusic.de/loreley
EMPIRE Heft 120
Auch Steve Hackett ist seit vielen Jahren Fan und Unterstützer unseres Magazins und wurde in Empire 120 interviewt...
EMPIRE Heft 120
Im Heft 120 haben wir ein Interview mit dem Ayreon-Mastermind Arjen Anthony Lucassen - der seit vielen Jahren ein bekennender Fan vom Empire-Magazin und seiner Sampler-CD ist, wie er uns auch stolz zeigt...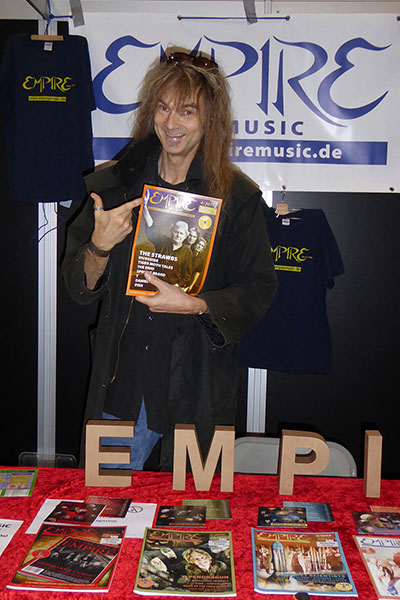 EMPIRE Sonderheft 1
Das erste EMPIRE MUSIC Sonderheft: Zum Anlass des 10. Jubiläums des "Night of the Prog" Festivals in diesem Jahr - und im 25. Jahr unseres Magazins - erschien das große und opulent bebilderte Jubiläumsheft "A Day in the Life of a Festival".
Bestellung und alle Einzelheiten dazu auf der Sonderseite www.empiremusic.de/loreley