News
EMPIRE Heft 125
Einige der jüngsten Feiertage haben leider die Produktion ein wenig aufgehalten, aber nun ist die Mai-Ausgabe ist in die Post gegangen und sollte bei allen Abonnenten nach dem Pfingstwochende angekommen sein. Hier wie immer eine kleine Vorschau auf unsere Themen.
Das Heft kann auch einzeln im Empire-Music oder PPR Online-Shop bestellt werden.
Das alternative "Jewel Case"-Cover für die CD (zum selber Ausdrucken) steht hier in der Download Sektion zur Verfügung.
Wir wünschen Euch viel Spaß beim Lesen!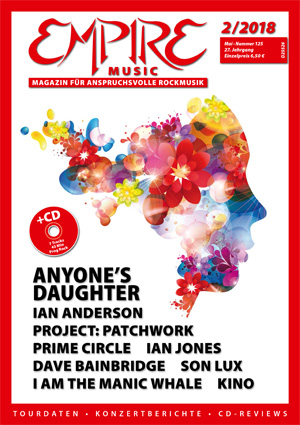 INTERVIEWS
ANYONE'S DAUGHTER (SM)
KINO (SM)
IAN ANDERSON (TS)
DAVE BAINBRIDGE (TS)
IAN JONES (UE)
SON LUX (VS)
PROJECT: PATCHWORK (MD)
PRIME CIRCLE (RK)
I AM THE MANIC WHALE (TS)
LIVE Reviews
NILS FRAHM (MP)
IQ (UE)
BELLE & SEBASTIAN (MP)
ANNEKE VAN GIERSBERGEN'S VUUR (BK)
STEVEN WILSON (RK)
TOTO (SM)
SON LUX (VS)
WYNTON MARSALIS & JLCO (MP)
BLIND EGO & LESOIR (MO)
CORVUS CORAX (STS)
THE TIGER LILLIES (MC)
CHARLOTTE GAINSBOURG (MP)
›SEQUENZEN‹ ELEKTRONIKKONZERTE (STS)
›CRUISE TO THE EDGE‹ 2018 (VW)
›PROGDREAMS VII‹ (BK)
›ARTROCK FESTIVAL VI‹ (ROK|UE|BK)
CD/DVD Reviews
ANGE Heureux! (TS)
ANYONE'S DAUGHTER Living The Future (SM)
AYREON Ayreon Universe - Best Of Ayreon Live (SM)
TONY BANKS 5 (TS)
BARTMAN Goodbye Cruel World (JM)
BELLE & SEBASTIAN How To Solve Our Human Problems (MP)
BLACK FOXXES Reiði (RK)
CURVED AIR Air Conditioning | Air Cut (MD)
CYCLONE QUEST Dark World (MD)
DEAFENING OPERA Let Silence Fall (MD)
DOWNRIVER DEAD MEN GO Departures (JM)
DREAM OCEAN Lost Love Symphony (JM)
THE ELECTRIC FAMILY The Long March - From Bremen To Betancuria (MD)
DIRK ENDE So Long Leonard (MS)
EXTREMITIES Gaia (JM)
LA FÉLINE Triomphe (MP)
FISH Songs From The Mirror (AS)
FISH Suits (AS)
NILS FRAHM All Melody (MP)
FREQUENCY DRIFT Letters To Maro (MD)
THE FRONT BOTTOMS Going Grey (RK)
FUCHS Station Songs (MB)
THE GRANDMOTHERS OF INVENTION Live In Bremen (MD)
GUS G. Fearless (MS)
HADAL SHERPA Hadal Sherpa (MD)
HOLLOW EARTH Out Of Atlantis (JM)
I AM THE MANIC WHALE Gathering The Waters (MD)
INVENTIONS Curiosity (JM)
ISLAND Feels Like Air (RK)
JETHRO TULL Heavy Horses - New Shoes Edition (AS)
JUDAS PRIEST Firepower (MS)
KARIBOW The Unchosen (MD)
KARNATAKA Secrets Of Angels - Live In Concert (UE)
KINO Radio Voltaire (RK)
THOMAS KONDER Labyrinth (JM)
LAZULI Saison 8 (TS)
LEAVES' EYES Sign Of The Dragonhead (MS)
MARILLION Brave (AS)
MARILLION KINOPREMIERE ›Marillion At The Royal Albert Hall‹ (MD)
MONSTER MAGNET Mindfucker (RK)
MOUTH Floating (MD)
NIGHTWISH Decades - An Archive Of Song 1996-2015 (MP)
OTARION Under Surface (JM)
PHI Cycles (MD)
PLENTY It Could Be Home (MD)
RETROSPECTIVE Spectrum Of (TS)
THE REZILLOS Flying Saucer Attack - The Complete Recordings 77-79 (MC)
THE ROME PRO(G)JECT III: Exegi Monumentum Aere Perennius (TK)
BUFFY SAINTE-MARIE Medicine Songs (MC)
THE SAMURAI OF PROG Archiviarum (JM)
JOE SATRIANI What Happens Next (MS)
SOUL DOUBT The Dance Of Light And Shade (MD)
SUBSIGNAL La Muerta (MD)
THIRTY SECONDS TO MARS America (TS)
TIGER MOTH TALES The Mad Mothster's Tea Party (The Official Bootleg) (TS)
TIME COLLIDER Travel Conspiracy (MB)
TOCOTRONIC Die Unendlichkeit (MP)
TUSMØRKE Fjernsyn I Farver (MD)
UNIVERSE INFINITY Rock Is Alive (MD)
VANDERSON featuring LAMBERT Sequenced Thoughts (OM)
VARIOUS ARTISTS Looking At The Pictures In The Sky - The British Psychedelic Sounds Of 68 (MD)
THE WHO Live At The Fillmore East 1968 (TS)
WITTHÜSER & WESTRUPP Der Jesuspilz - Live! (MD)
FRANK WOELFER Future Was Now (STS)
QUICKIES
AFRICAN CONNECTION Queens & Kings (MD)
CHARLIE BARNES Oceanography (SM)
TIM BLAKE Noggi 'Tar (MD)
BROKEN WITT REBELS Broken Witt Rebels (RK)
DOBBELTGJENGER Limbohead (MD)
EARTHSHINE Abstract Patterns (MD)
GET CAPE. WEAR CAPE. FLY Young Adult (RK)
ALBERT HAMMOND Live In Berlin - In Symphony (MD)
I AM K Humans (RK)
LISTENER Being Empty: Being Filled (RK)
MELTED SPACE Darkening Light (MD)
OLYMPIQUE Chron (RK)
ANTHONY PHILLIPS Invisible Men (MD)
POWERIZED The Mirror's Eye (JM)
ROCK CIRCUS Live Im Chikago (MD)
SAXON Saxon | Wheels Of Steel | Strong Arm Of The Law (JK)
SCENIC ROUTE TO ALASKA Tough Luck (RK)
KLAUS SCHULZE | WAHNFRIED (JK)
ADRIAN SNELL Alpha & Omega - 30th Anniversary Recording (TS)
STONE TEMPLE PILOTS Stone Temple Pilots (RK)
THE TEMPERANCE MOVEMENT A Deeper Cut (RK)
THREE DAYS GRACE Outsider (RK)
23 ACEZ Embracing The Madness (JM)
VARVARA Go (RK)
THE WEIGHT The Weight (RK)
WIRTZ Die Fünfte Dimension (RK)
EMPIRE Heft 124
Im Heft 124 haben wir unter anderem auch ein neues Interview mit Anna von Hausswolff - die sich sichtlich über das letzte freute...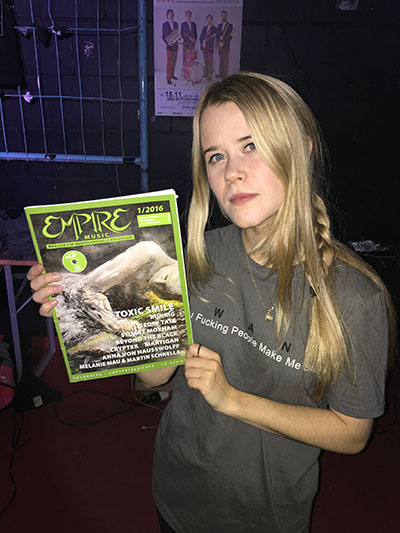 Neuer EMPIRE-MUSIC Mailorder-Shop
Wie Ihr auch schon der Anzeige im Heft 123 entnommen habt, schloss am 26.12. nach über 2 Jahrzehnten der alte Online-Shop von Michael Bäcker unter der Adresse empire-music.de.
In Zukunft findet Ihr sein großes CD- und DVD-Angebot in seinem neuen Shop auf der Plattform Discogs, am einfachsten über diese neue Adresse:
Leider können die Kontodaten des alten Shops nicht in den neuen Discogs-Shop übertragen werden, Ihr müsst Euch daher entweder einfach bei Discogs neu anmelden, oder Ihr könnt Euch auch mit einem bestehenden Facebook- oder Google-Account einloggen. Michael bedankt sich bei allen treuen Kunden des alten Shops und hofft, Euch alle im Shop auf Discogs mit neuen, besseren Suchfiltern und ausführlichen Infos zu jeder CD wiederzusehen.
NEU EMPIRE Sonderheft 2
Das erste EMPIRE MUSIC Sonderheft bekommt eine Fortsetzung mit allen Bands, die letztes Jahr auf dem "Night of the Prog" Festival 2016 gespielt haben... "Another Day in the Life of a Festival".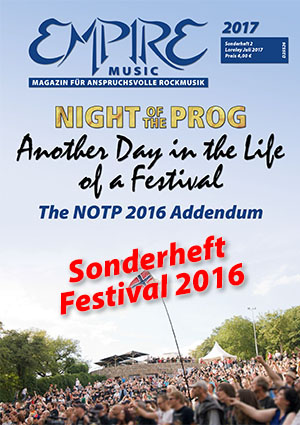 Bestellung und alle Einzelheiten dazu auf der Sonderseite www.empiremusic.de/loreley
EMPIRE Heft 120
Auch Steve Hackett ist seit vielen Jahren Fan und Unterstützer unseres Magazins und wurde in Empire 120 interviewt...
EMPIRE Heft 120
Im Heft 120 haben wir ein Interview mit dem Ayreon-Mastermind Arjen Anthony Lucassen - der seit vielen Jahren ein bekennender Fan vom Empire-Magazin und seiner Sampler-CD ist, wie er uns auch stolz zeigt...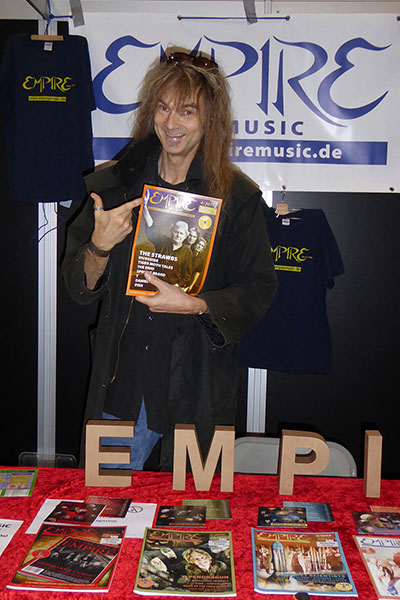 EMPIRE Sonderheft 1
Das erste EMPIRE MUSIC Sonderheft: Zum Anlass des 10. Jubiläums des "Night of the Prog" Festivals in diesem Jahr - und im 25. Jahr unseres Magazins - erschien das große und opulent bebilderte Jubiläumsheft "A Day in the Life of a Festival".
Bestellung und alle Einzelheiten dazu auf der Sonderseite www.empiremusic.de/loreley